The Midtown Men expand on 'Jersey Boys' roots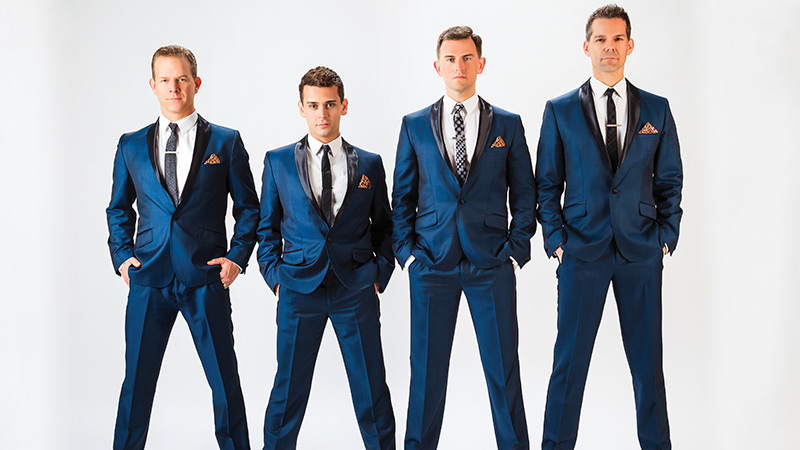 ---
By GUY D'ASTOLFO
Michael Longoria has gone from playing Frankie Valli in "Jersey Boys" to a life that – in many ways – parallels that of the famed falsetto-voiced singer.
Longoria was part of the original Broadway cast of the Tony Award-winning jukebox musical blockbuster about Valli and the Four Seasons.
After leaving the show, he and three of his "Jersey Boys" castmates parlayed their musical chemistry into the Midtown Men, a vocal quartet that shares the appeal and longevity of the show that spawned it,
The Midtown Men are now in their ninth year of showcasing the hits of the 1960s – including a few by Frankie Valli and the Four Seasons.
IF YOU GO
What: The Midtown Men
When: 7:30 p.m. Saturday
Where: Orr Auditorium, Westminster College, New Wilmington, Pa.
Tickets: $49, $42, $37 and $33 call; 724-946-7354 or go to westminster.edu/celebrity
It will make a tour stop at Westminster College on Saturday.
In a recent phone interview, Longoria explained how it all happened.
"We are four guys who met on 'Jersey Boys' and did over 1,000 performances in three years," he said. "Because of that experience, we started to take on other groups' songs in our off-time, like Motown, and the Mamas and the Papas, to get into the Jersey Boys' world. That led us into a friendship off stage. A lot of times on Broadway, you work and go home. But we bonded over music."
What started as a bit of fun eventually got serious.
"One day, Katie Couric asked us to sing at her birthday party," said Longoria. "It was an excuse to not play around and put a show together, and that was the birth of the Midtown Men. We all did other projects after 'Jersey Boys,' but we kept getting calls [to perform together]. So we started talking to each other and decided to go on the road singing the songs of the 1960s, the best music in rock history. It's the journey of four guys who were in a megahit show."
The act continued to make history as it went from "Boys" to "Men."
The Midtown Men are the first vocal group to emerge from a Broadway musical. They have also released two public television concert specials: "The Midtown Men Live in Concert" and "Meet the Midtown Men," a documentary.
While it's rare to be in a Broadway show the magnitude of "Jersey Boys," it's rarer still to follow it up with a musical act that has been touring for nearly a decade.
And The Midtown Men's ability to get audiences dancing in the aisles means there's no end in sight.
"We've been together longer than most of the groups we cover," said Longoria. "It's a testament to our friendship and the experience we shared."
In Midtown Men, Longoria and his bandmates – Christian Hoff, Daniel Reichard and J. Robert Spencer – are just being themselves.
"We use our own voices," he said. "Even when I sing Frankiie (Valli) i don't allow performance or mimic to influence me. I speak through my own voice and tell the message."
In their show, the members share stories of how they met and their friendship. "By the end of the show people know a lot more about us," said Longoria. "They know us by name."
Longoria is a Los Angeles native who was focused on a Broadway career from a young age. "I always auditioned for acting roles," he said. "Singing was always in my life, but I never considered it my career."
It was during an audition when he was in college that he discovered how high his voice could go.
"The director said go up an octave, to all of those notes I never knew were there," he said. "That's when I discovered I had a falsetto."
While theater was Longoria's first passion, he now finds being a singer to be equally satisfying.
"I always want to be a storyteller and take an audience through a journey that is cathartic, and change their lives," he said. "Through this experience of being a concert singer, I've seen that each song is its own play, a brand new character. I can have 20 stories in a single show, and people relate to them. Now, my passion is in telling stories through song."
About those songs: what makes the pop music of the 1960s so enduring?
"It's a testament to the writing of that era," said Longoria. "Kids in high school are learning about love and loss, and [the songs] use simple language that everyone would understand and know. The message has that vibrant energy, and even though they've grown up, that energy lives forever in that song."
Other than the Four Seasons, Longoria's favorite bands of that era are the Beach Boys and the Ronettes because of their use of vocal harmony.
"When you are harmonizing, it feels like you are in the song, being lifted by it," he said. "I can only imagine what the audience is feeling. It makes them so happy, and they tell us how we brought back memories from their childhood, and helped them create new memories."
More like this from vindy.com