Opera Western Reserve presents Puccini classic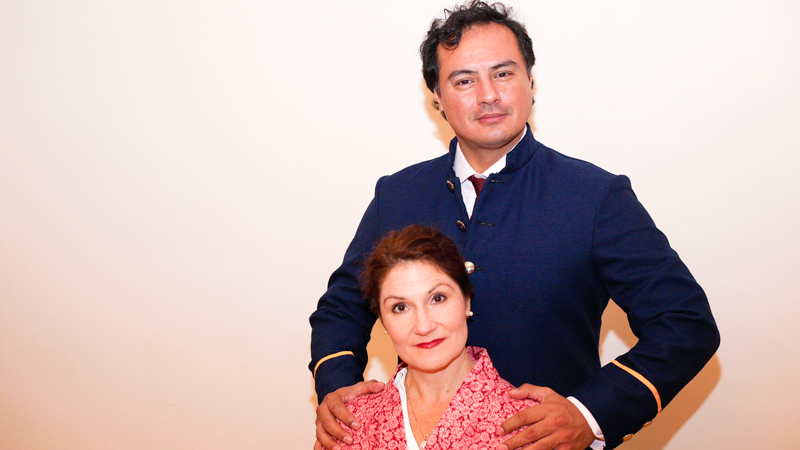 ---
By GUY D'ASTOLFO
YOUNGSTOWN
Scott Skiba had to bow out as director of Opera Western Reserve's production of "Madama Butterfly," but fortunately, David Vosburgh was there to step in.
Vosburgh is the production director of OWR, a position he's held since the company was formed 15 years ago. A former opera singer, he has also directed "Butterfly," and has sung one of the lead roles, several times.
"I have directed it three times and sung the part of Lt. Pinkerton, the tenor lead, in at least four productions," said Vosburgh. "I have a long history with the piece. This is the third time I've directed it here in Youngstown."
OWR will present "Butterfly" as its annual production at 7:30 p.m. Friday at Stambaugh Auditorium.
Vosburgh directed "Butterfly" at Youngstown State University in 2002 and with OWR in 2008.
"It's about the right time to repeat it," he said. "The industry standard is to wait seven or eight years."
That first production, at YSU, was so well-received, "it was really the inspiration to start Opera Western Reserve," said Vosburgh. "It took two years to convince me to start an opera company because I knew what I was getting into!"
Skiba, who has directed at OWR in the past and will do so again in the future, had no choice but to bow out.
"He was appointed head of the opera program at Baldwin-Wallace College, and it was too tight a schedule for him," said Vosburgh. "Since I knew the opera so well, it was easy for me to take over."
The Puccini opera is among the most popular in the repertoire, along with "Aida," "La Boheme" and "Carmen."
It's no mystery why.
"The music is gorgeous," said Vosburgh. "It's the most beautiful music that Puccini wrote, very romantic.
"The lead woman role [Cio Cio San] is very sympathetic. [Lt. Pinkerton] does her wrong. It's a very easy story to follow, and it's easy to relate to."
OWR, said Vosburgh, likes to alternate between "a warhorse that everyone knows well and something that we can introduce to audiences." Last year, the company produced "Lucia di Lamermoor" and next year it will be "MacBeth."
"Madama Butterly" takes place in 1908 Japan, a time when the long-insular island nation just opened itself to the outside world.
"U.S. Commodore Perry sailed into Nagasaki harbor, and using gunboat diplomacy, said 'you will trade with us'," said Vosburgh. "Japan went from a feudal society to the Industrial Revolution overnight."
Western culture influenced the nation, and to demonstrate, the Japanese officials in OWR's production will wear formal diplomatic clothes and not traditional Japanese garb.
Barbara Luce and Brian Palumbo are the costumers for the production. Susan Davenny Wyner is music director.
"Madama Butterfly" tells the story of Cio Cio San, a Japanese woman who has a brief "marriage" with Lt. Pinkerton, a U.S. Naval officer, and bears him a child. Her friends and countrymen reject her for turning her back on their culture.
Cio Cio San naively believes she has become an American wife. She waits years for Lt. Pinkerton to return only to be crushed by the reality of their relationship in the sad and tragic ending.
Marian Vogel, in her sixth performance with OWR, is Cio Cio San, a role she has sung several times.
Vogel has performed numerous times with the Cleveland Orchestra. She has performed many lead roles with OWR, including Mimi and Musetta in "La Boheme," Violetta in "La Traviata," Tosca in "Tosca" and Donna Elvivra in "Don Giovanni."
Jesus Daniel, a native of Mexico and an Army veteran, sings Lt. Pinkerton in his debut with the company.
Elizabeth Mitchell sings the role of Suzuki, a housekeeper and mother figure to Cio Cio San.
Like Daniel, Mitchell is handling the role for the first time, and making her debut with OWR.
Warren native and OWR veteran Brian Keith Johnson is taking on the role of Sharpless. Hubbard native Jason Budd is playing the role of the Bonze, and Dean LaSalandra is Goro.
IF YOU GO
What: "Madama Butterfly"
When: Friday at 7:30 p.m.
Where: Stambaugh Auditorium, Youngstown
Tickets: $25 to $75 at stambaughauditorium.com, by phone at 330-259-0555 and at the box office
More like this from vindy.com