YSU's late push topples Loyola Chicago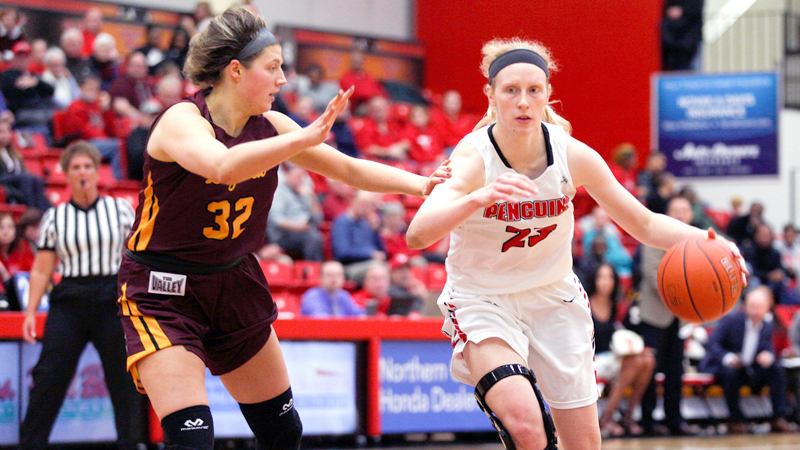 ---
Penguins victorious after lengthy scoreboard delay
By Brian Dzenis
YOUNGSTOWN
Without functioning scoreboards and a makeshift shot clock, Youngstown State's womens basketball team capped a bizarre night with a 74-63 win against Loyola Chicago.
The start of the game was delayed 48 minutes because the Beeghly Center scoreboards at both ends of the floor and overhead were not working.
Temporary scoreboards were set up along press row and the scorers table. An electronic one was set up on press row and an old-school one with numbers flipped by hand was on the scorer's table. A cameraman filmed the small electronic scoreboard on the overhead scoreboard so fans could see the clock.
The public address announcer called out when the shot clock was at 10 seconds and counted down from five while periodically calling out the time and score.
This led to one gaffe near the end of the first half when a Loyola player mistook the shot clock for the game clock and heaved a needless half-court shot.
"I was sweating and then I dried off and I was getting cold. I started sweating again and there were so many delays," Penguins guard McKenah Peters said. "It happens, but we pulled through."
Peters got hot when it mattered. YSU (2-0) saw a 41-27 halftime lead slip away in the third quarter as the Penguins were outscored 20-9 in the third quarter.
The Penguins led 54-53 midway through the fourth quarter before embarking on an 8-0 run that provided the necessary cushion for the victory. Peters scored six points and Sarah Cash hit a jumper in that stretch.
"[Coach John Barnes] drew up a couple plays for me to drive to the basket with my left hand because they think I'm going to shoot the ball," Peters said. "I just took advantage of my teammates creating space for me to take the ball to the hole and score."
Barnes utilized similar strategy in the team's 69-59 win against Robert Morris in the team's season opener. When he needs points in a hurry, he turns to Peters.
"She can really score. If she makes one or two, she's like a heat check player and make some more," Barnes said. "It was nice because [Chelsea Olson] had an off night from the field, but she did a nice job on the boards and only had one turnover."
Despite going 1 for 8 from the floor, Olson finished a point short of having consecutive double doubles with nine points and 12 rebounds.
Lordstown graduate Sarah Cash led the Penguins in scoring with 17 points and Alison Smolinski 4 for 8 from three in a 16-point performance. After missing most of last year with a broken foot, she has her stroke back.
"It was about getting my confidence back," Smolinski said. "The coaches say shooters shoot and once I dropped one, I started feeling myself."
Mary Dunn and Peters each finished with 12 points.
Jane Gonzales led Loyola (0-1) with 14 points. The team had one of its best rebounding outings that Barnes could remember in his YSU tenure, beating the Ramblers on the glass 48-23.
"We've struggled with rebounds. We've had some games where we outrebounded an opponent, but not like this," Barnes said. "Hopefully that continues because that's what won the game for us."
More like this from vindy.com