Valley veteran details history of holiday during Poland High celebration
BY jessica hardin
POLAND
Veterans Day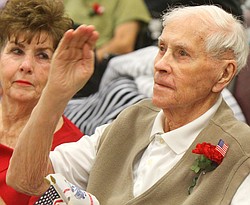 Gallery
The ravages of war are not only reflected in the numbers of the dead, but in the pain suffered by service members who live to return home, local veteran Jack Betts told students Friday morning.
Betts kicked off Poland Seminary high school's Veterans Day celebration by detailing the history of the holiday.
He began his speech with an explanation of the United States' hesitation to enter World War I.
"It wasn't that we didn't care ... less than 50 years before, we lost 364,000 young men. Half wore union blue. Half of them wore grey. Every one that died was American," Betts said.
His voice cracked when he read the number.
Betts noted that, in addition to the 53,000 soldiers who died in World War I, 204,000 were wounded.
"Many were to come back home with one arm or one leg or no legs," he said.
He told students that injuries sustained by service members who survive aren't always physical.
"Some [soldiers] were suffering from what was called combat fatigue or shellshock. In World War I, they called it soldier's heart. They had no wounds, you could see they were – it was almost impossible for them to even function ... there were thousands [upon] thousands of these men who had PTSD, as we call it now," Betts said.
In addition to Betts' speech, the assembly included performances by Poland's choir and band.
Principal Kevin Snyder concluded the celebration by requesting that students thank the veterans in their lives and the veterans they encounter.
"I can tell you as someone who has seen that response from a person, it is impactful. It does matter," he said.
More like this from vindy.com