Pinning ceremony honors 35 Heritage Manor vets
YOUNGSTOWN
Veterans Day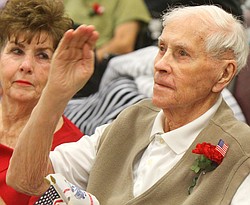 Gallery
Reginald Taylor, a Vietnam War Marine veteran, said the "We Honor Veterans" ceremony at the Heritage Manor Retirement House marked the first time he was recognized for his military service.
"I never had anything happen like this," he said.
Taylor and 34 other veterans were honored at the ceremony Friday afternoon. The annual ceremony is hosted by Hospice of the Valley.
Elizabeth Grischow, volunteer coordinator for Hospice of the Valley, thanked each veteran as she pinned them.
Veterans from each military branch who belong to the nonprofit Disabled American Veterans gave veterans staying at Heritage Manor a pin, certificate, a United States flag and a flag from the branch he served in.
Small gifts, such as Navy dog tags and Army money clips, were also given to the veterans.
"It's about time people give a hoot about veterans," Taylor said after the ceremony.
Gene Trimacco, who was just 19 when he served in the Vietnam War, said it was the second year he was honored at the ceremony.
His wife, Marsha Trimacco, said they have attended other veteran ceremonies with Gene's father, who was a World War II veteran.
"This is the finest ceremony we have been to. They do a beautiful job," she said.
It's important for people to support and "recognize the veterans who put the time in to serve our country and keep us free," he said.
Bobbie Berkowitz, Heritage Manor activities director, said Heritage Manor is the Mahoning County facility the U.S. Department of Veteran Affairs will fund for veterans to stay.
"We have a tremendous number of veterans who come," both hospice veterans and those who need extra help, she said.
Many of the veterans, like Taylor, tell Berkowitz they have never been invited to such a ceremony.
"Last year, a couple of them were moved to tears. It's a very emotional ceremony," she said.
Cristal Vincent, CEO of the Youngstown Area Jewish Federation's Human Services Department, said she has a personal connection with veterans because multiple people in her family served.
"It's very important to me that we continue to provide quality care to our veterans," she said.
"It's a nice day to recognize what they have done and thank them for the services we have today."
We Honor Veterans is a national hospice provider awareness campaign conducted by the National Hospice and Palliative Care Organization in collaboration with the Department of Veterans Affairs.
More like this from vindy.com