Lady Luck shines on soaring Cardinals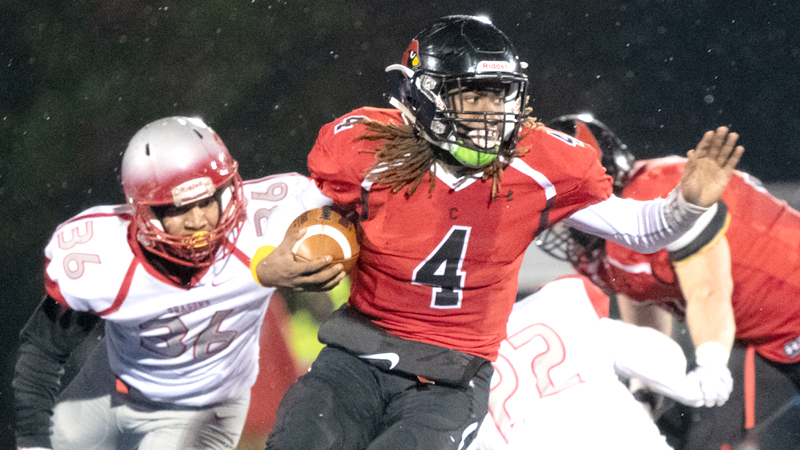 ---
Favorable bounce ignites romp
By Dan Hiner
Ravenna
To make a deep high school football playoff run, sometimes you need a little luck.
The Canfield High School football team recovered a squib kick near the end of the second quarter to swing momentum in its 30-7 win over Akron East on Friday.
After the Cardinals tied the game at 7 with 40.2 seconds left in the first half, Ian Kristan lined up for the ensuing kickoff.
But the kick didn't go far.
Kristan attempted a squib kick, which hit a Akron East player 10 yards past the line of scrimmage. Canfield jumped on the ball for a last-minute drive.
Kristan connected on a 40-yard field goal as time expired to give the Cardinals a 10-7 lead at halftime.
"It was a planned squib," Canfield head coach Mike Pavlansky said. "It bounced back to us and our offense did a great job getting that field goal at the end of the half."
The Cardinals were in complete control in the second half.
Canfield (11-1) held the Dragons to 47 yards in the second half — 36 came on a pass from quarterback Kyre Williams to Ryan Collins on the last drive of the game.
"We just knew we had to stick together ... stay confident in what we do," linebacker Tyler Stein said. "We gave up some little things. It was the little things we corrected at halftime."
On offense, Mehlyn Clinkscale guided the Cardinals to three second-half touchdowns. The Canfield senior ran the ball 24 times for 172 yards and two touchdowns.
Canfield finished the game with 260 yards rushing and four touchdowns on 48 carries.
"It's weird. Every game we start out a little slow, but at halftime, we find out what our mistakes are," Clinkscale said.
Neither team could generate offense until the final four minutes of the first half. But for Pavlansky that wasn't the worst part.
Each team committed six penalties to prevent either offense from getting into a rhythm.
"We couldn't get out of our own way," Pavlansky said. "We didn't change anything up. We just started better — didn't have penalties, didn't have turnovers, and we started moving the ball in the second quarter."
Akron East (9-3) took a 7-0 lead on a 1-yard touchdown run by Williams with 4:18 left in the second quarter.
Then Nick Crawford scored on a 2-yard run to tie the game at 7 for Canfield.
The win means the Cardinals will move on to a regional final against Chagrin Falls Kenston on Friday. The site will be announced on Sunday.
Canfield made a deep run in the playoffs last year and the Cardinals feel there is unfinished business.
"We're excited to be back to where we were," Pavlansky said. "I don't think a lot of people outside of our lockerroom believed we could get here. We believed all year long.
"As far as last December, we started in the weightroom. If we worked hard and continued to improve every day, we would have a shot to get back here. Now we're here. We obviously gotta make the most of it and play a tremendous Kenston football team and see what happens."
More like this from vindy.com