Jackson-Milton grad shares Vietnam POW story
---
SEE ALSO: • Valley veteran details history of holiday during Poland High celebration
• Campbell students honor vets with music and history
• VETERANS DAY | Scheduled events
• VETERANS DAY | What's open, closed
By SEAN BARRON
news@vindy.com
NORTH JACKSON
Veterans Day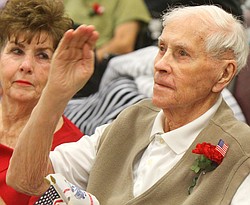 Gallery
During his seven years in captivity as a prisoner of war, Bradley E. Smith's body may have been beaten, bloodied and battered, but his resolve was never broken.
"I was so weak that I couldn't do a single push-up," the Bradenton, Fla., retired Navy carrier pilot recalled about part of what he endured after being captured in North Vietnam shortly after his plane was shot down during the Vietnam War as he conducted his 77th and final combat mission.
"All you have is you and your mind."
Smith shared part of his harrowing story during a 90-minute Veterans Day program Friday morning at Jackson-Milton High School/Middle School on Mahoning Avenue, set up to honor those of all military branches who have served and continue to serve the nation.
Smith, a 1957 Jackson-Milton High graduate, served 24 years in the Navy after having enlisted in 1961. For his service, he won two Silver Stars, three Bronze Stars and a Purple Heart.
Smith told his audience of several hundred his captors subjected him and the other estimated 560 American POWs to consistent physical and psychological torment that included food, water and sleep deprivation, denial of access to information and communications, and a series of interrogations.
One day in June 1969, Smith shared a cell, which could be 120 degrees in the summer, with nine other men and was the only one to be told he was allowed to take a shower. He refused, however, sensing the guards used the offer as a ploy to turn the prisoners against one another, he explained.
Smith and others also tried to treat fellow POWs with compassion, such as when they force-fed two men who were on the verge of giving up. For a while, the two were unable to hold down food, but were eventually able to eat, and they're alive today, he pointed out.
In early 1973, Smith was released and taken away in an Air Force plane. It also marked the first time in seven years he saw an American flag, he recalled.
"I got a cold chill down my back and said, 'I'll never go back,'" Smith said about having been freed, adding he lived by the creed, "Return with honor."
The Navy veteran added he shared his story also to illustrate the fact that those who opt to serve their country neither seek fame, fortune, heroism and recognition nor "ask what's in it for me."
Instead, the vast majority are driven by a desire to reach for and achieve something greater than themselves, and they should be thanked and remembered, he said.
More like this from vindy.com