Campbell students honor vets with music and history
By GRAIG GRAZIOSI
ggraziosi@vindy.com
CAMPBELL
Veterans Day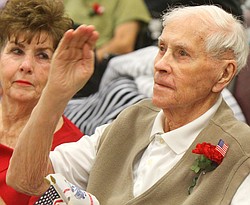 Gallery
Flutes and fiddles, drums and trumpets – these are the instruments most often associated with patriotic tunes.
Fourth-graders at Campbell K-7 school added one more instrument to the list Friday morning: the glockenspiel.

Students played the xylophone-like instruments – alongside recorders and a choir – during the school's fourth annual Veterans Day celebration.
Veterans from Campbell's American Legion outpost attended the event and sat in the center of the school's gym as the fourth-graders played "Yankee Doodle," the national anthem, "When Johnny Comes Marching Home" and "Armed Forces Anthem."
Middle-school students Savannah Tyson and Symone Sferra acted as the hosts of the event and presented the history of Veterans Day periodically throughout the event.
Bill Pacak, a Marine veteran of the Vietnam War, was part of the American Legion contingent present at the assembly, and said events honoring veterans were emotional for him and that he always enjoyed them as they were opportunities not only for him to see some of his old friends, but for students to learn about the state of the country.
"These events are important because they instill patriotism," Pacak said. "They have what they have because of the vets. Our country operates the way it does because of what veterans have done."
Dan Welch, a music teacher at Campbell K-7 school, organized the event, which he described as a good way for the students to interact and learn from veterans and other community members.
"It lets the students connect with those that have served and those who've been a part of something greater than themselves," Welch said.
In addition to honoring veterans, the celebration also served as a chance for the students to publicly show off the skills they'd developed with their instruments.
"They learned to read music, play their instruments, and learn these songs 10 weeks ago," Welch said. "The fourth-grade music program is intended to help the students get a taste of their music options in fifth-grade, which are band and choir, so they know which they'd rather join."
More like this from vindy.com