Relatives want justice for killings, warn of revenge threat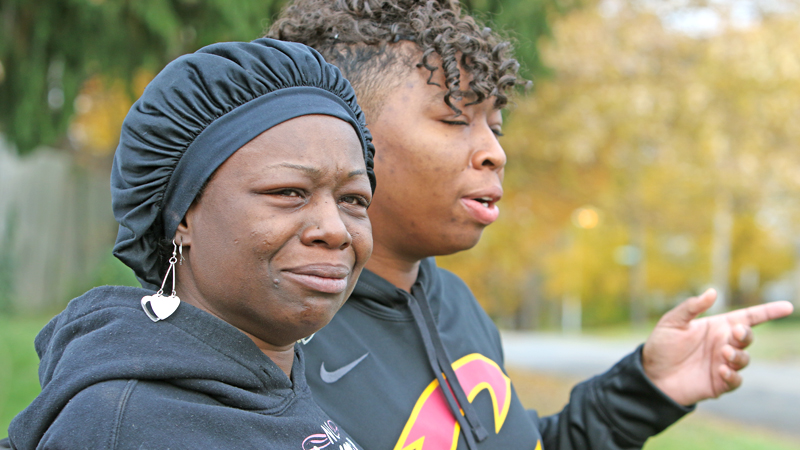 ---
By JOE GORMAN
jgorman@vindy.com
YOUNGSTOWN
Mother of Shooting Victims Speak Out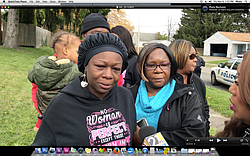 Video
The mother and grandmother of the woman and 3 1/2-month-old baby killed in a triple homicide on Youngstown's South Side Wednesday night speak out.
Valar Blair stood in the chilly sunshine Thursday morning and stared at the stretch of street where his daughter, infant grandson and the baby's father were shot and killed inside a car, muttering to himself about how he was going to raid his 401k to pay for their funerals.
"They killed my daughter," he kept saying. "They killed my daughter."
His daughter, Valarica Blair, 19, her 3-month-old son, Tariq Morris, and the baby's father, Edward Morris, 21, were killed just after 7 p.m. Wednesday as they were sitting in a car parked on the devil's strip in front of a home at Gibson Street and Pasadena Avenue.
Edward Morris died at the scene. Valarica Blair died at St. Elizabeth Youngstown Hospital, as did her son, who was rushed there by police who thought the baby's injuries were so serious they could not risk waiting for an ambulance.
Elizabeth Green, the mother of Valarica and grandmother of Tariq, was in tears when she returned to the scene Thursday.
"I just want justice for my babies," she said. "This has got to stop. I can't keep doing this. This killing out here. It's a cycle out here. It never ends."
Police said Thursday at a news conference in city council chambers they have been making progress in the case and developed some leads early Thursday morning.
Chief Robin Lees said there is a person of interest who is wanted on a probation violation, but he did not want to comment further.
At the news conference with members of the clergy and community behind him, Mayor Jamael Tito Brown said he asked them to join with him in a plea to the community for information.
"You don't look forward to moments like this," Brown said. "It's one of those times where you have to turn to self-reflection. This hits right to the core of what I believe in. It's about family."
The Rev. Kenneth Simon and the Rev. Michael Harrison both asked community members to contact police if they have any information. They said they want the people who are responsible caught as quickly as possible to avoid any retaliatory violence.
"It's not time for you to take vengeance into your own hands." the Rev. Mr. Harrison said.
Wednesday's deaths give the city 20 homicides for 2018. In 2017, Youngstown had 28 homicides. Since Oct. 25, the city has recorded seven homicides, including a double homicide Oct. 26.
Lees said investigators believe Morris was killed as the result of a feud, and Blair and their son just happened to be with him when the suspects decided to kill him. Investigators are not sure what prompted the feud, Lees said.
Valar Blair was at the scene Thursday morning and he and several other family members returned about 11:30 a.m. after police detained a man who was taking things out of the home. Six cruisers swarmed the scene and took the man into custody. They found a Sig Sauer semi-automatic handgun on him as well as a significant amount of cash, cocaine and a digital scale. His car was towed.
Lees said he did not want to comment on the man's role in the case. The man was taking things out of the home and putting them in his car, which was parked on the same devil's strip where the victims were killed.
Elizabeth Green's mother, Lula Green, was also there.
"They're my grandbabies, my babies," Lula Green said, crying. "They're hurting. I'm hurting."
Elizabeth Green said her daughter had two other children and one of them was asking for his mother. She said she did not want to tell the child what happened.
"I just played with him to soothe him," she said, "I don't want to break down in front of them."
Morris had served a year in prison on a weapons charge from Struthers police in 2016. In Youngstown, he was dragged out of Green's Jean Street home in 2015 by a police dog, and in October 2017 was arrested on drug and gun charges for threatening Blair, reports said.
There is no record of those charges ever being filed in court, however. He also has a bench warrant from Mahoning County Common Pleas Court after he failed to show for an arraignment in June on an escape charge.
Police think someone ambushed the three. At the crime scene they found shell casings from a 9mm handgun and an assault weapon. The baby was in a car seat when he was shot.
"It was clearly an ambush," Lees said.
Morris had a .45-caliber handgun with him and managed to return fire, Lees said. A home across the street had a bullet hole in the frame of one of the front windows.
Lees said the two officers who rushed Tariq Blair to the hospital have both been offered counseling if they need it. He said they are young officers and they were working a two-man car that responded to the gunfire. A group of officers serving a search warrant on East Philadelphia Avenue also heard the gunfire and responded, Lees said.
As other relatives for both Morris and Blair visited the scene Thursday morning, there was talk of revenge. One man who said he was a relative of Morris' said he hoped police found the suspects before his nephews did, because he said they were "on the hunt."
A neighborhood resident who did not want to give a name reported hearing several gunshots, and saw a car in front of the one the victims were in. A man was there with a cellphone and he ran down the street, leaving the car behind with the engine running.
The neighbor said the house has been a problem for the past couple of weeks and gunfire is common. The neighbor said, however, Wednesday's gunfire was alarming because of the volume of shots fired.
"It was too close for comfort," the neighbor said.
As reporters were talking to the Greens when police returned to the scene, Valar Blair said he wanted to make sure people knew his supervisor at his job, Youngstown Pipe & Steel, told Blair he would pay for the funerals.
"He tore up my papers and said, 'I'll pay for it,'" Blair said.
More like this from vindy.com