10 new citizens naturalized in Mahoning County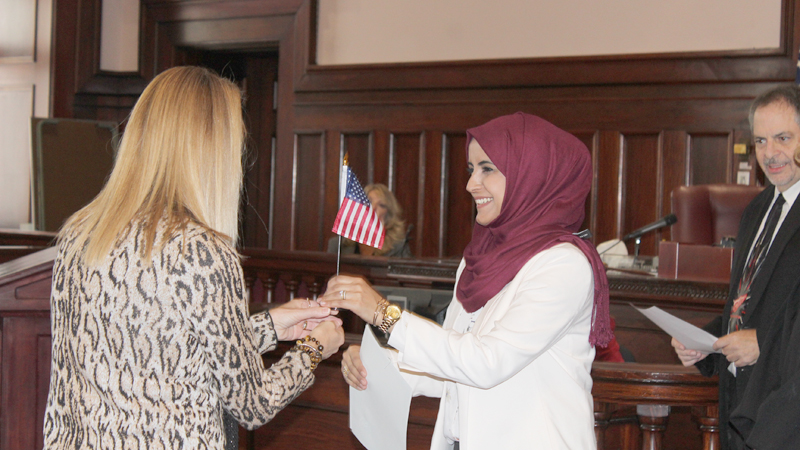 ---
By JUSTIN DENNIS
YOUNGSTOWN
A mix of several languages from around the world echoed in the vaulted, wooden Mahoning County Common Pleas Court courtroom of Judge Maureen Sweeney.
Binh Cong Hoang waved an American flag at his two young daughters, Vy and Van, from the courtroom's jury box.
Thursday morning, the Vietnamese Hoang ceremoniously became an American citizen, along with nine others from Europe, the Middle East and elsewhere.
Hoang met his wife, Lisa Rosenthal of Youngstown, while living in Saigon, Vietnam. Rosenthal, a home decor designer, had been volunteering for an organization developing an economy for Vietnamese handicraft artisans.
"We fell in love," Hoang said, as his high-school-age daughters cooed.
Hoang and Rosenthal moved to the U.S. in 2000 and got married. Hoang said he appreciated the American lifestyle and "freedom." That same year, Vy was born. Her sister, Van, came four years later.
The couple still runs a handicraft business, selling gift items such as Christmas ornaments, photo frames and handbags, all made from recycled materials.
When asked how it felt to be finished with the naturalization process, Hoang's smile brightened and he leaned back into a rolling laugh.
"I feel 'free' now," he said, smiling. "I have [had] to do a lot of things. I had to study. I had to worry about all that. Now I'm like, 'I'm free.'"
Despite the move to the U.S., the family kept putting off the citizenship process – it wasn't easy, Rosenthal said.
"It's one of those things you say, 'Oh, I'm going to do it', then you get busy with life and with kids. The paperwork is daunting and confusing," she said.
It wasn't until Vy and Van started hitting their teens that they got serious about completing Hoang's citizenship, Rosenthal said.
"We decided we were going to finally figure it out. ... We're an American family. Let's finalize it for all of us," she said.
So Hoang hit the books and studied hard for his citizenship test, the family said. Even the natural-born Van Hoang, 14, said she couldn't answer some of the questions.
Though the 18-year-old Vy said she studied well into the night for standardized tests college preparation, her dad worked harder.
"I felt he was actually up later on most nights than I was, which was shocking," she said. "So, I'm proud of him."
Maureen Collins of East Street Productions plucked an acoustic guitar and sang patriotic tunes as Judge Sweeney took the bench and as each received their certificates and an American hand flag.
Mahoning County Clerk of Courts Anthony Vivo read the oath of allegiance. He said his office does between 10 to 15 naturalizations a month.
"It's a very emotional day for them. This is not a thing where you're getting your notary or you're getting your driver's license. They're becoming American citizens," Vivo said.
"They've been waiting a long time for this. We should do whatever we can to welcome them – this 'red carpet' treatment, so to speak."
More like this from vindy.com