4th-graders learn flag etiquette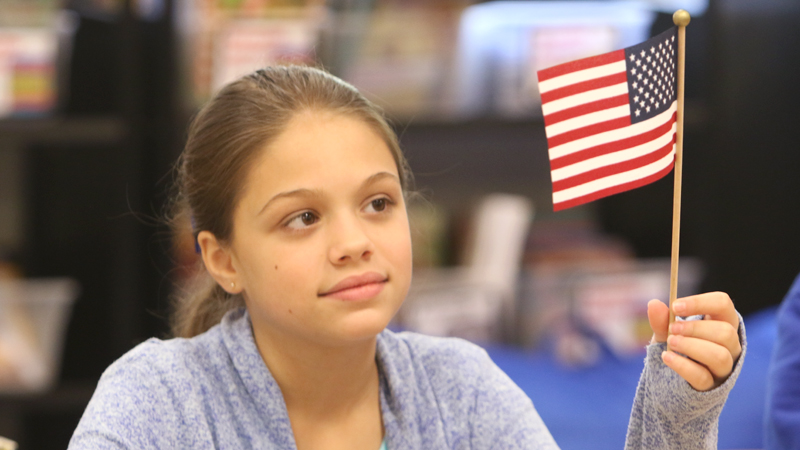 ---
COLUMBIANA
Joshua Dixon Elementary fourth-graders learned about flag etiquette just days before Veterans Day.
Thursday afternoon, Jim Williams, an American Legion trustee, led a class through the do's and don'ts of proper flag handling.
"We do this to instill respect for our flag and for our country," he said.
Williams, who is in his second year teaching students about the flag, said he wants students to know the proper ways to treat Old Glory.
Fourth-grader Camille Jeffries, 10, said she enjoyed the lesson.
"I learned whenever a veteran dies or someone from the government [dies] you put a flag over them to represent them," she said.
Camille also learned the proper way to fold a flag and give it to relatives of a lost loved one.
"You have to respect the flag because if you don't, you're not hurting the flag, you're hurting yourself," she added.
Fellow fourth-grader Jaden Moore, 10, learned the most about the history of the flag.
"Before any of the stars were on the flag, there was the snake and also there was the circle with the 13 stars, then 15 stars, then came 48 and then 50," he explained. The stars represent each state.
Each student was given a modern version of the American flag, a sheet of stickers, a pamphlet on flag etiquette and a coloring book.
Williams said he just wants to teach patriotism to children.
"I don't think children really realize what the military does for them, and I'm just trying to give them insight on what the world's about," he said. "The things we see in our country today, I try to instill in our young children something they might be missing at home or in their growing up years."
Principal Kim Sharshan said she thinks any time students are taught about patriotism it helps them understand important traditions, including flag rules.
"It is also a great connection for our youth to hear from veterans and the American Legion members," she said.
Williams appreciated the gratitude from the students.
"It was nice to see the kids enjoy the program as they stood up and thanked us and clapped for us," he said. "This is just a wonderful country we live in, and I want everyone to respect it and enjoy the freedoms that we have."
More like this from vindy.com