Summary of recent criminal activity in Poland and Boardman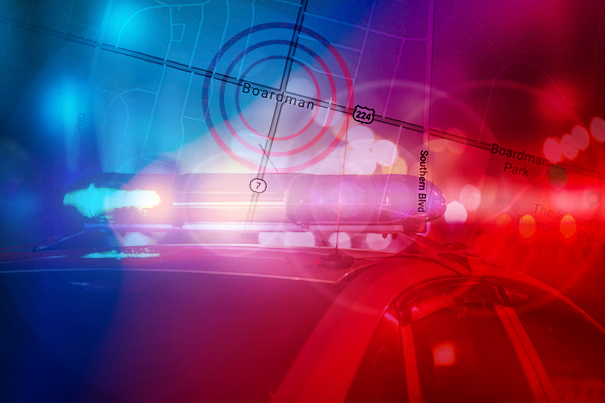 ---
A summary of recent criminal activity in Poland and Boardman townships:
POLAND
Nov. 4
Identity fraud: A Fieldstone Drive man found out his credit card had been used without permission.
Nov. 6
Trespassing: Police received a complaint that someone had trespassed on a piece of property in the 3600 block of Timberbrooke Trail.
BOARDMAN
Nov. 2
Arrest: While investigating a report of a vehicle that had been stolen at Southern Park Mall, authorities at Shops at Boardman Park took Trey D. Blackmon, 25, into custody. Blackmon, who listed addresses on Arlene Avenue in Boardman and Roslyn Avenue in Youngstown, was wanted on a felony probation-violation charge.
Theft: James E. Allen, 37, of West Judson Avenue, Youngstown, surrendered on a theft charge after being accused of intentionally failing to self-scan $38 worth of food and other items while in Walmart, 1300 Doral Drive.
Identity fraud: The owner of DIY Transport Inc., 860 Boardman-Canfield Road, reportedly learned that his name and that of the business were used without authorization on a fraudulent bill of reference regarding transporting a load of cars.
Theft: Nathan R. Boale and Casey E. Colla, both 37 and of Westchester Drive, Austintown, were charged with stealing 13 articles of clothing valued at $257 from Kohl's, 383 Boardman-Poland Road. Colla also was wanted on a bench warrant accusing her of failing to appear in Boardman Area Court on a theft charge.
Recovered property: A 2005 Ford vehicle was recovered during a roll-over crash at Southern Park Mall after the car had been reported stolen in Warren.
Theft: The owner of a South Cadillac Drive business alleged a former worker has failed to return several company-owned items that included a laptop computer, an iPhone and an iPad.
Menacing: A Tam-o-Shanter Drive man told police a man with whom he was in a heated argument charged toward the accuser, then threatened to harm him.
Recovered property: A Ewing Road woman reportedly found her 2012 Hyundai Sonata, which sustained passenger-side damage, after alleging her child's father had taken it without permission.
Misuse of a credit card: Candace L. Lipjanic, 50, of Red Tail Hawk Drive, Boardman, surrendered on a misdemeanor count of misuse of a credit card after a Sept. 19 situation in which her former boyfriend, of Paxton Road, alleged Lipjanic had used his credit card to make $761 worth of unauthorized charges.
Threats: Struthers police handed to Boardman authorities Randy J. Michaels, 30, of Princess Street, Campbell, who was charged with making domestic-violence threats, related to a Sept. 15 situation in which a woman alleged that while at a friend's South Avenue residence, Michaels posted on Facebook a threat to kill her.
Nov. 3
Criminal mischief: An Overhill Road man noticed someone had placed a pile of sticks on his driveway, blocking him from being able to leave.
Identity theft: A Huntington Drive woman discovered her son's online gaming account had been hacked, causing her to fear that his personal information could be used fraudulently.
Theft: A Heather Creek Run man reported a handgun had been removed from his vehicle's trunk.
Theft: Aronaejia T.R. Simmons, 18, of Parkwood Avenue, Youngstown, and Aquiria D.S. Bowers, 20, of Notre Dame Drive, Campbell, were charged in the theft of merchandise from the J.C. Penney store in Southern Park Mall. Bowers faced additional charges of resisting arrest and obstructing official business when, police alleged, she ignored their commands by walking away, then struggled briefly with them.
Drug paraphernalia: While conducting an investigation in the 3900 block of South Avenue, officers charged Michelle L. Weikart, 50, of Georgetown Road, Salem, with having two suspected crack-cocaine pipes.
Nov. 4
Aggravated menacing: A Maple Avenue man alleged a former friend with whom he communicated on an online dating service threatened to crush his skull as the conversation became more heated.
Theft: A man in his 50s reportedly fled in a white Chevrolet Cobalt after having stolen about $450 worth of men's merchandise from the JCPenney store.
Theft: Stefan Breedlove, 58, of Donald Avenue, Youngstown, was charged with theft and possessing drug paraphernalia after $238 worth of clothing and hygiene products was taken from Walmart. Also, a suspected crack-cocaine pipe was found in a cigarette pack, a report showed.
Theft: A 17-year-old Youngstown girl was accused of stealing $375 worth of merchandise from Walmart.
Trespassing: Authorities filed a criminal-trespassing charge against Jeffrey L. Long, 52, of Market Street, Boardman, after having received a complaint that Long was in a McDonald's restaurant, 22 Boardman-Canfield Road, in violation of a recent trespassing warning against him.
Theft: Police charged Darrelle A. McMinn of McFarland Avenue, Youngstown, after alleging McMinn, 26, had intentionally neglected to self-scan $100 worth of items while in Walmart.
Theft: Michael M. Watkins, 61, of Evergreen Avenue, Youngstown, and Sylvia R. Rogers, 53, of Cassius Avenue, Youngstown, were charged with theft and complicity to theft, respectively, after a wristwatch and other items were stolen from Walmart.
Nov. 5
Arrest: A traffic stop on South Avenue resulted in Reiko L. McCann's arrest. McCann, 39, of Midland Avenue, Youngstown, was wanted on two warrants charging her with a probation violation and one count of domestic violence.
Auto theft: A 2006 Ford Explorer was stolen in the 300 block of Mathews Road.
Theft by deception: A vehicle check near U.S. Route 224 resulted in the arrest of Garrett T. McCullough, 37, of West Calla Road, Canfield, who was wanted on a felony theft-by-deception charge. A woman who hired McCullough, who owns a construction business, last month to make roof and other repairs to her Annawan Lane home told police she paid $2,840 for the work, but that no one showed up to do the job.
Theft: Austintown police transferred custody of Tammi E. Anderson, 57, to Boardman authorities. Anderson, of Westmont Drive, Austintown, faced a felony-theft charge, accused of stealing $1,541 worth of merchandise Oct. 26 from the JCPenney store.
Aggravated menacing: A Sugartree Drive man told police his son received threatening correspondence on Snapchat that included an attached photograph showing a shotgun, a crossbow and knives on a bed.
Assault: A New Waterford woman alleged a client with a Yellow Creek Drive group home struck her and another caretaker after having become upset because a TV remote-control device didn't work.
Fraud: A manager with Boardman Subaru, 7811 South Ave., told authorities that after finalizing a contract with a customer to buy a car for $26,895, the potential buyer wrote a check that was later returned for nonsufficient funds.
Theft: A woman reported her daughter's iPhone and purse stolen while the girl attended a drama practice at Boardman High School.
Theft: Youngstown police handed to township authorities Nesheka A. Parker, 38, of Wabash Avenue, Youngstown, who was charged with stealing $100 worth of children's outfits Sept. 10 from Burlington Coats, 529 Boardman-Canfield Road.
Nov. 6
Attempted burglary: Someone reportedly tried to force open a rear door to an apartment in the 3900 block of South Schenley Avenue and broke a window pane.
Breaking and entering: After receiving information that three males were breaking into Dollar General, 859 E. Midlothian Blvd., police charged a 16-year-old Youngstown boy with breaking and entering, vandalism, possessing criminal tools and receiving stolen property. Video surveillance showed one of the suspects using a hammer in an effort to break a window before successfully breaking another one, then entering the discount store, jumping over a counter and filling backpacks with numerous packs of cigars, a report stated.
Domestic violence: A 15-year-old Boardman girl was charged with the crime after her mother alleged that during an argument about a cellphone call, the teen pushed and shoved her backward, then kicked the accuser two or three times in the stomach and bit her right arm.
Drugs: Kimberly A. Raymond, 48, of Argyle Avenue, Boardman, faced a drug-abuse charge after a family member reportedly became concerned after seeing 12 loose prescription pills in her purse.
Theft: A $700 touch-screen radio system was removed from a vehicle in the 7800 block of South Avenue.
Theft: Authorities charged Lydell A. Womack, 62, after alleging Womack, of Megan Circle, Youngstown, stole $310 worth of food and drinks from Walmart.
Fraud: A manager with Heritage Union Title Co. Ltd., 7178 West Blvd., discovered 19 checks, later shown to be fraudulent, were written for a total of more than $40,000 and drawn on a business account.
Theft: A man noticed 20 pairs of shoes and 12 jerseys missing from his Carter Circle apartment, resulting in a $3,520 loss.
Theft: Officers were dispatched to Boardman Area Court on Market Street to book Arquwonna K. Wright of East Lucius Avenue, Youngstown, who faced a theft charge. Wright, 25, was accused of stealing $49 worth of property Sept. 9, 2017, from Walmart.
More like this from vindy.com