Save time, headaches next spring by tending to fall chores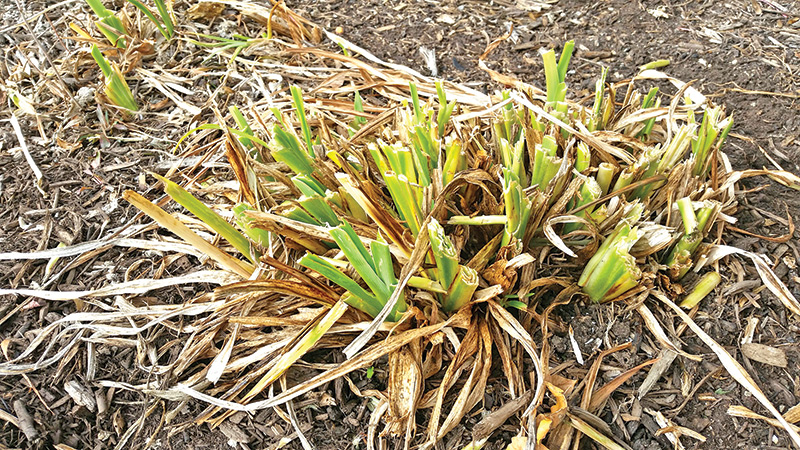 ---
By Eric Barrett
OSU Ext. educator
As you are out in the landscape dealing with those late leaves this year, here are some chores to check off your list before winter arrives.
Prune trees and shrubs. Fall is not a time for major pruning. Dormant pruning is better. Prune some for shape or if the tree/shrub is getting out of its space.
Rake leaves and debris. Leaving leaves on the grass for too long can be a detriment to the health of the grass. Save leaves to mulch roses and tender plants or be placed on the compost pile. Mowing leaves is acceptable too.
Protect tender plants.. From burlap to cages, many objects from the garden shed can be used to protect plants from winter injury. To fill them, leaves, straw, grass clippings and other material will act as an insulator to these plants. Hydrangeas that bloom on old wood and special roses are the plants most often protected.
Plant bulbs. Most bulbs can still be planted. They might not root in and perform their best, but they will bloom. Go ahead and get the bargain for great spring color. Plant bulbs in clumps of odd numbers, not in lines or rows, for the best effect.
Clip and divide perennials. I encourage everyone to leave seed heads of plants, such as Echinacea (purple coneflower), around on the ground for the wildlife. Birds love these in the winter and will visit your garden if you leave them around. Some plants like hosta should just be cut, though. Divide perennials that are outgrowing their space and put them into a new area to enjoy next year. Just dig up the plant, split in half with a shovel and you just made a free plant.
6.
Move houseplants back inside (if you haven't already). Enough said. Check for bugs that might have infested them this summer and repot if needed.
Plant new perennials, shrubs and trees. Fall is a great time to plant it and leave it. Plants should not be fertilized, though, as they will not harden off fast enough to make it through the winter. Be sure to make the hole as deep as the root ball of the plant and two to three times wider.
Clean and store garden equipment and tools. Scrape off the mud, oil the squeaks and make sure everything is ready for the spring rush. Extra attention should be given to mowers and other equipment with engines so they won't gum up over winter. Leave organizing everything until you have more time.
Control winter annual weeds. Dandelions and purple deadnettle are the happiest plants in my landscape right now. Pulling or cutting them is easy now, then mulch over the area with fresh mulch. Controlling them now will improve the look of your beds for the winter and a lot of spring aches and pains since you won't have to deal with them when they get full sized.
Preparing for new beds. Putting down a barrier and mulch now will go a long way to help you with weed control in next year's new flower bed. You can get plenty of ideas of what to plant there when the winter catalogues arrive. Even better, put compost under that mulch to get the ground in an ideal condition for your next year's design.
For all of these chores, you can find details and ideas on our website by searching your topic with "university extension" for the best factsheets.
More like this from vindy.com