Youngstown Crab Co. — Its "best" title is justified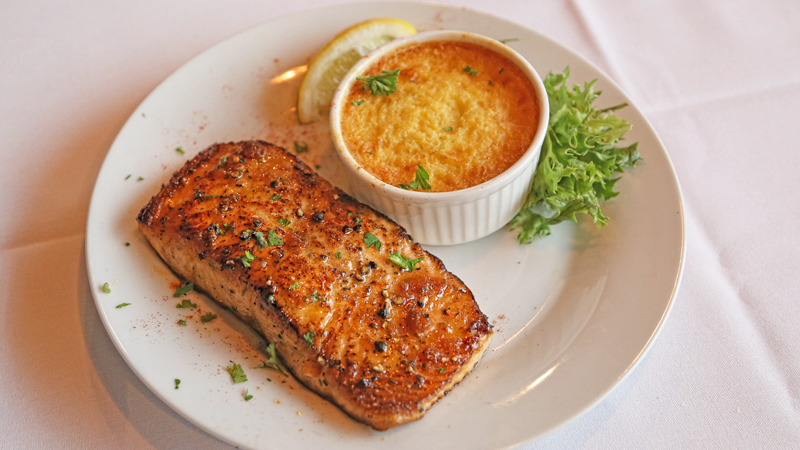 ---
By REBECCA S. NIEMINEN
I love seafood, and I love it a lot.
So when I learned the Youngstown Crab Co. had been ranked the best seafood restaurant in Ohio in 2018 by MSN.com, I was perplexed that I had never dined at this local treasure.
I had driven past the Belmont Avenue location many times, but had somehow never bothered to visit.
IF YOU GO
What: Youngstown Crab Co., 3917 Belmont Ave., Youngstown
More information: 330-759-5480; youngstowncrabco.co
Hours: Sunday, Monday, closed; Tuesday through Thursday, 4 to 9 p.m.; Friday and Saturday, 4 to 10 p.m.
Reservations are accepted and recommended for larger groups.
This was quickly remedied, however, and one recent rainy October evening I pulled up a chair at the best seafood place in the Buckeye State and eagerly awaited the arrival of ocean delicacies.
While scanning the menu, I was impressed by the selection of sumptuous seafood but also surprised to see steak, pasta and chicken entrees.
"That is one misconception about us," said Sarah Hornbeck, manager. "Obviously we specialize in seafood, but don't be deterred from giving us a try if seafood isn't your favorite."
Of course, in my case, seafood is my favorite, so I was practically drooling in anticipation when two fantastic-looking appetizers arrived at my table: buffalo shrimp ($10.50) and calamari Point Judith ($12.50).
Imagine tender shrimp, hand-breaded and tossed in buffalo seasoning with ranch dressing for dipping. These delightfully crunchy and spicy shrimp are a perfect way to prime the palate.
I was equally delighted with the calamari. If you avoid calamari due to its thick, rubbery texture then you've obviously never had the Youngstown Crab Co.'s version. The heaping portion of thin, delicate rings tastes remarkably tender. They're coated in a light, pleasing batter and served alongside a sweet and spicy dipping sauce and also a spicy kung pao sauce.
In addition to buffalo shrimp and calamari Point Judith, the Youngstown Crab Co.'s appetizer menu includes P.E.I. mussels, Boston-style crab cakes, shrimp con queso and Virginia steamers.
Seasonal appetizers include crab bisque, filet tips and greens, buffalo whitefish and a jumbo pretzel with shrimp con queso.
"We do change our menu according to the seasons," Hornbeck explained. "We recently switched to our fall selections."
After being wowed by my delicious introduction, I couldn't wait to try a few of the Youngstown Crab Co.'s entrees. Two seasonal specialties – the firecracker salmon ($21) and the Mahi-mahi ($24) – didn't disappoint me.
Slathered with a brown sugar and cracked pepper glaze, the firecracker salmon offers an unforgettable blend of spicy and sweet. Each bite of flaky salmon pairs fabulously with the hot crunch of pepper and the rich allure of brown sugar.
The firecracker salmon is served with a corn souffl , which was something new for me. The tender kernels of corn amid a mild cornbread-like pudding reminded me of something yummy you'd find on a table down South.
Drizzled with a mustard glaze and served on a bed of vegetables, the fire-grilled Mahi-mahi is firm and devoid of a fishy taste.
Other seasonal seafood options include North Atlantic salmon, South Pacific Ahi tuna, North Atlantic haddock, crab cakes, shrimp and scallop risotto.
Hornbeck said the land and sea entr e is one of the restaurant's most popular. It boasts sea scallops, jumbo shrimp, a 4-ounce Maine lobster tail, charcoal seasoned filet tips with saut ed mushrooms ($39).
The crab-for-two entr e is another favorite among patrons. It includes one colossal king crab leg, 2 pounds of Alaskan snow crab, two sides and two salads (cost based upon market price).
The menu includes five other crab selections: a Maine lobster tail with Alaskan king crab (market price); a colossal king crab leg (market price); 21/2- or 31/2-pound buckets of snow crab ($49.50 or $69.50); steamed snow crab ($31); and 2 pounds Alaskan snow crab with mussels, clams, corn on the cob and garlic mashed potatoes ($62).
As mentioned earlier, seafood isn't the only thing cooking at the Youngstown Crab Co. Ribeye, sirloin and filet mignon will please steak lovers, and Baltimore chicken and Cajun Alfredo linguini with blackened chicken breast are among the nonseafood entr es.
After indulging in seafood delicacies at Youngstown Crab Co. it's only logical to end the evening with a decadent dessert (or two, or three).
Hornbeck said the dessert menu changes throughout the year. I was lucky enough to sample slices of raspberry cheesecake and banana foster cheesecake (both from the Cheesecake Factory) as well as a slice of triple chocolate fudge cake.
All three of these desserts were scrumptious bliss. My taste buds sang the praises of the creamy banana cheesecake swirled with caramel and topped with white chocolate mousse and the creamy white chocolate cheesecake swirled with raspberry.
With its moist, sinfully delicious layers, the triple chocolate fudge cake will satisfy the most diehard of chocoholics.
The Youngstown Crab Co. opened in 2000. Owned by Sally Grabovac and operated by her, daughter Alexandria Tonkovich, the restaurant is a family business.
Marvin Anglin is the head chef, and Christian Jones is sous chef. Anglin has 30 years of experience, and Jones has 10 years of experience.
More like this from vindy.com