Top-ranked NDSU holds off pesky YSU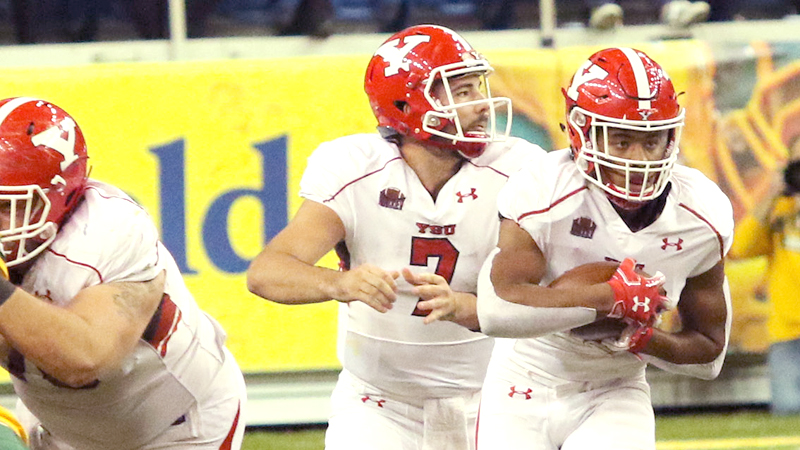 ---
Top-ranked Bison hold off Penguins
Staff/wire report
FARGo, N.D.
Easton Stick threw a touchdown pass and ran for a score and top-ranked North Dakota State clinched the Missouri Valley Football Conference's automatic berth to the Football Championship Subdivision playoffs with a 17-7 victory over Youngstown State on Saturday.
The Bison (9-0, 6-0), No. 1 in the FCS coaches poll, beat Youngstown State for a sixth straight time and upped their FCS-best winning streak to 15.
The only score of the first half came when Stick hooked up with Lance Dunn from 30 yards out with 9:07 remaining in the second quarter to put the Bison up 7-0.
The Penguins (3-6, 2-4) missed a golden opportunity to tie the game in the final seconds of the first half. A blocked punt gave Youngstown State the ball at the NDSU 12-yard line, but after a nine-yard completion, Nathan Mays lost track of downs and on fourth-and 1 from the 3 he spiked the ball trying to stop the clock, turning the ball over with 9 seconds left.
Pelini said it appeared from the sideline that YSU had gotten the necessary yardage, but that the officials made the right call.
"It was just a tough situation," Pelini said. "Unfortunately, we caught the ball just short and it just didn't work out."
The Penguins managed to pull even with 2:45 left in the third quarter on a 21-yard scoring strike from Mays to Miles Joiner, but Stick ran it in from a yard out early in the fourth quarter and Cam Pedersen added a 36-yard field goal with 5:13 remaining to wrap up the win.
"Our guys played their hearts out. That's all you can ask of your team," Penguins head coach Bo Pelini said. "They played together. They played for each other. … I thought our kids responded the right way. We got better today."
YSU was coming off a 43-17 home loss to Indiana State a week earlier, a defeat that effectively killed their already fading FCS playoff hopes.
Dunn finished with 100 yards rushing on 18 carries and Stick completed 13 of 23 passes for 197 yards. YSU managed just 280 yards of offense.
The Penguins rushed for 75 yards on 33 attempts, just 2.3 yards per carry. Mays led YSU with 58 yards on 23 carries. He also was 10 of 17 passing for 120 yards.
Penguins quarterbacks Mays and Montgpmery VanGorder were sacked four times.
VanGorder entered the game in the fourth quarter and was 6 of 11 for 85 yards with an interception.
YSU running back Tevin McCaster had just eight carries for 21 yards. Christian Turner ran only once — a 4-yard carry.
The Penguins host MVFC rival Northern Iowa at noon on Saturday in their home finale.
More like this from vindy.com