DeWine says he's committed to covering those with pre-existing conditions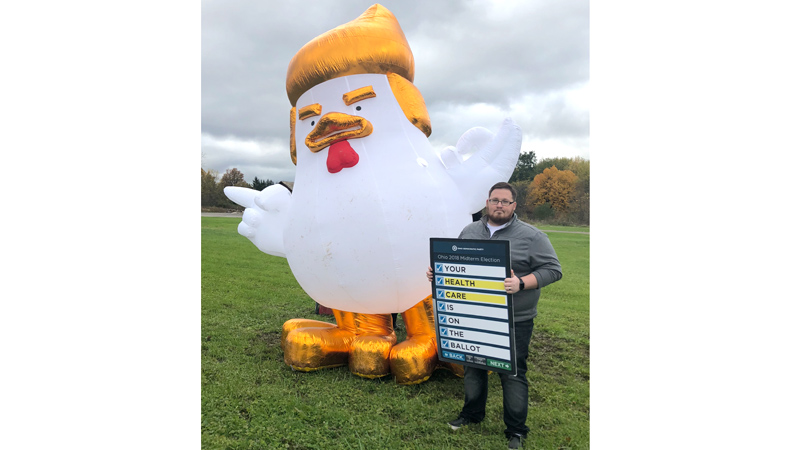 ---
GOVERNOR RACE
BOARDMAN
Attorney General Mike DeWine, the Republican nominee for governor, said he is committed to keeping health insurance protections for those with pre-existing conditions.
This comes as Rich Cordray, his Democratic opponent, continues to say otherwise – and with the Ohio Democratic Party placing an inflatable 13-foot-tall chicken made to resemble Donald Trump near DeWine's Friday campaign stop in Boardman to emphasize that he is a "chicken" when it comes to standing up to the president on health care.
"I've voted seven separate times in the United States Congress to cover pre-existing conditions," DeWine said at Mahoning County Republican Party campaign headquarters on Market Street. My wife "Fran and I have eight children. We have 23 grandchildren. There's no way in the world anybody with a family that large with the medical challenges we all face that you want a situation where anybody is not able to get insurance or where the cost of insurance goes up dramatically. So that's just a bogus issue."
DeWine said if the federal government takes away the coverage of pre-existing conditions, he would make sure as governor that those people were covered in Ohio.
"I will take action immediately," he said. "I will go to the state Legislature and we will fix that. We're not going to have a situation while I'm governor in Ohio where people cannot get health insurance or where they lose it and can't get it or can't get it at a reasonable price."
Health care is a top issue in the governor's race with Cordray running television commercials saying DeWine doesn't support coverage for pre-existing conditions because he opposes the Affordable Care Act that gave people that right. DeWine has his own commercial saying he does support pre-existing coverage.
In his first day as attorney general, DeWine joined a Republican lawsuit against the act, also called Obamacare. The U.S. Supreme Court upheld the law in 2012.
Before DeWine's appearance, Ohio Democratic Party employees placed an inflatable 13-foot-tall "Trump chicken" across the street from Republican headquarters.
"We're here to demand Mike DeWine stop being too chicken to stand up to Donald Trump on health care," said Robyn Patterson, an ODP spokeswoman. Mahoning Democratic Chairman David Betras said DeWine "should issue an apology for fighting to erase protections for people with pre-existing conditions."
DeWine said there's a difference between opposing Obamacare and opposing coverage for those with pre-existing conditions.
"There's a lot of reasons to not be in favor of the Affordable Care Act," he said. "That does not mean being against the Affordable Care Act means you're against coverage of pre-existing illnesses. I can't imagine anybody not wanting pre-existing illnesses to be covered.
"I've made my commitment to the people of the state of Ohio very, very clear," DeWine said.
More like this from vindy.com