Canfield attorney's mural immortalizes city's community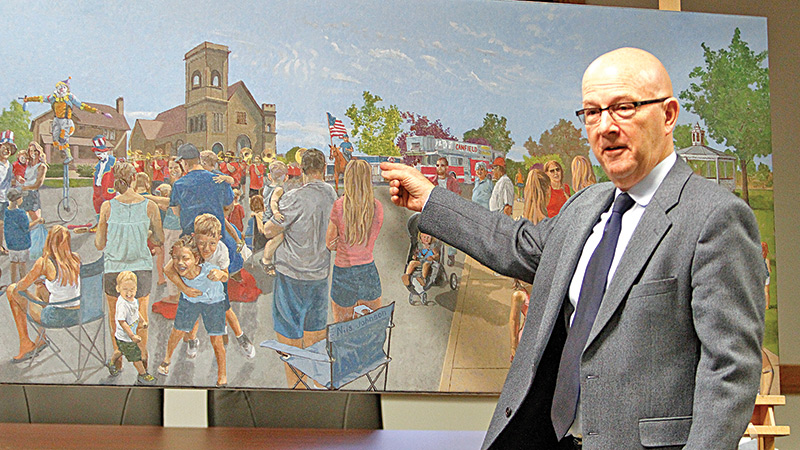 ---
By JUSTIN DENNIS
CANFIELD
Local attorney, philanthropist and arts patron Nils Johnson unveiled a mural he painted in honor of the city's Fourth of July parade, and announced a new local arts initiative.
The Americana-themed work, depicting a scene from that parade along the Canfield Green and spanning several feet, took about 400 hours to paint since Johnson began in May, he said. It was shown for the first time Friday morning in city council chambers.
"In the mural, I tried to encapsulate and suggest small-town life," Johnson told those gathered for the unveiling. "I was interested in showing not only the parade but also the spectators interacting around the parade."
Johnson immortalized several Canfield area officials such as former city Mayor William Kay, Councilman Bruce Neff and township Trustee Marie Cartwright, as well as several of Johnson's family members. The township hall, dispatch building, the Methodist church and the Dairy Queen are also featured.
He said he exhibits many of his works at East Coast art shows. He's also a jazz pianist, playing beside his son Nils Peter Johnson, who plays upright bass in their father-son jazz outfit.
Johnson, whose family law offices have been just off the village green for more than 60 years, said the city's Fourth of July parade is "the one thing people use as an excuse to come back" home.
Officials want the painting to rotate around Canfield landmark buildings, such as the library, the schools and government buildings.
Lou Zona, director of the Butler Institute of American Art in Youngstown, said such paintings "do more than entertain – they enlighten."
"Canfield is much richer thanks to that wonderful achievement," he said. "Art endures. The talents displayed in this remarkable painting will touch those who see it now and into the future."
City Mayor Richard Duffett proclaimed Nov. 2 as Nils Johnson Day, also acknowledging the family's philanthropic tradition.
Johnson established the legal foundation for the Nils and Janet Johnson Foundation – named for his parents – which helps fund an annual scholarship for inner city students attending Youngstown State University, as well as area Boy Scouts and Rotary Club projects. The foundation also donated property rights to expand the city's public library.
The foundation now plans to give $1,000 to help establish a local art show on the Canfield Green, and potentially attract out-of-state artists. Claire Neff, wife of Councilman Neff, will head the show's committee, Johnson said.
"If we could get to a pot of $3,500 to $5,000, you would attract artists from across the country," he said. "You get people thinking about the community as something greater than your interests.
"It's all about ... developing a sense of community."
More like this from vindy.com