Cardinal pride flows at CHS pep rally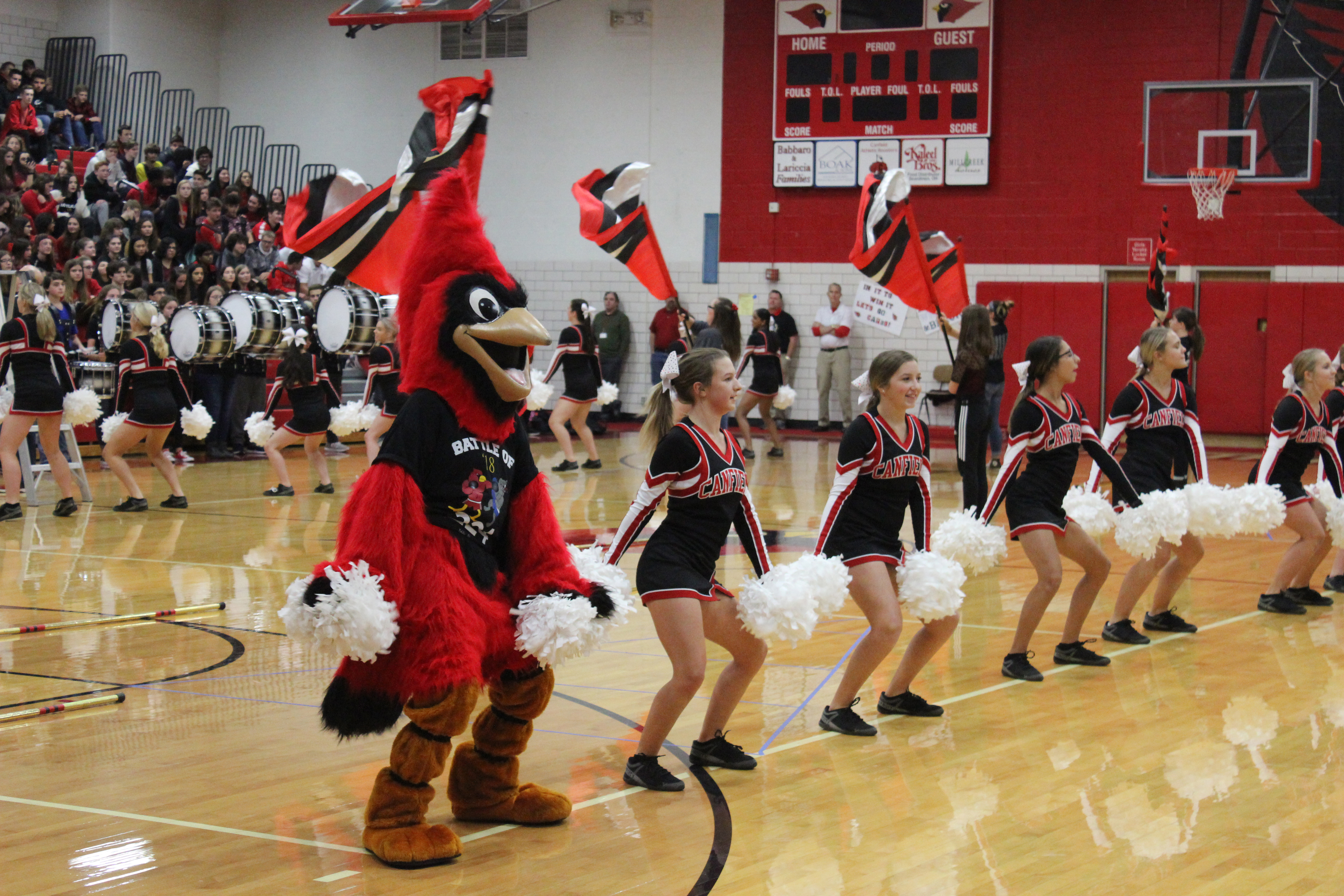 ---
By ABBY SLANKER
Students at Canfield High School wrapped up Spirit Week with a pep rally in the gymnasium prior to the Battle of 224 on Oct. 26.
The students showed their Cardinal Pride throughout the week with class themes, including Trump the Bulldogs for the freshman class, We Could Win This One Asleep for the sophomores, Drown the Dogs for the juniors and Out Live the Bulldogs for the seniors.
Days of the week also had a theme, with Tuesday being Class Color Day during which students were asked to wear their class' designated color, Wednesday was Class Theme Day, during which students could dress to represent their class theme, Thursday was School Theme Day, which was Last One, Best One (decades theme) and Friday was Red and Black Day.
The entire week was a competition between classes to see which had the most school spirit, with the results announced at the pep rally.
After a performance by the Cardinal Pride Marching Band, Jeremy Hamilton welcomed the students to the pep rally and began the rally by introducing senior members of the school's fall sports teams. Seniors from the girls cross country, boys cross country, girls tennis, volleyball, girls golf, boys golf, girls soccer, boys soccer, band, cheerleaders and the football team were recognized.
Each class was tasked with coming up with a game to play at the pep rally, with the freshman class having members of each class play Cookie on the Forehead and the sophomore class having members of each class competing in the Pillow Sack Race. The junior class had members of each class participate in a relay race of dressing in clothes provided and the senior class had members of each class participate in Human Shuffleboard.
In between games, the Canfield High School cheerleaders entertained the crowd and got them pumped up for the Canfield versus Poland football game scheduled for Friday night. Hamilton also introduced Canfield High School's new faculty members, who performed a skit from "Saturday Night Live."
The cheerleaders and Big Red, the Canfield High School mascot, got the students cheering by leading a victory cheer for each class, giving the students a chance to out-cheer their peers.
Throughout the pep rally, Hamilton kept the students updated on the spirit competition scores between the classes, and at the end of tallying, proclaimed the seniors the winners. The freshman class placed second, the junior class placed third and sophomore class placed fourth.
To close the pep rally, the students gathered on the gym floor, and accompanied by the band, sang the school's Alma Mater.
More like this from vindy.com