Penguin City Beer taps in to city's spirit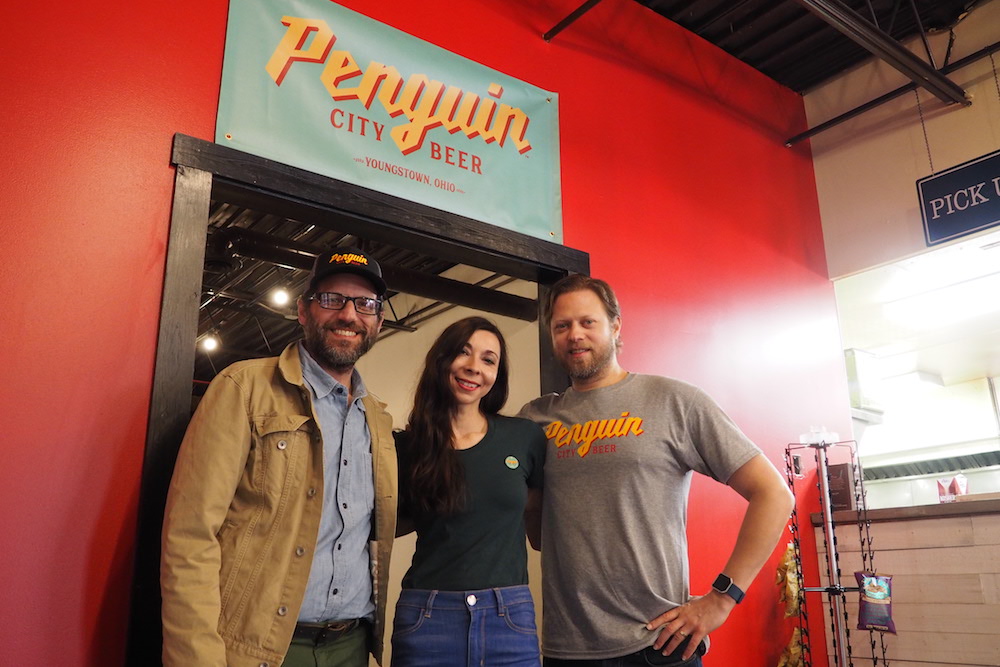 ---
By GUY D'ASTOLFO
YOUNGSTOWN
A lot of beer is brewed in the Youngstown area.
But which is "Youngstown's beer"?
The owners of a new brewing company are hoping it's Penguin City beer.
Richard Bernacki and Aspasia Lyras started the company last year with the goal of creating a beer that honors Youngstown's past and defines its present.
The result is Penguin City, a golden ale that has the refreshing style of a pilsner – the traditional favorite of blue-collar workers – with the more complex flavor of a craft beer.
It pairs the "having more than one" drinkability of a domestic lager (it is 5.5% alcohol), with the sturdier body of an English ale.
Penguin City is sold on tap in more than 50 bars and restaurants. It is brewed under the name Youngstown Brewing on a contract basis by Paladin Brewing in Austintown.
Bernacki and Lyras – who are married to each other – are Youngstown area natives who both went to Youngstown State University.
They share an involvement in the entertainment scene and a pride in their city that they want others to feel. Bernacki was part of synth-pop duo Gil Mantera's Party Dream and experimental rock band Sam Goodwill and is also a DJ, while Lyras is the coordinator of the downtown outdoor movie series and formerly handled booking at Cedars Lounge.
Because of their connection to the city's music scene – and their ongoing support for it – the couple will have a tapping party for Penguin City Beer on Friday at Cedars West End, 706 Steel St.
Part of the rock club's annual Day of the Dead party, Friday's event will include tarot readings, Drunken Momma Cupcakes, Mexican street corn, extra-large Polaroid instant photos by Brian Yordnoff ($25) and a Sugar Skull costume contest. The party starts at 8 p.m.
To take Penguin City from an idea to a reality, the couple had to dive headfirst into the logistical and legal issues of starting a company and then brewing and distributing beer.
But first they had to come up with the right recipe.
"We knew what we wanted to do but had to figure out how," said Bernacki. "Part of that involved determining what 'Youngstown's beer' should be.
"I knew it couldn't be overbearing but needed to be flavorful and distinctive, with a little more muscle than your average domestic lager. To get it right, I brewed many batches at home and had lots of friends, neighbors and homebrewers taste and critique each batch. Gregg Wormley at The PumpHouse Homebrew Shop in Struthers was very helpful throughout the whole process."
As for how they came up with the name, the couple said it just happened one night when they were bouncing around ideas. Penguin City, they said, honors both YSU and the city.
"We wanted it to be a feeling that captured our past and present, our family and our community," said Bernacki.
The beer's logo was created by Michael Pontikos, a marketing instructor at YSU and Lyras' cousin.
The logo's gold and red lettering honors the history of YSU (those were the university's original colors). The light green background represents the color of the flame-resistant jackets that were once commonly worn by steelworkers while on the job.
The schooner at the top of the logo is a tribute to the now-closed Golden Dawn restaurant and tavern, an iconic North Side establishment that was known for serving up ice-cold Genesee beer in the stemmed glasses.
As for the future, Bernacki and Lyras want Penguin City to become synonymous with Youngstown, a source of pride in their hometown that will extend beyond the region.
They would also like to play a role in downtown's revitalization and are looking into moving brewing operations into or near the center city.
More like this from vindy.com