Youngstown Playhouse's season finale offers rapid-fire laughs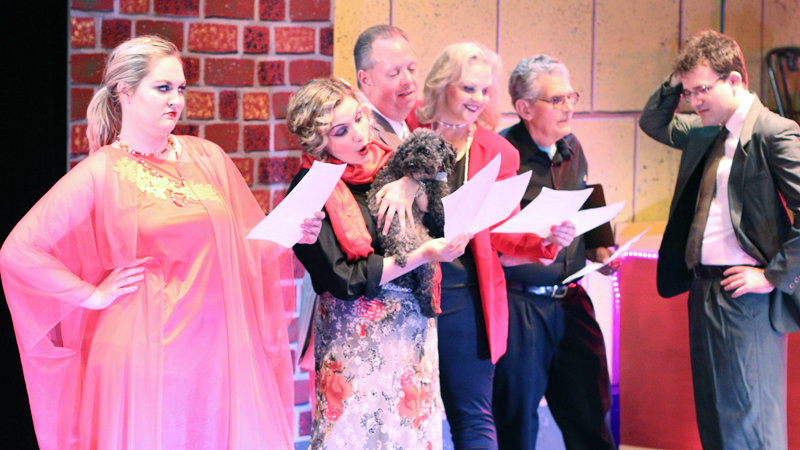 ---
By GUY D'ASTOLFO
dastolfo@vindy.com
YOUNGSTOWN
The Youngstown Playhouse will ends its season with the Mahoning Valley premiere of the slapstick musical "Bullets Over Broadway."
The show opens Friday and runs for two weekends.
Adapted from Woody Allen's 1995 film, "Bullets" premiered on Broadway in 2014 and was nominated for a Tony Award for Best Musical. It only recently became available to community theaters.
Nick Opritza, who is directing the Playhouse production, said the show is a lot of fun and is packed with humor.
"If you don't listen to the dialog closely you will miss a lot of jokes," he said. "There is a lot of innuendo."
Set in the 1920s, it focuses on a gangster boss who agrees to fund a new Broadway show under the stipulation that his girlfriend – who has zero talent – gets one of the roles.
The mob boss sets his right-hand man as a watchdog over his girlfriend as the play is rehearsed, and it turns out he has an ear for the stage. The accomplice makes a lot of suggestions for the poorly written script, and the play becomes a hit.
Audiences should expect some slapstick nuttiness, said Opritza. "One big production number involves all of the gangsters tap dancing," he said.
Opritza said the stage version, which was also adapted by Woody Allen, mostly parallels the movie. "It follows the movie decently, but it's definitely different," he said.
The cast includes Ben Mowrer as the playwright, Rosie Bresson as his girlfriend, Alan McCreary as the gangland boss, with Mackenzie Moorman as his girlfriend, and Tom Kusiowski as the gangster henchman. Rounding out the cast are Eric Chevlen, Thomas Lee Ewen, Brandy Johanntges, John Weber, AnnMarie Lowerre and Stephen Early.
The ensemble includes Diamond Ford, Curtiss Barron, Lydia Ubry, Wendy Meek, Dorothy O'Neil-Meleski, Suzanne Anderson, Anne Sopher, Jessica Hirsh, Emily McConnell, Cheyenne Carr, Anna Maria Jadue, Cecilia George, Aiden Tighe, Roy George, Krystopher Baklarz and Kevin Durkin.
Lori George is choreographer and Matthew White is musical director. Eliana DeMichael is stage manager; Leslie Brown is set designer; Ellen Licitra handles lighting; Kristina Williams created the costumes; and Johhny Pecano is technical coordinator.
While "Bullets" marks the end of the season at the theater, Opritza is coming up on another ending.
After 18 years as supervisor of the the Boardman Performing Arts Center at Boardman High School, he will retire at the end of June.
As BPAC director, Opritza has been in charge of setups for all shows and rehearsals, fixing equipment, and teaching students how to run that equipment, including lights, sound and rigging for the fly system. He is also in charge of booking events, rentals and ticketing.
Before he took over the BPAC duties, Opritza was the drama director at Boardman High school and choreographer for both plays and choirs.
"I have worked with the kids of Boardman for 41 years," he said.
Opritza said he will spend more time with his family in the Cleveland area after his retirement, but also plans to volunteer his services to local high school and community theaters.
IF YOU GO
What: "Bullets Over Broadway"
When: Friday, Saturday, June 8 and June 9 at 7:30 p.m.; Sunday and June 10 at 2:30 p.m.
Where: Youngstown Playhouse
Tickets: $15 ($12 for senior citizens and students); call 330-788-8739 or go to theyoungstownplayhouse.com
More like this from vindy.com