218 graduate in Howland High's Class of 2018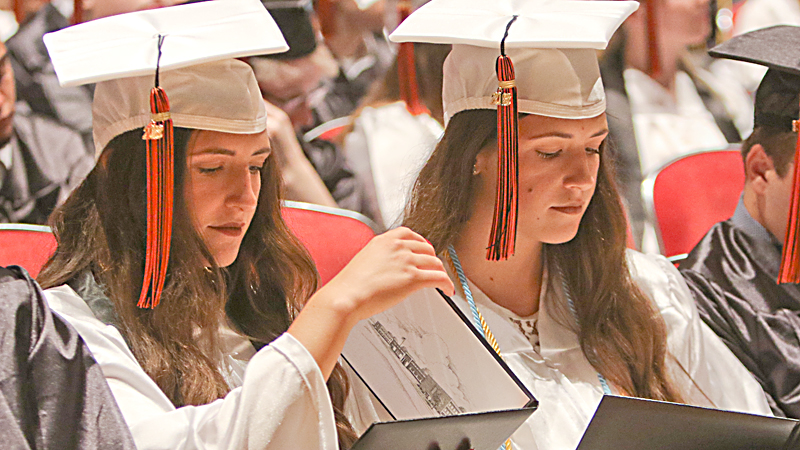 ---
By SAMANTHA PHILLIPS
sphillips@vindy.com
HOWLAND
A sea of black and white gowns and mortar boards filled the front rows of Packard Music Hall Wednesday night, as Howland's 218 graduates waited eagerly to receive their diplomas.
The Howland Class of 2018 commencement marked the school's 98th graduating class.
There were five valedictorians - Rachel Helmick, Jordan James, Nathan Nadler, Julie Sammartino and Jessica Spore, and each earned a perfect 4.0 grade point average.
The salutatorian was Nathan Hudson.
Class president Gabrielle Hartzell spoke at the ceremony, and acknowledged all those who helped on their school journey.
Atty. Matt Vansuch, who is a township trustee, gave the guest address. Vansuch, who graduated with the Class of 1998, spoke of his school experiences, and how they helped him in his career.
He shared two lessons with them all.
First, don't give in to negativity. "It's easy to be a critic," he said. "Finding what's wrong is easy. Finding a solution is the hard part, but it will set you apart from the pack."
Second, continue to do community service after high school and make a difference in others' lives.
"Become the 'you' that you want to be,'" he said. '"Don't let anyone else define you."
Among the graduates were Tiffany Currey and Bethany Forte, who attended Trumbull Career & Technical Center their last two years of school. Both studied early childhood education.
"This is amazing. Last year my boyfriend graduated and I remember being jealous, and now it's my turn," Currey said.
The pair have been friends since middle school, but have different career goals.
Currey will attend Youngstown State University to get her associate degree and finish EMS courses so she can become a certified paramedic. Forte will attend Ashland University and hopes to someday become a teacher.
Like many students, they will go separate ways but try to keep in touch.
More like this from vindy.com