West Branch ready for first state tournament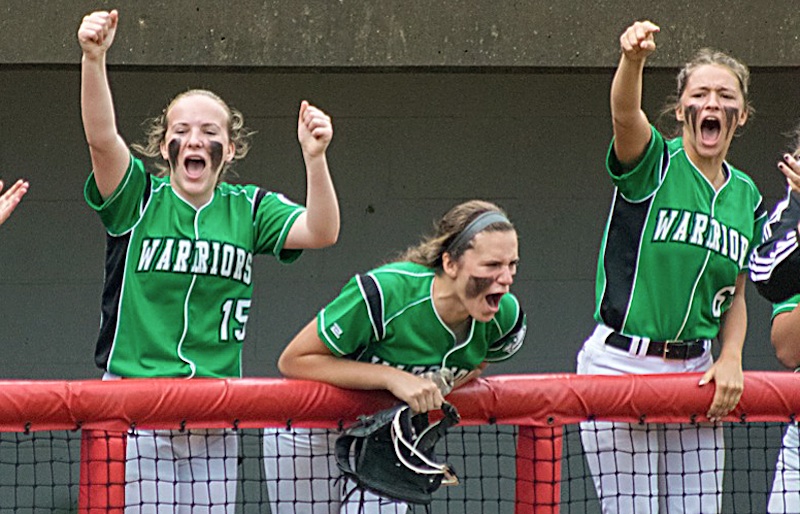 ---
By BOB ETTINGER
sports@vindy.com
During the long hours spent in the gymnasium during the early part of workouts, the West Branch High School softball players were contemplating where, among walls of banners commemorating athletic greatness, their own banner might be placed. About three months later, what began as an innocent joke has become a reality.
"I think we were just joking," senior Kenzie Erb said. "We don't have much room in our gym. We wondered where ours might go. We actually talked the other day about where it's going."
Among the banners on those gym walls are six that memorialize West Branch teams that competed in the Final Four in their respective sports.
The two biggest — in the shape of the state of Ohio and in the school colors of green, white and black — belong to state champions. The only question left for the softball team is whether their own flag will be one of the bigger ones.
"It's definitely the best feeling in the world," senior Kylie Coffelt said. "We know all the work we've put in this year, and, for the seniors, over the last four years, to accomplish our goal.
"It's the best feeling in the world."
In their first trip to the Final Four, the Warriors (26-3) will battle Plain City Jonathan Alder in a state semifinal at Firestone Stadium on Thursday at 10 a.m. In the other semifinal, LaGrange Keystone will play Lancaster Fairfield Union with the state championship game to be contested Saturday at 10 a.m.
"We're thinking about one game at a time," senior Kelsey Byers said. "We don't want to take things too fast. We're striving for the finals, but we're focused on the semifinals. It was important to us to be here."
A big reason coach Sis Woods feels the Warriors have been successful is their willingness to sacrifice individual goals for the betterment of the team.
Erb is probably the biggest example of what the Warriors stand for. A senior, she has been employed almost exclusively as a courtesy runner for Byers and Coffelt.
"It doesn't bother me to just be a runner," Erb said. "It's what's best for the team. I don't complain because it's what Coach needs me to do.
"I definitely have tried to be a positive influence because if we don't have a good attitude, we're not as good as we can be if we have a good attitude."
In the end, it was Coffelt who tipped Erb in the direction of embracing her place on the team. It's a decision she wouldn't change for anything in the world.
"When I was contemplating whether I was going to play this year, Kylie, who is a good friend, told me about the friendships I'd make through the year and that they'd have a lasting impact," Erb said. "I mostly played for the girls and the friendships we could make."
Erb is but one example of that sacrifice. Coffelt and Byers, both pitchers, have alternated starts in the circle and at first base all season. Shortstop Delaney Rito was a catcher but has embraced the middle infield. Center fielder Grace Heath used to be a second baseman. Catcher Sam Morris is always in the flex position and rarely hits. Right fielder Jordan Anderson is a pitcher who never sees the circle.
The reason Woods can make those moves comes back to the character of the individual Warriors.
"That's just the mentality of the team," Coffelt said. "Every single one of us know we will be better as a team up some things for the team. That's where the chemistry of the team is. We don't look at individual stats. We look at what we can do to make the team better. That's where we have success as a team."
And with that character has come a bond and a commitment to the greater good.
"It's what's best for the team," Byers said. "We're not trying to play our best for ourselves. We're trying to play our best as a team. If we need to play [another position] because that's what's best for the team, that's what we'll do. We're not going to win as individuals. We're going to win as a team."
Commitment to the team has led to a magical atmosphere around the team.
"Team chemistry," Woods said. "That's the biggest one. It's not that we don't have talent. We have two All-State pitchers. They work hard every day.
"Byers and Coffelt have pitching coaches," Woods said. "Four or five of the girls have hitting coaches. They put in a lot of extra time. [Chemistry] is a big thing. These girls plan a lot of things together. They get together as a team after certain games. They trust each other. They believe in each other."
Bringing it full circle, that chemistry has taken the Warriors on a wild ride on which they've seen a mid-February joke turn into a late-May reality.
"The thought always crosses your mind," Byers said. "But if I'm being honest, [I] probably [would] not believe we'd get here. But the thought did cross my mind and I'd ask, 'What if we do make it there?' It seemed so far off. West Branch had never been there before. I thought it would be pretty cool."
More like this from vindy.com