Standing up for 'a special class'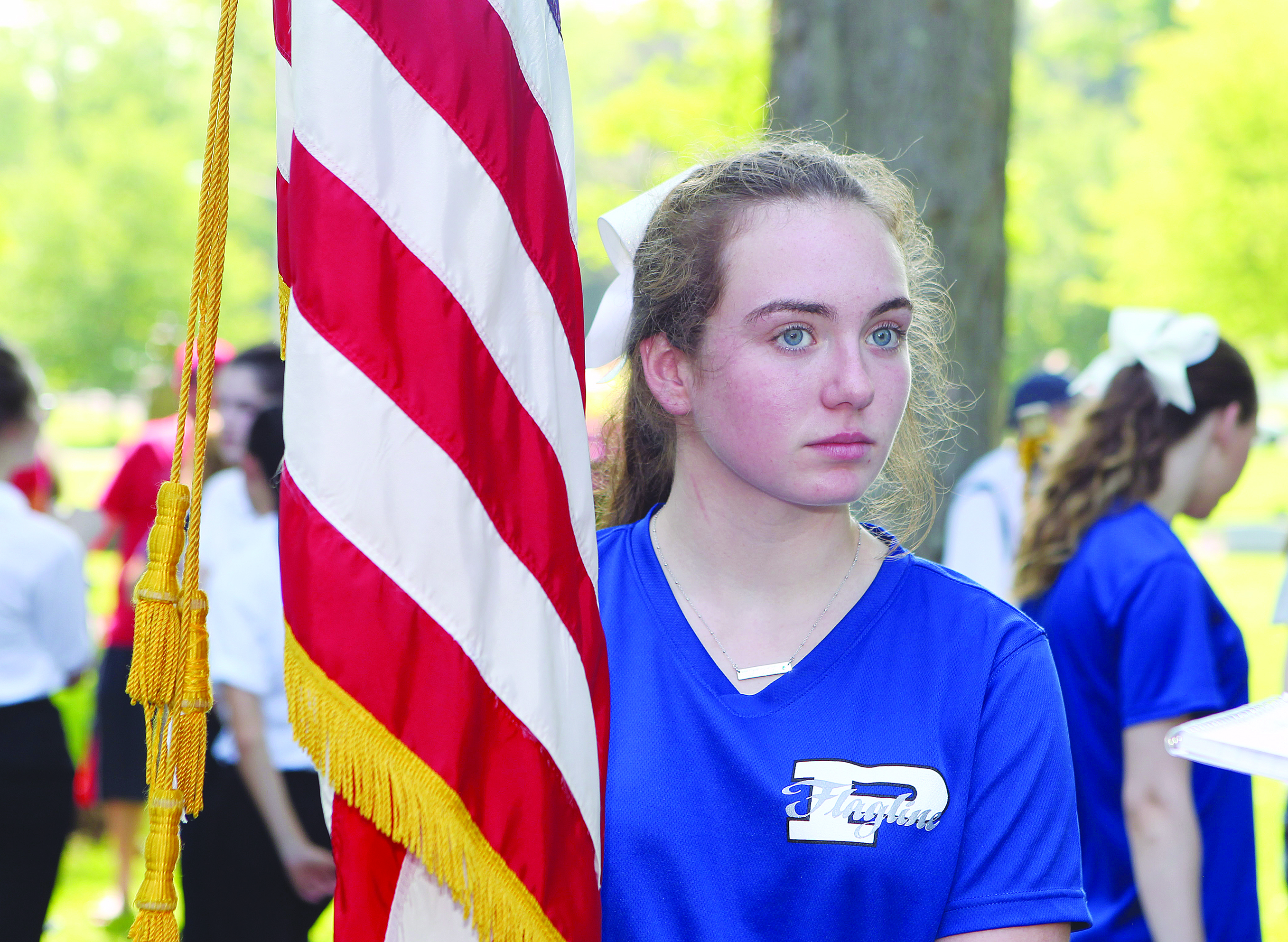 ---
By Sean Barron
POLAND
Olivia Barrett may not have ever been in combat, but she isn't shy about expressing her views that Memorial Day's significance and importance extend far beyond a day off school, a backyard cookout or a trip to the local mall.
"I have a lot of veterans in my family," including a grandfather and several aunts and uncles who have served in all military branches, the Poland Seminary High School senior said. "I think some young people don't remember that it's not always about instant gratification."
Barrett, who is part of her school's flagline, made her feelings about the holiday abundantly clear also by holding a large American flag during Monday's 46th annual Memorial Day Processional Parade and Memorial Ceremonies in Riverside Cemetery off U.S. Route 224.
The somber program kicked off with a nearly 1-mile parade that began at Lee and Cortland streets and proceeded to the cemetery. Sponsoring the event was Poland-based Sons of the American Legion Mahoning Valley Squadron 15.
Joe Trolio, a 20-year Army and Air Force veteran, was the parade's grand marshal.
Serving as master of ceremonies was Jeff Vrabel Sr., Squadron 15's commander, who urged attendees to remember and appreciate the men and women who made the ultimate sacrifice to defend the nation's freedoms and way of life, regardless of where or when they served, or in which military branch.
To that end, the names of 24 Poland residents who died in combat during World Wars I and II as well as in the Korean and Vietnam wars were read aloud. A bell was rung in remembrance of each name read.
Delivering the keynote address was Ohio Supreme Court Justice Mary DeGenaro of Poland, who referred to the holiday's significance as "a somber reminder born in the aftermath of the darkest days of our Republic: after the Civil War."
Judge DeGenaro cited Lucius Quinctius Cincinnatus to point out some of the same qualities she said early soldiers displayed while fighting for and contributing to the nation's well-being. Cincinnatus was a Roman statesman who was born around 519 B.C. and was perhaps best known for his selfless leadership during times of crisis and for relinquishing power after the crisis ended.
Judge DeGenaro, who served nearly 17 years on the 7th District Court of Appeals in Youngstown before her appointment to the Supreme Court, said that today, we need to honor the men and women "who answered the call and made the ultimate sacrifice to uphold the endurance of the principles our country was built on."
In addition, it's vital to give comfort and support to the soldiers' loved ones, who also have made tremendous sacrifices to carry on, added Judge DeGenaro, who called Riverside Cemetery where some soldiers are buried "hallowed ground."
Powerful ways to honor the estimated 1.3 million Americans who have been killed in wars are to place flowers at their gravesites and proudly display the flag, Trolio explained.
"These men and women gave their lives for this country, and for me and you. They're in a special class who put country before self," he said, echoing that loved ones they left behind must be remembered.
Another in a series of many poignant moments came during the unveiling of a single chair that's symbolic of the estimated 82,000 soldiers who are missing in action, prisoners of war or otherwise unaccounted for. It's also meant as a reminder of their sacrifices, noted Rev. Dan Hetzer, chaplain of Margaret Wynn Memorial Baptist Church.
"This chair will forever remain empty for the POWs and MIAs who can't be with us," the Rev. Mr. Hetzer said, adding that it will be dedicated to Poland Seminary High later this year.
Also among those who need others' support are Gold Star families, he continued.
During opening ceremonies by Squadron 15, four chaplains killed during the sinking of the USAT Dorchester in 1943 were honored. A short time later, a colorful wreath was tossed into Yellow Creek during a memorial service on the Main Street Bridge to honor those lost at sea.
Making additional remarks were Village Mayor Tim Sicafuse, along with Eric Ungaro, Poland Township trustee chairman; Elinor Zedaker, president of the Poland Board of Education; Rod Hosler, commander of the American Legion Mahoning Valley Post 15 Inc.; and Claire Kopcsos, president of American Legion Auxiliary Mahoning Valley Unit 15.
More like this from vindy.com