Rep. Tim Ryan answers a variety of questions at a town hall meeting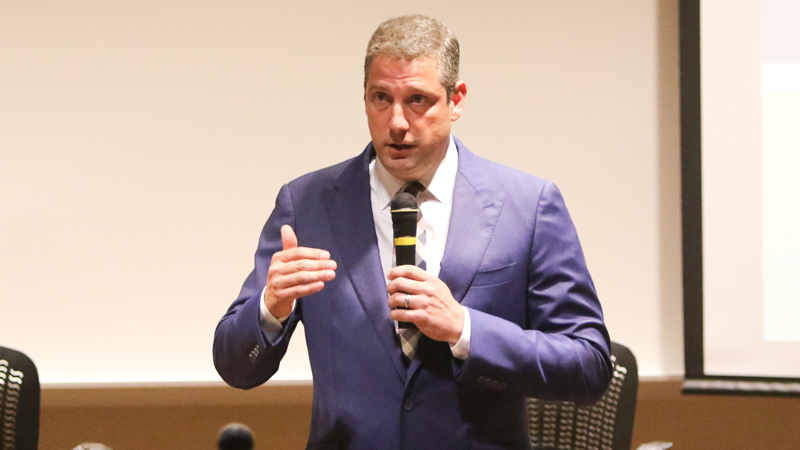 ---
By DAVID SKOLNICK
skolnick@vindy.com
YOUNGSTOWN
U.S. Rep. Tim Ryan answered a variety of questions from a largely friendly audience during his Tuesday night town hall meeting at Youngstown State University.
In all, Ryan of Howland, D-13th, took questions from 16 people in the audience during the 90-minute event. About 125 people attended the town hall.
"There were great questions, people were very engaged and there were a lot of young people," Ryan said in summarizing the session.
A lot of the focus of the event was on the growing problems the country is having with China and Russia.
"To me that's the context we're operating in now," Ryan said. "Those are the defining issues of the times. Are we going to be up to the task? I'm seeing it in the military. I'm seeing it in the economy and I'm seeing a lack of leadership here at home to address it."
Russia has meddled in the United States' elections while China has a "long-term strategy on how to knock the United States out of economic and political leadership," Ryan said. China, he added, wants to be No. 1 in the top 10 industries in the world and is succeeding.
Ryan also said President Donald Trump, a Republican, is "incapable of focusing and putting forth a strategy and an agenda, and it impacts the country."
The United States, he said, needs to engage the world and maintain friendships. Instead, under Trump, Ryan said, the country has disengaged and China is stepping in to help poor countries.
In answering another question, he said the Democratic Party needs to do more than criticize the president to have a chance of gaining control of Congress during this year's election. He added that it was "going to be very difficult" for Democrats to take back the House.
"I'm hopeful, but it's going to be hard," he said.
Democrats need to focus on important issues like health care, job creation and infrastructure, Ryan said.
"We need good high-paying middle-class jobs," he said.
While Ryan supports increasing the minimum wage to $15 an hour, he said several of his constituents used to make $30 to $40 an hour and now make $15 so one focus should be on creating opportunities to return those good-paying jobs.
Kyle Anderson, an Austintown Fitch High School student, asked Ryan what could be done to stop school shootings.
The congressman said "weapons of war" should be banned from being available to people, ban bump stocks that make semi-automatic firearms fire faster, and require background checks for all gun purchases.
"Our kids are getting slaughters in our schools," he said.
This was the first town hall Ryan has had since one on March 25, 2017, in Akron. Ryan said he wants to have four town halls in the congressional district a year.
Meanwhile, Chris DePizzo, Ryan's Republican opponent, on Tuesday challenged the incumbent to a series of 12 general election debates that would start after July 4 and run through the days before the Nov. 6 general election and be held throughout the five-county district.
More like this from vindy.com