Poland's Grisdale caps full agenda at state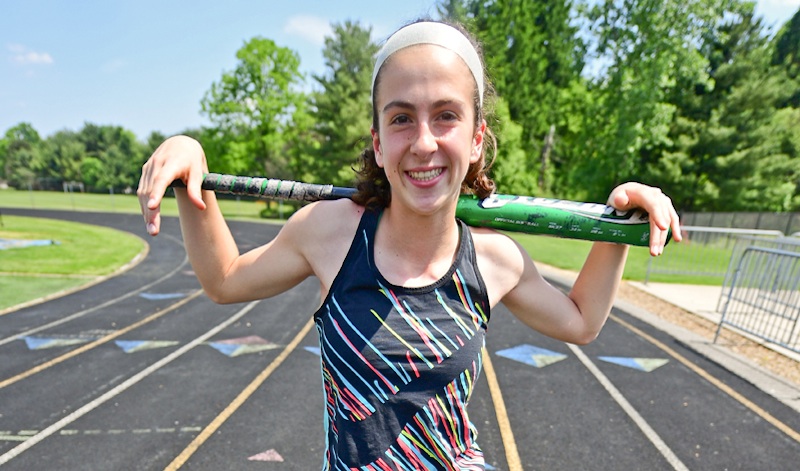 ---
By BRIAN DZENIS
bdzenis@vindy.com
POLAND
There are biathlons, triathlons and quadrathlons, but there is isn't a name for what Jackie Grisdale did to make the state tournament in track.
On May 17, the freshman had to race just to make a race. She started that day as the the number eight hitter for the Poland softball team in a Division II district semifinal against West Branch at Alliance High School.
Grisdale led off the seventh inning with a double. When she got to second base, she had to leave the game. She had to run in the district tournament for track in Salem.
"It was really stressful," Grisdale said. "I didn't want to leave. I don't want to leave any team because both mean so much to me."
As tough as it was to leave with her team trailing 4-2, she and her mother, Kim Grisdale, made the 30-minute drive from Alliance to Salem's Reilly Stadium. During the drive, the runner substituted for Grisdale scored, but Poland fell short, 4-3.
With no time to park, Grisdale had to jump out of the car as her mother was sitting at a stoplight and run to the gate of Salem's football field. That run exhausted most of her time for a pre-race warmup for the 4x800 relay.
"We were right down to the wire," Poland girls track coach Gabby Massey said. "We had about 30 seconds until we had to put in an alternate when she came jogging through the gate.
"She came in and ran a [personal record] in the 4x8 and then jogged over to the high jump and cleared the opening height," Massey said. "She's a special athlete. She is a kid that you don't see very often."
Grisdale advanced to the district finals in the 800 and 4x400 relay and qualified for regionals in the 4x800 and high jump that day.
"It was a little rough, but I don't have to stretch too much," Grisdale said. "I had a little time to jog because I was the anchor leg while my teammates were running and I could stretch a little bit."
When the smoke from districts and regionals cleared, Grisdale qualified for state in the 800. Jogging to into meets as they are starting has been a common thing for Grisdale, who was a five-sport athlete this year. She balanced cross country and soccer in the fall, played basketball in the winter before going on lengthy postseason runs in track and softball.
The arrangement between the two sports was amicable. Grisdale skipped nearly all of the track team's midweek meets to play softball, but ran the Saturday invitationals — missing a few softball games to do so.
"In all these years, we've never really had it work where you could share somebody. You need the right kind of kid," said Massey, who has been coaching at Poland for 18 years. "She is the right person to be able to switch her time and be so successful."
Grisdale isn't daunted by Jesse Owens Memorial Stadium in Columbus. She was introduced to high-profile competition last summer when she was part of the Poland Junior League softball team that won the Junior League World Series.
"I remember being like 'oh my God, I'm playing on ESPN' now,'" Grisdale said. "It's like I've done this before and I've been successful at that level before."
She earned five varsity letters this year, needing 11 in the next three years just to tie her mother, Kim, and teammate, senior Maggie Sebest, for the most for a female athlete from Poland. Maybe she can take on one more sport to put her over the top?
"I don't know about that," Grisdale said. "I don't have much time as it is."
More like this from vindy.com