Ursuline High School bids farewell to graduates, longtime principal
YOUNGSTOWN
Ursuline Graduation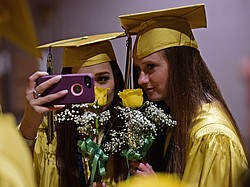 Gallery
A river of green and gold gowns and mortarboards snaked down the aisles of Stambaugh Auditorium's main hall as the 2018 graduates of Ursuline High School made their way to their seats to begin Sunday's commencement ceremony.
This year's graduating class was the school's 110th, and comprised 102 graduates.
Ursuline honored four students this year for their academic achievements.
Katharine Repetski and Richard Weitzel were named valedictorians, and Sophie Alper and Sarah Skiver were designated salutatorians.
Repetski also had perfect attendance for the entirety of her high school career, as did her classmate Jajuan Booker Gibbs.
Repetski said she would stay in the area after graduation and was planning to study biology and criminal justice at Youngstown State University.
Weitzel will be heading to New York City to study pre-med at Columbia University with hopes of eventually going into dermatology or cardiology.
Alper is heading to the University of Toledo to study mechanical engineering, while her fellow salutatorian Skiver will be a bit closer to home at the University of Akron studying chemical engineering, with hopes of eventually going into cosmetics engineering.
"It's a bittersweet day. I'm excited for the future, but I'm sad to say goodbye to my friends here, and I hope we'll be able to stay in touch," Weitzel said.
Repetski echoed his sentiments. "It was exhausting at times getting here, but I'm ready to look forward to the future," she said.
The mass of green-and-gold-adorned students weren't the only ones celebrating the end of careers at the high school; Principal Emeritus Patricia Fleming said goodbye as well.
"As this is my final year, it's only fitting that we graduate together," Fleming said. "You took four years, I took 35."
Fleming told graduates to find their way in life and be open to the breadth of possible paths they can follow as they move into their adulthood.
More like this from vindy.com