Former teacher inspires Mooney's Class of '18
YOUNGSTOWN
Cardinal Mooney Graduation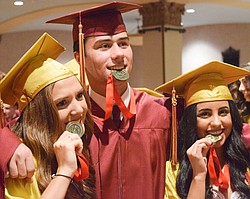 Gallery
Cardinal Mooney Graduation
A steady stream of gold and red gowns flowed across the stage as Cardinal Mooney's 2018 graduating class received diplomas Sunday at Stambaugh Auditorium on the city's North Side.
There were 121 graduates in the school's 60th commencement ceremony. Its three valedictorians are Isabella Francisco, Shannon Reardon and Brian Sharp.
The commencement speaker was former teacher Mary Lou Rogers, who retired last year. She started teaching at Cardinal Mooney in 1991, and was honored with the Distinguished Alumni Award from the school in 2015.
She shared many inspirational quotes with the graduates from her favorite authors, activists and leaders, including three lessons from Randy Pausch's book, "Last Lecture:"
First, she said, "Don't complain, work harder."
Second, "Whether you think you can or can't, you're right."
And third, "Tell the truth, all the time."
"Now it's time for you to write your own quotations. What wisdom will you share with the rest of the world?" she asked the class.
Melissa Austin said she was very proud to see her daughter, Jordyn Austin, walk the stage.
Jordyn, who plans to attend Bowling Green State University to study early childhood education, said it was an exciting day.
"I'm ready to take on the world," she said.
Graduate Victoria Lyden said it was a bittersweet day, a mixture of excitement for the next chapter and acknowledgment that everyone will go their separate ways.
"The Mooney family is something real," she said.
Lyden reflected on her classmates spending time tailgating and rallying before football games.
Principal Mark Vollmer told the students to be proud of where they are from and add to Mooney's legacy.
"Pray for Mooney and pray for each other. Don't forget about Mooney – this is your family," he said.
More like this from vindy.com