East sprinter Lewis motivated by loss of beloved mother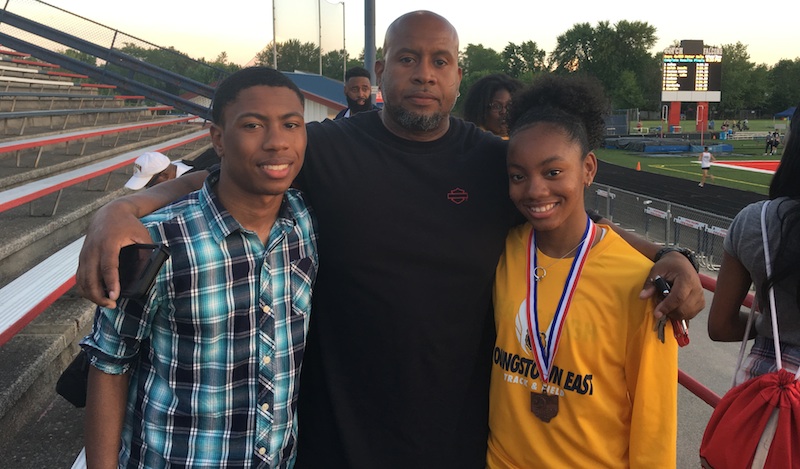 ---
By BRIAN DZENIS
bdzenis@vindy.com
AUSTINTOWN
While East's track team is chasing medals from Columbus to wear around their necks, Laniya Lewis already wears some very precious metal.
When she assumes the role of coming out of the starting block in the 4x200 relay this weekend, she'll be wearing a silver diamond ring on a chain around her neck. The ring belonged to her late mother, Claretta Jackson.
"Before we run, I always kiss it. That keeps me going," Lewis said. "It's a ring she wore almost everyday, so I wear it around my neck."
On April 12, Jackson died from carbon monoxide poisoning. She was 45 years old. Two days later, Lewis and her teammates set a meet record in the 4x100 at the GlenOak-Second Sole Eagle Elite.
"She's been surprisingly OK," East coach Kevin Cylar said. "I'm so proud of her. She's been able to bottle her emotions and come out here like a champ. She's been key to these girls finishing these relays.
"She's someone you have to keep your eye on. She's the point guard for our basketball team and is a Youngstown Early College Student," Cylar said.
Jackson, an East and Youngstown State graduate, was a major presence in Lewis' life.
"She was my best friend. She came to every meet that she could get to," Lewis said. "She'd sit in the front row and scream my name and cheer on the team."
Lewis' father, Lawalyn Lewis, wasn't sure how his daughter would be after Jackson's death. After dropping her off at practices, he watched her from his car.
"Kids sometimes can be mean, but I watched the embrace she got from all of her teammates and her coaches and it made me feel good," Lawalyn said. "I was able to pull off after dropping her off and be OK with it."
Golden Bears' sprinter Jahniya Bowers has said in the past that their relay squads have been supportive of each other throughout the season, especially so when tragedy struck in April.
"We wanted to be there for her. We check up on her," Bowers said. "We motivate her in practice and make sure there's no negativity. We try to keep a positive vibe."
Lawalyn describes Jackson as "the engine" in her children's lives — Laniya has twin brother, Lawalyn Jr. — and he was just 'Dad' someone who provided financial support and participated when called upon, but Jackson took care of the day-to-day details. He now calls himself a father.
"I saw what she went through on a day-to-day basis. I think when it comes to being a man, even if you're not with your children's mother, you still need to know the details of your kids' lives." Lawalyn said. "It's easy to be just a dad, but it's a different situation being a father.
"I'm handling the doctor's appointments, taking her here or him there," he said. "[There are] not enough hours in a day."
He sees East's run to state as a huge benefit to his daughter.
"This is an outlet for her right now, but day-by-day, it's still fresh," Lawalyn said. "She throws it out there on the track.
"It's given the family something to cheer for and it's good to see her smiling when she's winning."
Laniya — a quiet but mentally strong sprinter — said she's exited for to make state in her freshman season. When asked if she was racing for her mother, she smiled and simply said "yes."
More like this from vindy.com