Girard graduates say goodbye as they move to next chapter of life
GIRARD
GIRARD GRADUATION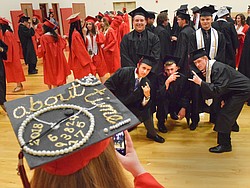 Gallery
Ondraya Frankino and Nick Mann are best friends who were raised in the same Girard neighborhood.
Frankino will move to Oxford, Ohio, to attend Miami University and study international business with a focus on marketing this year.
But she promises they will keep in touch.
It's a promise many of the 143 graduating Girard seniors, decked in red and black gowns, made to one another Sunday at the Class of 2018's commencement in the high school gymnasium. This was Girard's 135th graduating class.
Frankino, who was on homecoming court and a RoboCat team member, spent her senior year taking general education classes at Youngstown State University and earned enough credits to complete her freshman year requirements. She looks forward to studying abroad.
Graduation was a bittersweet moment, Frankino said.
"We're all just a big family, we're all so close," she said. "I wouldn't have wanted to go to any other school."
Mann, who played in marching band and enjoyed watching the school's sporting events, was excited for the big day. His next step is to attend trade school to become a welder.
Superintendent David Cappuzzello encouraged the students to dream big, grow from the challenges they face and always do the right thing.
The class had seven valedictorians: Anthony Costarella, Megan Fiedler, Olivia Groscost, Alexa Jones, Alisa Mancini, Richard Park and Sarah Ryser. They all credited their success to their friends, family and teachers.
Costarella noted everyone in their "Girard family" has different personalities and interests – some are athletes, some are artists – but they all care about one another.
"All of us have a powerful sense of community," he said. "We have school pride."
Costarella recounted how the community mourned and consoled each other when their classmate Jacob Kalan died in 2016 and Girard alumnus Officer Justin Leo was killed in the line of duty last October.
Fiedler spoke about high school memories and gave this piece of advice to her classmates: "Keep looking forward. You can't start the new chapter of your life if you keep rereading the last one."
Jones shared advice from teacher Ernest Szabo which empowered her to excel in school: "The person next to you isn't smarter than you, he just works harder than you." Those words taught her she could succeed even if she had to study more than others.
The future can be terrifying to think about, but it's time to face those fears because "fear kills more dreams than failure ever will," Ryser told the class.
She encouraged everyone to make the most of every moment, to cherish the good memories and remember the hard times that made them stronger.
More like this from vindy.com