Fitch grads overcome losses, other obstacles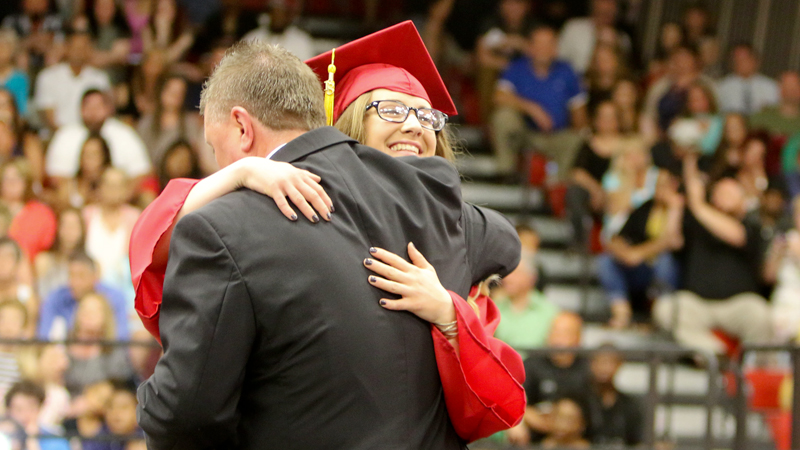 ---
By Bob Jackson
AUSTINTOWN
When Makaela Gian- nini and Emanuel Dawkins stepped forward Sunday to accept their diplomas as members of the Fitch High School Class of 2018, they each had an unseen angel walking beside them.
Both students lost their mothers to cancer during their years at Fitch. Makaela's mom, Teresa Giannini, died in 2015 at 47; Emanuel's mom, Kinyata Evans, died a year earlier at 36. Both said the losses deeply impacted their lives.
"She was my best friend," Emanuel said of his mom. "When I lost her, I didn't know what to do. I really didn't do anything but stay in my room."
Sports ultimately was his way out of the darkness, and he found release on the football field and basketball court.
His grandmother, Sheila Evans, took over raising him, and Emanuel said she pushed him to do his best athletically and academically.
"She knew what I was capable of, so she always encouraged me to do my best," he said.
Emanuel said he and his brother, Rakeem Evans, 22, worked through their grief together. Rakeem is multi-handicapped and uses a wheel- chair, but was Emanuel's biggest supporter and fan.
Emanuel will study physical therapy at Otterbein University. It's a career path he chose after suffering a broken leg in a car accident as a child, and physical therapy was an important part of his recovery.
Makaela will study nursing at Youngstown State University and wants to eventually become a physician assistant. She had her own medical problems growing up, with a severe case of scoliosis. During her seventh-grade year, she underwent a massive spinal fusion surgery to correct a radically curved spine. She missed most of the school year that year.
"I'm glad I had it done though, because they said otherwise I would have been in a wheelchair by the time I was 20," she said. "I know that if I could go through that and do that as a 13-year-old, then I can do anything. I know what I'm capable of."
Makaela, who was one of Fitch's 10 valedictorians, said the loss of her mom was tough to deal with because, while friends and classmates expressed their sympathy, she felt alone.
"It was very, very hard," she said. "No one around me experienced what I went through."
Still, Makaela said she feels close to her mom, and even sees signs of her presence regularly. Like when a butterfly appears.
"She loved butterflies," Makaela said. "She called them flutterbies."
High school principal Chris Berni had high words of praise for Emanuel and Makaela.
"Both students have constantly shown determination and a quiet spirit that is driven to be successful in spite of the adversity they've been confronted with," he said. "As adults, we understand how difficult grief is. These students have dealt with their grief, and kept a positive, resilient attitude."
Marie Dockry, senior guidance counselor at Fitch, said the entire graduating class is a respectful group who are close friends.
"Our kids are our true heroes," Dockry said.
More like this from vindy.com