Baby sister, Old Blue Eyes inspire Lowellville grads
By Sean Barron
LOWELLVILLE
Lowellville Graduation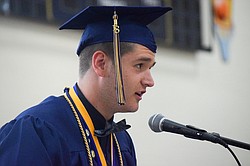 Gallery
Before she died as an infant, Ella Rose Solak had no way of knowing that part of her legacy would include paving the paths on which her older brother, Nathaniel I. Solak, would one day walk.
"When she was young, she was always in the hospital. She'd barely be at home, but when she was home, we always had to give her her medication through an IV," he remembered.
As difficult as the routine was for the Solak family, it also played a vital role in Nathaniel Solak's decision to enroll this fall at the University of Toledo to become a pharmacist – and to use his career to help others, he explained.
But before pursuing his higher-education goals, Solak needed to receive his diploma, something he and 54 other seniors did during Lowellville High School Class of 2018's commencement Sunday afternoon at the school.
The legacy of Solak's sister, who died in March 2010, also continued to benefit other students, because her family gives one $1,500 scholarship in her name each year to an eligible senior. The Solaks also sponsor an annual all-day three-on-three basketball tournament to raise funds for the effort.
"I usually help set up the tournament; I do whatever I can to help with it," said Solak, whose summer plans include playing baseball and working for an area pharmacist.
A diploma, however, wasn't the only symbol of a major crowning achievement Solak has taken home recently. Late last month, he also was a recipient of the Curbstone Coaches Byrd Giampetro Student Athlete of the Year Award for his basketball accomplishments. Solak also played baseball and football for the Rockets.
Nathanael P. Warren also has faced some adversities, but one of his key coping strategies can be found in a popular Frank Sinatra tune.
"There were a lot of changes in school … and it was hard to adjust. You had to make your way to do it," explained Warren, who had written on the top of his cap "I Did it My Way," one of Sinatra's signature songs, along with a caricature of the famous crooner.
Nevertheless, Warren said he will fondly remember Mandy Pachner, a teacher who encouraged him to keep trying to do his best and pushed him to succeed in her challenging anatomy and chemistry classes.
Some of Pachner's influence may have rubbed off, because the next chapter in his life consists of attending Youngstown State University to major in chemical engineering, said Warren, who also competed on his school's cross-country team.
"It's extremely bittersweet," Jessica L. Grow said about graduating, before she shifts her focus to enrolling at YSU to study history.
Her specific field of study and her career are undecided, but the outcome will see her becoming more familiar with other cultures and helping people, said Grow, who was part of her school's Wallace Club. Members work to develop in young children trustworthiness, fairness, respect for themselves and others, responsibility and citizenship, she noted.
Expounding on those and similar attributes was Principal Dennis Hynes, who encouraged the grads to use them throughout their lives.
"Keep those five [leadership] pillars with you," Hynes said, referring to respect, trust, pride, communication and collective responsibility.
Delivering the commencement address was Atty. Adam J. Russ, a 1998 Lowellville High graduate, whose theme on the passage of time was to impress on the grads what he sees as the value of savoring and wisely using moments they have.
Russ, who works for Frantz Ward LLP, a Cleveland law firm, ticked off a number of his successes, failures, disappointments, rejections and losses in an effort to get the 55 grads to realize that "eventually the dots will connect in your lives."
More than 630 million seconds have passed since he received his diploma 20 years ago, but "time is [composed] of all of those seconds and how you spend them," he added.
More like this from vindy.com