'One of a kind class' graduates at S. Range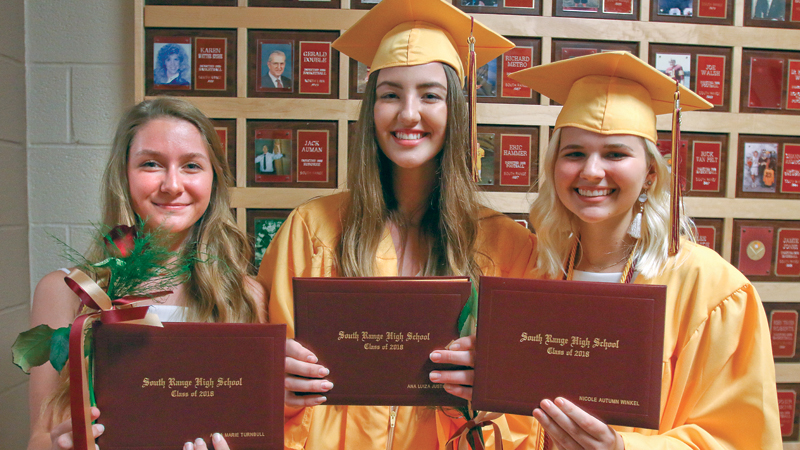 ---
NORTH LIMA
South Range Graduation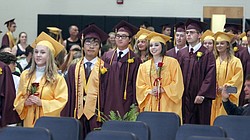 Gallery
NORTH LIMA South Range High School's nine valedictorians and lone salutatorian offered life lessons gleaned from their teachers, parents and peers during their addresses to the school's Class of 2018 during commencement Saturday at the school. In introducing the Class of 2018's academic leaders, high school Principal Stephen P. Rohan described its 120 graduates as a "one of a kind class." One teacher was known for greeting students every morning, letting them know they are valued
South Range High School's nine valedictorians and lone salutatorian offered life lessons gleaned from their teachers, parents and peers during their addresses to the school's Class of 2018 during commencement Saturday at the school.
In introducing the Class of 2018's academic leaders, high school Principal Stephen P. Rohan described its 120 graduates as a "one of a kind class."
One teacher was known for greeting students every morning, letting them know they are valued.
Another teacher advised students to "bring it strong every day. He brought it on strong for us. It's never too late to bring it on strong every day," said the speaker.
"Our teachers have done the best they can to teach us how to live. They said, 'Don't be afraid to get your hands dirty and to work hard. You will surprise others and yourselves,'" a valedictorian said.
Another teacher urged students to "adapt, improve, overcome and persevere."
One teacher's favorite comment was "Figure it out for yourself. It made me become more independent," said a valedictorian.
In his remarks, schools Superintendent Dennis J. Dunham said the Class of 2018 was "exceptional" in its role as student leaders.
"It is hard to believe four years have gone by and I know you are eager to move forward and let the new senior class take over," said Dunham.
But, he said: "When time passes, it is the high school friends and memories you will look back on."
Finally, Dunham urged the graduates to "give back to your fellow man ... do something for no pay. Your generation will make a difference. We are counting on you," he said.
More like this from vindy.com