Regional Champion-ship: Weaver's team still perfect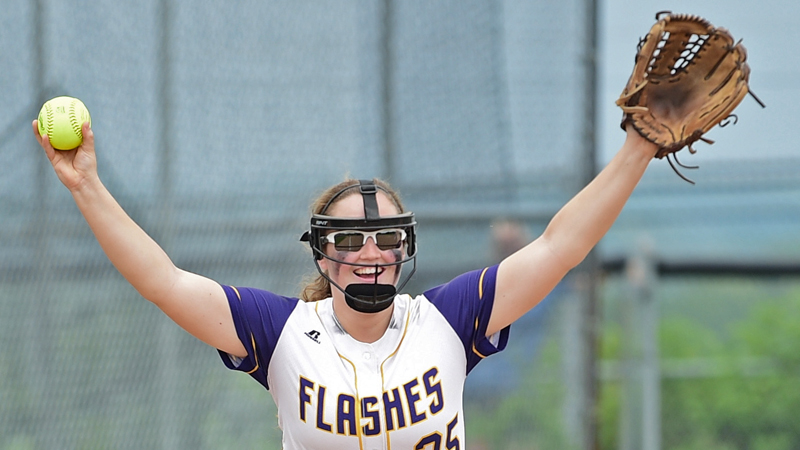 ---
Regional Champion-ship:
Weaver's team still perfect
By MIKE MCLAIN
MASSILLON
Getting up early on a Saturday morning isn't something that normally appeals to teenagers.
Except, of course, when there's a good reason for the early sound of the alarm clock.
The Champion Golden Flashes softball team had two worthy reasons to look forward to a 10 a.m. start Saturday against the Independence Blue Devils. One was a chance to earn the school's 10th trip to the state tournament. The other was to silence the hopes of the Blue Devils, who provided the Flashes with some bulletin-board material.
After making easy work of the Blue Devils, 13-3, in a game called after five innings, the Flashes talked about some comments coach Cheryl Weaver read before the Division III regional final here at Washington High School.
"We had a little motivation behind us today," senior shortstop Megan Turner said. "We were actually told we were going to get our hearts broken. We were fired up. We proved in the first inning that we were meant to be here and that we really wanted to win this game."
Weaver read the comments in an area newspaper. Not that a team with a 29-0 record and a ranking of first in the state needed help in taking another step toward what it hopes will be an eighth state title, but Weaver will take any added motivation she can find.
"One of the coaches said something about wanting to break our hearts, and the girls were like, 'No, we're breaking theirs.' Any little thing they can use as firepower, they do," Weaver said.
The Flashes essentially ended all doubts when they sent 13 batters to the plate in the top of the first inning in scoring nine runs. It made for an easy day of work for winning pitcher Allison Smith, who aided her cause with a three-run homer in the uprising.
"It was hard in the first inning because I went from warming up and I had about 25 minutes [to wait]," Smith said of the long delay before she walked into the pitcher's circle. "I was a little worried about the first inning because I knew their first couple of hitters were good. I was just hoping we would make it out safe."
The Flashes added one run in the second inning and three in the third to open a 13-0 lead. The Devils scored three runs in the third, increasing the number of runs Champion has allowed in the tournaments to four.
"We had a two-hour hitting practice [Friday]," Smith said. "I think that's one of the reasons why we came out firing like we did in the first inning."
Champion will play North Union in the state semifinals at 3 p.m. Friday at Firestone Stadium in Akron. The Flashes will try to earn their third state title in the last four years and fifth in the last eight seasons. It would be the fifth state title under Weaver's tutelage.
"Once you go, you just want to keep going back," Weaver said. "There's nothing like it in the world. Every year you have different girls in there. You're so excited for them to experience it."
Smith opened the top of the first with a single off pitcher Kim Rega, and Turner drove in Smith with a single. Cassidy Shaffer drove in one run with a single, and Gabby Hollenbaugh drove in a pair with a single.
Following a walk to Sophie Howell, Carli Swipas drove home Hollenbaugh with a single. Smith then drove a Rega pitch over the fence in left field to stretch the lead to 8-0. Abbi Grace followed with a double and scored on a double by Turner.
Rega should have escaped the inning allowing just two runs, but an error on a dropped fly ball gave the Flashes a chance to pile on seven unearned runs.
"We know we have to do whatever it takes to get the job done," Turner said. "It doesn't matter if it's home runs. It doesn't matter if it's line drives. We show up ready to play."
Abby White singled and scored on a double by Howell in the second. Shaffer, who drove in three runs, doubled home Turner and Emma Gumont in the third, which ended Rega's work in the circle. Shaffer scored on a single by White off pitcher Sarah Piteo.
A single by Rega and back-to-back doubles by Piteo and Maggie George led to two runs for the Devils. George scored when Hollenbaugh, the catcher, threw the ball over Smith's head after a pitch.
"I give them credit," Weaver said of the Blue Devils. "They fought where a lot of teams might have just gone down."
More like this from vindy.com