Youngstown's East, Chaney highs graduate Class of 2018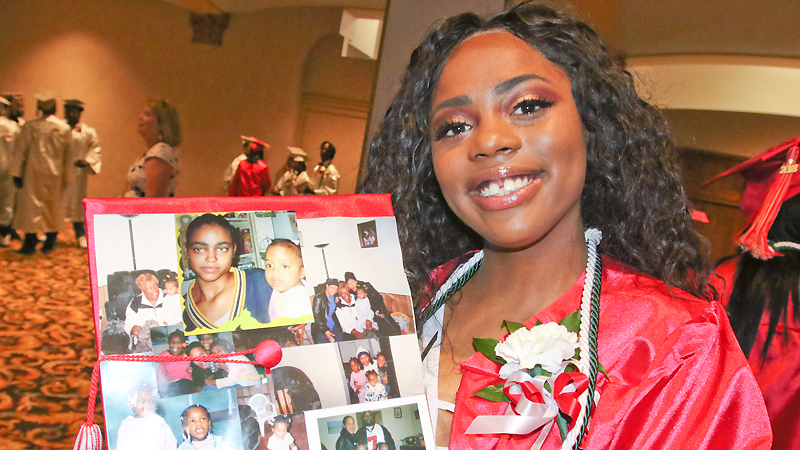 ---
By JUSTIN WIER
jwier@vindy.com
YOUNGSTOWN
Chaney High School Graduation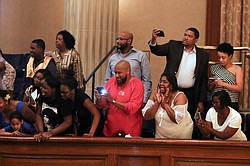 Gallery
Friends and family cried out with joy Friday night as the 115 graduates in Chaney High School's Class of 2018 entered Stambaugh Auditorium.
Brenda Kimble, the school board president, remarked that it is a unique class.
It is the first to graduate since Youngstown City Schools CEO Krish Mohip reconfigured the high school in his neighborhood schools plan.
It had previously been a Science, Technology, Engineering and Mathematics plus Visual and Performing Arts school. Now the school comprises students who attended several West Side schools.
When Mohip announced the change last April, more than 150 Chaney students protested the move by walking out.
Mohip referenced the controversy in his remarks Friday night.
"We didn't always agree, but the students and families were able to welcome new students into the Chaney family," Mohip said.
Kimble praised the students for staying focused and overcoming any challenges presented by the changes.
Mohip underscored the degree to which the students succeeded, noting that 115 of the 117 students who entered the senior class this year received a diploma Friday night.
Salutatorian La'Rayja Hill, who spoke out at last year's protest, also made reference to the struggles her classmates weathered.
"Even when we felt as though school set us up to fail, we proved everyone wrong," Hill said.
She told her fellow graduates it's time to take responsibility for their lives.
"It is no longer the world attacking you, but you attacking the world," Hill said.
Valedictorian Ja'Layah Holcomb struggled to keep her composure as she fought back tears.
"I'm totally freaking out," Holcomb said.
She expressed appreciation to her fellow graduates who she said welcomed her into the school in 10th grade, and whose friendship made her want to go to school every day.
Still, she hoped for an even brighter future.
"These have been good years, but hopefully they haven't been the absolute best," Holcomb said. "The best is yet to come."
Judge Carla J. Baldwin of Youngstown Municipal Court delivered a keynote address in which she encouraged the students to take ownership of their lives.
She told the graduates to choose the life they want for themselves and pursue it.
Challenges will present themselves, but Judge Baldwin told them to "be man enough and woman enough to fight through it to get the life you want."
She also encouraged the graduates to surround themselves with those who love and support them and to live their lives the way they want to be remembered.
"When you live how you want to be remembered, your life and legacy and character will take care of themselves," she told the class.
EAST HIGH SCHOOL COMMENCEMENT
By GRAIG GRAZIOSI
ggraziosi@vindy.com
YOUNGSTOWN
East High School Graduation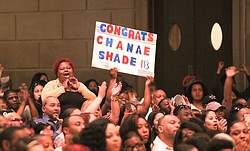 Gallery
For the first time since 1998, a class of East High School Golden Bears donned caps and gowns and accepted their diplomas.
East High School had its commencement ceremony Friday at Stambaugh Auditorium.
Now under the guidance of principal and alum Sonya Gordon, the newly re-named Golden Bears – the school's mascot was a panther for the last decade – and their friends and families gathered in the auditorium's main hall for the ceremony.
This year's graduating class included the school's largest graduating class of English Language Learner students – 17 in all.
Jarome Emanuel Brown-Rivera and his family moved to Youngstown from Puerto Rico. Despite growing up in a primarily Spanish-speaking environment, Brown-Rivera successfully learned English while completing his schooling.
"I'm feeling a lot of emotions today, happy being the most. It took a lot of hustle to get here," Brown-Rivera said. "It was definitely different coming from an all-Spanish situation to an all-English one, but my teachers were a big help, especially Ms. [Saedah] Hadi."
After graduating, Brown-Rivera said he plans to attend Eastern Gateway Community College for two years before transferring to Youngstown State University to complete a nursing degree.
The school's team of five English language teachers and assistants work with students both in fluency and with their homework, as EL students must complete the same coursework as their peers despite still learning the language.
The school's valedictorian, Terrell Engles, hopes one day he'll be successful enough to give back to the school and support its programs.
"I'm going to the Ohio State University to study pre-law and finance, and I hope to eventually become a entrepreneur and to practice corporate and criminal defense law," Engles said. "Once I've made some money, I want to come back and give to the school so future students can have an even better education than I had."
During his speech, Engles said he was proud of his school and of what he and his classmates accomplished.
"We faced many problems together and we overcame them all together. ... We stuck together and were proud of our school," Engles said.
Serena Butler, the school's salutatorian, addressed the audience as well, recalling how just before her junior year her mother and brother died, but that it didn't keep her from finishing her education with the help of her father.
"I kept my head up and stood tall. ... I knew my life couldn't stop because my mom would have wanted me to succeed," she said. "No matter how hard life gets, never stop fighting."

Youngstown City Schools CEO Krish Mohip and Gordon praised the graduates for rising above the skepticism and stereotypes associated with city students.
Gordon told them never to let anyone make them feel like "just another kid from Youngstown," and not to let anyone's skepticism limit them.
Mohip gave an impassioned speech, calling his installation of Gordon as principal as the "best decision I've made" since becoming CEO, and commending the students for their success.
"You are the class that came and led the transformation of a school system. ... You have restored hope in the hopeless," Mohip said.
More like this from vindy.com