Fallen officers remembered at ceremony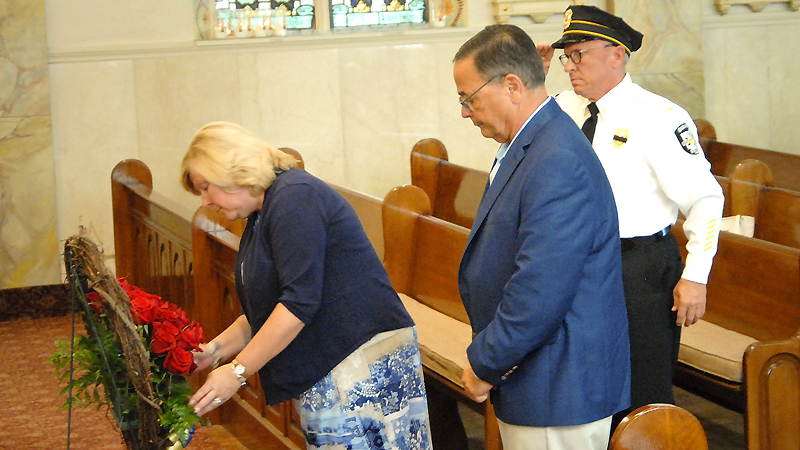 ---
Officers remembered at annual memorial ceremony
By Joe Gorman
YOUNGSTOWN
When a person says "see you later" to a loved one, that could take a different meaning if the loved one is a police officer, said Mayor Jamael Tito Brown.
Speaking Friday at the annual Fallen Officers Memorial Ceremony at Our Lady of Mount Carmel Church, Brown said that for officers and their families, they sometimes don't know – when that phrase is said – when they will be back.
That could mean anything from taking a call late in their shift and working overtime to making the ultimate sacrifice, Brown said.
He said in the latter case, the phrase could mean when someone sees a picture or has a memory of them.
"That's the 'I'll see you later,'" Brown said.
The ceremony is sponsored by the Fraternal Order of Police lodges at the Mahoning County Sheriff's Office and Youngstown Police Department. Law enforcement from across Mahoning County attends the event.
According to information provided at the memorial, 27 officers in the Mahoning Valley have died in the line of duty dating back to 1891, with the latest being Oct. 21, 2017, when Justin Leo of the Girard Police Department was shot and killed during a domestic-violence call.
Brown said he knows law enforcement will always be there for the community, just like family members believe their loved ones in law enforcement will always be there as well.
"You always believe your loved ones will be there, and I thank you today because they paid the ultimate sacrifice for the freedoms we are granted," he said.
Shawn Varso, chief of the Youngstown State University Police Department, said his brothers and sisters in law enforcement honor their colleagues who have given their lives by showing up for work every day and doing their jobs in an environment that provides plenty of negativity toward them. Yet they still choose to serve the public.
"We don't back down," Varso said. "And those we honor today did not back down either."
For each of the 27 fallen officers, their names were read, and either a police officer from their department or a family placed a rose on a wreath at the altar of the church.
Leo's name was the last to be read, and it was the first time it was read at the ceremony. His parents, Dave and Pat, with Girard Chief John Norman, placed a rose on the wreath. After she placed the rose, Pat Leo blew a kiss and then touched the rose she placed on the wreath.
More like this from vindy.com