Valley's D-II runners qualify for finals at Fitch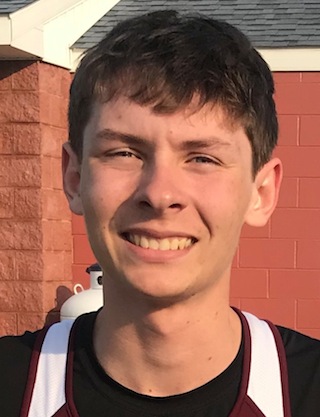 Photo
By BOB ETTINGER
sports@vindy.com
AUSTINTOWN
A runner will believe in anything if it helps him cut time. Mathias Combs of South Range mentions getting a recent haircut when it comes to the reason he ran a personal best to reach the finals of the 100-meter dash at the Division II Regional Track and Field Meet at Fitch High School on Thursday.
"It's definitely exciting," Combs, who was just two one-hundredths of a second from winning his heat, said. "I can definitely get two hundredths off. I think I can beat it."
Combs ran a personal-best 11.15 to finish second in his heat. Previously, his best was 11.31.
"It was my goal to win that heat," he said. "I didn't really do it, but I set a PR by a pretty big amount. I cut my hair, for one. It was really long. I think I just got a really good start."
The finals will begin at 11:30 on Saturday.
Girard's Mike Belcik didn't set a personal record in winning his heat in the 400-meter dash, but he did win.
"That was great," Belcik said. "That's what I've been training hard for all season — to get good results."
Belcik ran a 50.01 in the event.
"My coach has been telling me all week to go out and run my race," he said. "If I can do that, I can beat just about everybody. I gave it all I've got and now, I'm just getting ready for Saturday. That's a really good time. It's right up there with some of my best. Last week at districts, I ran a school-record 49.56."
Liam Boivin of Lakeview qualified for the finals in three events. He was fifth in the 110-meter hurdles, fourth in the 300-meter hurdles and was part of the 400-meter relay team that was eighth.
"I've been training all year for this," Boivin said. "[The 300 hurdles] are my road to state. I didn't get a PR, but I hope to do that Saturday."
The level of competition helped push Boivin.
"The Struthers kid [Kyle Griffin] pushed me," Boivin said. "He was ahead of me most of the race. I pulled ahead of him with about 50 meters to go and pulled away."
Teamwork put the Salem 400-meter relay into the finals with a second-place finish.
"We've been working all week on handoffs," Josh Lehwald said. "All of us were fresh. We trust each other."
Cooper Stockman of Salem punched his ticket to Columbus with a third-place finish in the discus with a toss of 146-7.
The Quakers also advanced both the boys and girls 3,200-meter relays to the state meet. The boys relay was fourth and included Trey Double, Hunter Christopher, Jackson Corbisello and Quinlan Rumsey. The girls relay was third and included Haley Rozeski, Carly Hall, Georgia McLachlan and Halle Cochran.
More like this from vindy.com