Summary of recent criminal activity in Poland and Boardman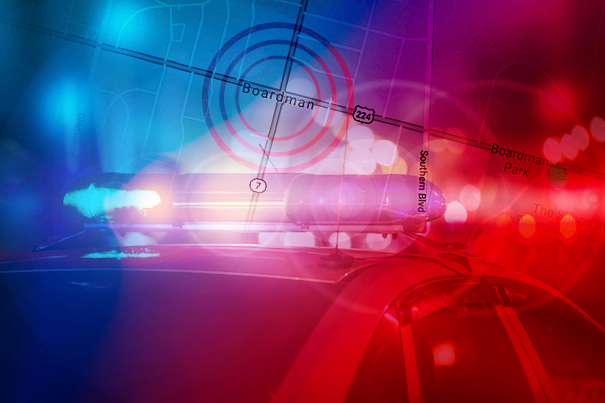 ---
A summary of recent criminal activity in Poland and Boardman townships:
POLAND
May 20
Theft: A $1,300 lawn tractor was stolen from a residence in the 2400 block of Renwick Drive.
May 21
Harassment: A Bishop Road woman said she's being harassed via telecommunications.
May 22
Identity fraud: A North Lima Road man found out his identity and credit-card information had been compromised.
Criminal damaging: A Kennedy Road man reported damage to his car's headlights, front hood and fender, driver's-side mirror and rear spoiler. Damage came to about $5,000.
May 23
Criminal mischief: A vehicle in the 3100 block of Dobbins Road was found with damage to its trunk.
BOARDMAN
May 20
Arrest: Police were dispatched to St. Elizabeth Youngstown Hospital to pick up Carly C. Zinni, 22, of Lockwood Boulevard, Boardman, who faced charges of assault on a police officer, obstructing official business, resisting arrest and disorderly conduct while intoxicated after authorities had responded to an argument between a passenger and an Uber driver, who alleged Zinni had urinated in his vehicle. After being returned to her apartment, an intoxicated Zinni shoved an officer and fought with police, they alleged.
Auto theft: A 2006 Ford Explorer was stolen from a driveway in the 100 block of Overhill Road.
Theft: A $599 laptop computer and a checkbook case were taken from a car in the 4100 block of Windsor Road.
Breaking and entering: A Brookfield Avenue woman discovered someone had entered her garage then removed a $250 bicycle and a book bag.
Stolen property: Youngstown police relinquished custody of Surgeo D. McMullen, 28, of Mable Street, Youngstown, who faced a felony receiving-stolen-property charge, related to a Feb. 27 incident in which a man reported six recording microphones had been taken from the basement of his Glenwood Avenue home. The loss was calculated at $3,398.
Theft: Armando A. Calderon, 34, of Lansdowne Boulevard, Youngstown, was charged with theft, resisting arrest and obstructing official business after $90 worth of vodka, groceries and household goods was stolen from Walmart, 1300 Doral Drive. Police twice had to use a stun gun to bring a combative Calderon under control as he struggled and refused to comply with them, they alleged.
Trespassing: A Hudson Avenue couple told police someone came onto their property and tried to enter their vehicle.
Domestic violence: Aaron M. Julien, 41, of Brookfield Avenue, Boardman, faced three domestic-violence counts and one of criminal trespassing after he reportedly was in a woman's home in violation of conditions of his bond. The woman also alleged Julien had threatened to kill her and their two sons, causing the accuser to fear for her safety and that of the children, a report showed.
Theft: A Canavan Drive man discovered a $19 gazing globe had been removed from his front yard.
Theft: Jina M. West of Devitt Avenue, Campbell, was charged after authorities alleged West, 39, intentionally failed to self-scan $29 worth of body spray and other merchandise while in Walmart.
May 21
Arrest: Youngstown police handed to township authorities Ronald J. Adams, 20, who listed addresses on Windsor Road in Boardman and Harold Lane in Campbell, and who was charged with complicity to improperly discharge a firearm at or into a habitation, a second-degree felony. Earlier this month, officers responded to possible gunfire near Cook Avenue before reportedly finding two bullet holes in and two shell casings near an apartment complex in the 800 block. No one was injured, however.
Bad check: A worker with a West Boulevard hair salon reported a woman wrote a $70 check for services rendered that was drawn on a closed account.
Theft: An employee for Altiere's Home & Garden, 8415 South Ave., told authorities a man in a truck that was pulling a trailer dumped a load of brush and debris, then left without paying the $35 fee.
Breaking and entering: Someone broke into a shed in the 700 block of Indianola Road and removed a $2,500 riding mower and accessory.
Burglary: To an apartment in the 4000 block of Glenwood Avenue, from which a pair of women's shoes and a makeup bag were stolen, and a microwave oven was damaged.
Breaking and entering: Surveillance footage reportedly showed a man in his 40s wearing a red baseball hat and a black pair of pants and jacket with a T-shirt underneath throwing a rock at and breaking a front-door window before entering Family Dollar, 4026 South Ave. Stolen was about $179 worth of merchandise.
Burglary: Took place in the 5300 block of Linger Place, where a garage door was forced open. A jewelry box, a leaf blower and a weed trimmer were stolen.
Breaking and entering: Someone reportedly removed an air-conditioning unit from a window, then broke into Creative Corner Learning Center, a day care facility at 1463 Shields Road. Nothing seemed to be missing, though a man in black clothing was reportedly seen on surveillance footage opening cabinet doors.
Misuse of a credit card: A Canfield woman discovered her stolen credit card was used to make about $1,536 worth of fraudulent purchases at several township stores.
Arrest: After pulling her over in the 5100 block of Market Street, police took into custody Dominique L. Dodson, 29, of West Delason Avenue, Youngstown, upon ascertaining Dodson was wanted on a warrant accusing her of failing to appear in court on a driving-under-suspension charge.
Assault: An official with Paul C. Bunn Elementary School, 1825 Sequoya Drive, alleged having seen a bus driver placing a 12-year-old student in a chokehold after what may have begun as a confrontation between the driver and the student. The victim alleged the driver had earlier choked him, and he complained of neck pain, a report showed.
Attempted fraud: A Beechwood Drive woman reported a caller who claimed to represent the U.S. Social Security Commission and to have her Social Security number tried to get the accuser to provide additional personal information before she hung up.
May 22
Arrest: Police arrested Trent A. Marcum, 22, at a Market Street motel after learning that Marcum, of West Pine Lake Road, Salem, was wanted on a Columbiana County felony warrant charging inducing panic.
Arrest: While dealing with a fight between two family members in the 800 block of Moyer Avenue, police arrested Breyonna J. Moore of Catherine Avenue, Youngstown, on charges of domestic violence, assault on a police officer, resisting arrest, obstructing official business and violating a protection order. After reportedly threatening to kill her father, Moore, 25, flew into a rage upon authorities' arrival, used both feet to kick at an officer and continued with her turbulent behavior after her arrest, a report stated.
Harassment: Officers at Boardman Area Court on Market Street booked Jason M. Sop, 22, who listed addresses on Erie Street in Boardman and Julian Street in Youngstown, and who faced a telephone-harassment charge after a township woman alleged that in March, Sop made a series of threatening calls and sent her derogatory text messages after the accuser stated she had corresponded with Sop on Facebook but later indicated she did not want to date him.
Theft: A Midgewood Drive man reported an envelope containing two Cleveland Indians tickets was removed from his mailbox.
Theft: Police were dispatched to Boardman Area Court to book Robert J. Koby III, 26, of Birch Trace Drive, Austintown, on a theft charge, related to a May 12 situation in which a Youngstown woman reported that while at a Doral Drive big-box store, someone stole two $150 wheel caps off her car.
Domestic violence: A 17-year-old Boardman boy was charged with the crime after his grandmother alleged the teen had raised his fist in a threatening manner, causing the accuser to believe he would hit her, in what apparently started as an argument related to clothing that had been taken from another family member.
Theft: Molly E. St. Clair, 34, of Elm Street, Struthers, faced a felony charge after $1,868 worth of jewelry, clothing and other items was stolen from Kohl's, 383 Boardman-Poland Road.
Theft: A township woman noticed her $800 iPhone missing while she was at a business in the 4900 block of Market Street.
Fight: Police responded to a possible fight in the 3700 block of Market Street between two males, one of whom reportedly fled on foot from officers.
Identity fraud: A South Avenue woman discovered $6,277 worth of fraudulent transactions dating to March on several bank-account statements.
Incident: Three males reportedly abandoned an all-terrain vehicle in the middle of the road in the 30 block of Arlene Avenue before fleeing the area on foot.
Theft: Officers at the Trumbull County jail took custody of Adrienna M. Jackson, 26, who was wanted on a theft charge. Jackson, of Arlington Street, Warren, was accused of stealing 18 articles of clothing valued at $187 earlier this month from T.J. Maxx, 717 Boardman-Poland Road.
Theft: A man reportedly stole $29 worth of flowers and alcoholic beverages from Giant Eagle, 476 Boardman-Canfield Road.
May 23
Arrest: Police in the 8500 block of Market Street picked up Arnold D. Harding, 60, who listed Youngstown addresses on Mahoning Avenue and East Midlothian Boulevard. He was wanted on a criminal-trespassing warrant.
Assaults: A Youngstown man and his 17-year-old brother alleged that while mowing a lawn in the 400 block of Ewing Road, their former employer assaulted them. The accuser alleged the former boss spit on him then tossed a gas can at and struck him; the younger sibling alleged having been grabbed and nearly thrown to the ground, leaving scratches to the affected area.
Menacing: A Wolosyn Circle woman alleged a neighbor had threatened to beat her up during an argument between them and made an implied threat that others could be recruited to harm the accuser.
Theft: A traffic stop in the 100 block of East Midlothian Boulevard resulted in the arrest of David Mines Jr., 64, of East Midlothian, Youngstown, who was charged with stealing a box of medicine and a can of pet food Sept. 12, 2017, from Family Dollar, 4030 Market St.
Theft: A server with a Boardman-Poland Road restaurant discovered numerous items that included a concealed-carry permit and several credit cards missing from his car while at work.
Theft: A woman reportedly stole two cans of an air-scent spray from Dollar General, 271 Boardman-Canfield Road.
Inducing panic: Officers were called to a large fight in the 6600 block of Market Street in which one of the combatants purportedly pulled a handgun in what several witnesses described as a possible drug deal.
Theft: John W. Hoskins, 49, was charged after authorities alleged Hoskins, of South Avenue, Boardman, had stolen an energy drink and other small items from Dollar General, 5953 South Ave.
Theft: James E. Maxwell, 55, of Willis Avenue, Youngstown, was charged with theft and obstructing official business after $46 worth of food, undergarments and other property was stolen from Ollie's Bargain Outlet, 385 Boardman-Canfield Road. Maxwell also provided a false name, police alleged.
More like this from vindy.com