Liberty, Harding commencements Thursday night in Youngstown, Warren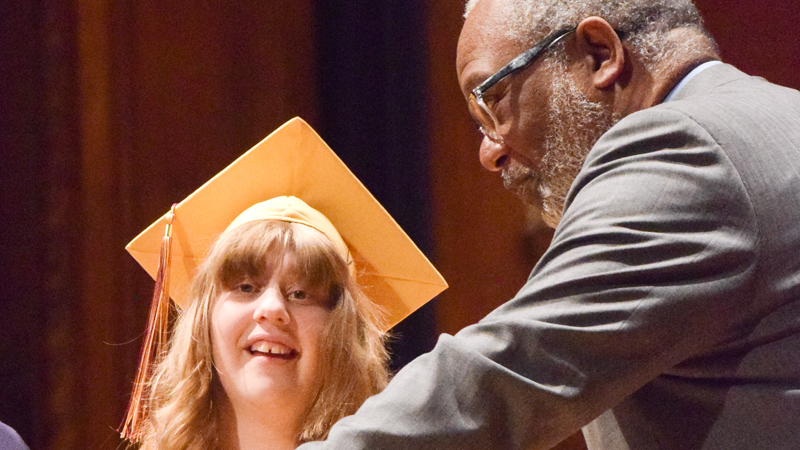 ---
By WILLIAM K. ALCORN
alcorn@vindy.com
YOUNGSTOWN
Liberty Graduation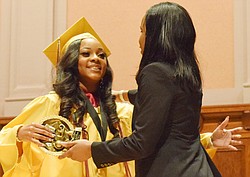 Gallery
Stambaugh Auditorium was filled Thursday evening with proud families and friends of the 82 graduating members of Liberty High School's Class of 2018.
But among the proudest were Ron and Marsha DeMarco as they watched their daughter, Victoria, a special needs student with multiple disabilities, cross the stage and receive her diploma.
The DeMarcos are a full-on Liberty High School family. Ron and Marsha graduated in 1988 and 1989, respectively; and their other children, Madison and Dominick, graduated in 2015 and 2007.
"You can't realize how proud we are because of how far she has come, given her disabilities," Ron said of Victoria. "The teacher, Kay Torres, and the rest of the staff are all absolutely fantastic."
There are a lot of special stories among the graduates.
Among them are those of Mouad Elouaddi, 18, class salutatorian, and Matthew Coppola, one of eight class valedictorians.
Elouaddi began life in Morocco, but at age 8, his family moved to the United States to give him and his sister better opportunities, he said. He plans to study physical therapy at Youngstown State University.
Coppola, born in Massachusetts, moved around a lot as a youngster and landed at Liberty High School as a freshman and new kid on the block.
He said he made new friends, found himself accepted, and plans to study economics at the University of Southern California.
Class President Mohannad Yusuf, thanked his family, teachers and peers for creating something special at Liberty High School; and he and the valedictorians praised their classmates and offered advice for the future.
"Get comfortable being uncomfortable. Our diversity is our strength," Yusuf said.
"We can and we will make a difference," said Kimberly McCann.
"I've spent the past 13 years with the best classmates at the best school. This class got along with and respected each other," said David Sewell.
"You have to be comfortable in your own skin first for your own peace of mind. Do what makes you happy," advised Emily Steeves.
"Fight for what you believe in. Have faith, no matter what," said Erilynn Stevens.
"For the last few months, I realized how close we have become. The future has arrived. You are braver than you believe," said Jay'Lynne Armour.
"What makes you special is not your grades," said Kathleen Weaver, "it is your passion."
Commencement speaker Elaine Jacobs, a 1984 Liberty graduate and member of the school's Hall of Fame, told the graduates not to worry if they don't know what they want to do.
"Follow your passion," urged Jacobs, associate director of athletics at YSU. "I want you to do well, but I also want you to do good ... to leave things better."
By JORDAN COHEN
news@vindy.com
WARREN
Warren G. Harding Graduation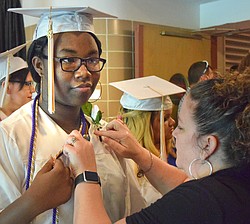 Gallery
Warren G. Harding Graduation
As the 274-member Class of 2018 awaited the start of their graduation ceremonies at Packard Music Hall Thursday, many offered happy memories of the last four years of their lives at Warren G. Harding High School.
"Everyone is so supportive and it's a wonderful place to go to school," said Cara Annandono, 18, clad in her white cap and gown festooned with her gold National Honor Society medal. She dreams of becoming a pediatrician and will major in health sciences at Ohio State University in the fall.
"I'm ready and I think Harding prepared me for the future," she said.
Ditto for Andrew Peterson, 18, who plans to major in mass communications at Kent State University.
"I'll miss the staff and the teachers," he said. "They supported us every time."
Give BreAja Morgan, 18, an A for ingenuity. While no one appeared to have any messages on their caps, BreAja carried, instead, a unique fan with an enlarged photo of herself taken 12 years ago when she was in kindergarten.
"I want to make sure the whole family sees me," said BreAja, Harding's former drum major, who will study film, media and interactive television at Cleveland State University.
Warren schools Superintendent Steve Chiaro described this year's class as amazing.
"I'm very proud of you and we don't say that enough as adults," said Chiaro, who credited the class for influencing him in his work as superintendent.
"I want to see the day when I work for one of you," he said.
Harding does not have valedictorians or salutatorians. Instead, top graduates are listed as summa cum laude, meaning they carried grade point averages of 4.2 or higher. Seven students graduated in that category; two graduated magna cum laude, with GPAs between 4.10 and 4.19; and two graduated cum laude.
Warren Mayor Doug Franklin, invited to address the class, may have gotten the loudest positive response in an evening of many when he offered some advice to the graduates of the type not usually heard at a commencement.
"Text messages and Snapchat does not replace picking up the phone and calling your parents from time to time," Franklin said. The response was a roar of sustained applause that appeared to come mostly from the adults, of course.
More like this from vindy.com