Gehring's arm leads South Range victory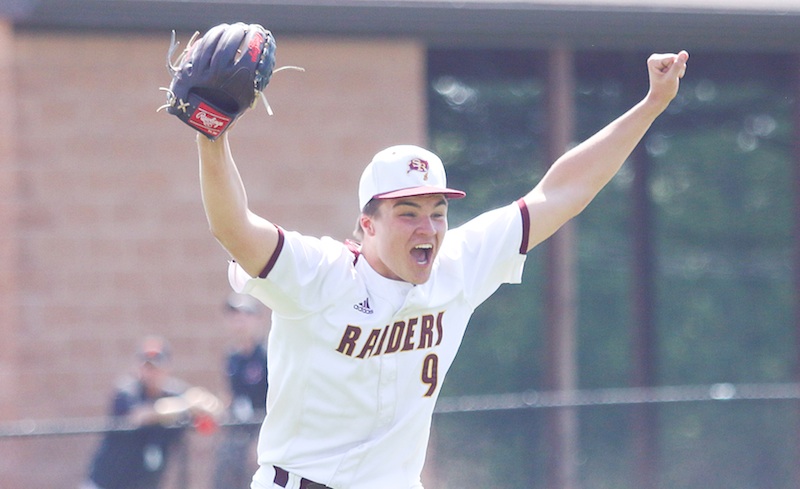 ---
South Range Baseball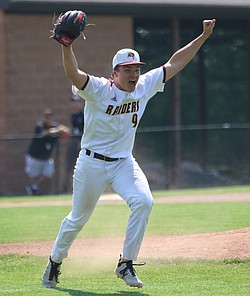 Gallery
By Dan Hiner
dhiner@vindy.com
massillon
South Range pitcher Jake Gehring has no problem pitching in tough situations.
Gehring worked himself out of a couple jams in the Raiders' 4-1 win over Waynedale in a Division III regional semifinal on Thursday at Massillon Washington High School.
Waynedale had three runners in scoring position in the first three innings, but Gehring allowed only one run.
The right-hander struck out 11 in a complete game — allowing two hits and two walks.
The freshman admitted it wasn't the best start to a game, but he found his rhythm after the Bears tied the game at 1 in the third inning. He pitched perfect innings in the fourth, fifth and sixth.
"They're a great team," Gehring said. "They had a gameplan coming in — they knew I wasn't throwing strikes. The inning they scored that run, I found my slider, and I rolled with that and my fastball."
Gehring also started in the Raiders' win over Crestview in the district semifinals. In his last two starts, he pitched 14 innings and allowed two runs on six hits.
South Range (15-15) finally got back to .500. The Raiders stayed around the .500 mark early, but lost a few games late in the year.
"Our kids are very mature and focused," South Range head coach Jim Hanek said. "I think it's important to understand ... they know how good they are. The record is deceiving to an extent."
South Range took the lead in the top of the fourth thanks to some miscommunication by the Bears (21-7).
With Josh Stear on second base, Mike Cunningham hit a popup that drifted just past third base. Waynedale's shortstop, third baseman and left fielder converged but scattered, thinking someone would make the catch. The ball dropped in for a double and Steer advanced to third.
Jaxon Anderson drove in Steer on a sacrifice fly to center field in the next at-bat to take a 2-1 lead.
Cunningham finished 2 for 3 while Ben Rivera, Brandon Youngs and Brycen James all went 2 for 4. Rivera and Youngs each had an RBI double while Cunningham had an RBI single.
The Raiders outscored their opponents 26-2 in their three games in the Struthers bracket. South Range decided to play small ball verses the Bears.
South Range stole two bases, successfully executed two sacrifice bunts and attempted a suicide squeeze.
"At this point, both teams are very good — both are a district champion at this stage," Hanek said.
"Runs are at a premium and we wanted to start on top. We wanted to get a lead early, continue to add onto that lead and force Waynedale to play from behind."
Bears pitcher Manny Camacho struck out seven in a complete game. He allowed four runs on nine hits and a walk.
Jarrett Varner drove in the Bears' only run with a two-out, two-strike single to left field.
The Raiders will play Grand Valley in the regional final at 5 p.m. today in Massillon. Grand Valley beat Kirtland in a walk-off 4-3 win at Massillon on Thursday.
"We can definitely feel it. [A regional title] is something we always talk about in the beginning of the year," Gehring said. "This was our goal, but we gotta stay focused and [take] one game at a time."
More like this from vindy.com