Bake sale benefits Angels for Animals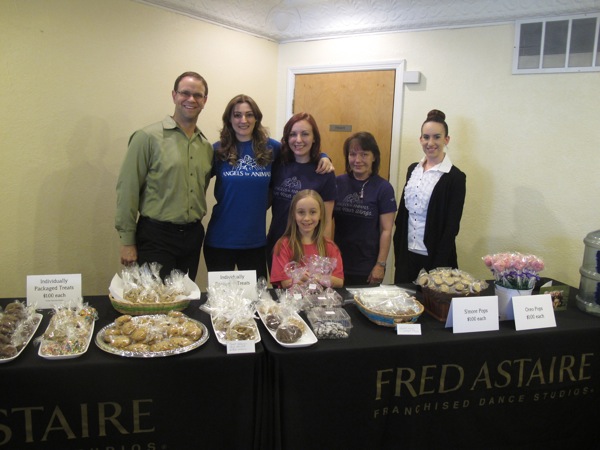 ---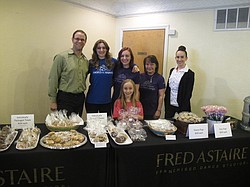 Photo
Neighbors | Zack Shively.First-grade student Brynna Jones set up her second bake sale for Angel for Animals with the help of her family at Fred Astaire Youngstown. She wanted to help the organization's capital campaign because she adopted her cat from the group. Pictured are, from left, Dustin Jones, Lauren Potts, Lindsay Jones, Donna Taylor Leesha Thompson with Brynna Jones.
By ZACK SHIVELY
Brynna Jones had her second annual bake sale at Fred Astaire Youngstown in benefit of Angels for Animals on April 20.
Brynna, a first-grade student at West Boulevard Elementary, worked with her family to create an event to help Angel's for Animals. She adopted her cat, Rockzie, from the foundation four years ago and wanted to give back to the organization.
The funding will go toward Angels for Animals' capital campaign to help the organization expand their building and capabilities. Lindsay Jones, Brynna's mother, said Brynna was excited to help out as soon as she heard about the new building.
"What [Angels for Animals] does for the community is just amazing," said Lauren Potts, a former volunteer with the organization and a current employee of the dance studio.
Potts said the capital campaign will allow Angels for Animals to create an animal wing to the building, making way for more animal treatment capabilities. The building will make the organization able to expand the number of animals they can house, allow for veterinarian visits and offer emergency services.
Jones set the goal of $200 for her first bake sale, but she surpassed that, bringing in $1,000. Her father, Dustin Jones, owns the dance studio, so they had the sale there. The studio sees group classes at 6:45 and parties at 7:30 every Friday, so they planned the sale to occur during those events.
The organization will be breaking ground on the animal wing soon, but they have not yet fulfilled their campaign goal of $10,000,000. The organization always looks for people willing to help, whether through donations, volunteers or foster homes for animals.
More like this from vindy.com