Canfield baseball back in regional final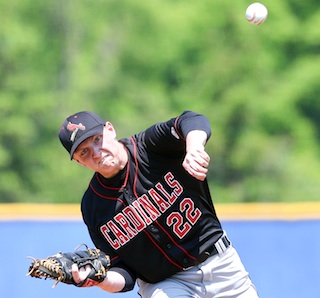 ---
Canfield Chardon Baseball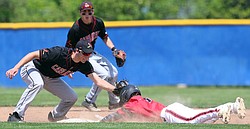 Gallery
Canfield Chardon Baseball
By TOM WILLIAMS
williams@vindy.com
HUDSON
On the day Canfield High School celebrated the baseball program's 800th win since 1973, just about everything went perfectly. Even two flyballs lost in the sun resulted in outs in the Cardinals' 10-1 victory over Chardon in a Division II regional semifinal Thursday at The Ballpark in Hudson.
Canfield will return at 5 p.m. today to play Tallmadge (17-11) for the Cardinals' first trip to Columbus since they won the 2007 state crown.
"It's huge," Canfield senior second baseman Jimmy Fitzgerald said. "This is where we fell short last year so it's great to get that opportunity again. This is what we've been working for all year."
In last year's regional final, Canfield lost to Tallmadge, 3-2. The Cardinals also lost the regional final in 2012. Coach Matt Koenig remembers both vividly.
"In 2012, it was Mentor Lake Catholic," the Canfield graduate said. "We led 3-2 with two outs in the bottom of the seventh and a kid hits a walk-off two-run homer.
"Last year was a squeeze bunt to beat us 3-2," said Koenig, who was the Cards' coach in 2007.
The Cardinals (20-7) scored six runs in the second inning to put Chardon (20-9) on the ropes. Facing Hilltoppers ace Dakota Baldwin, Ian McGraw started the big inning with a one-out single.
After Angelo Petracci walked, Fitzgerald doubled to score McGraw. Nick Piersante and Rick Havrilla followed with RBI singles and Alex Hernandez doubled to score Piersante for a 4-0 lead.

With the bases loaded, Spencer Woolley smashed the ball at Chardon third baseman Evan Fairbanks and the ball bounced off his glove into foul territory to allow two more runs and chase Baldwin for reliever Myles Metz.
McGraw scattered seven hits, allowing one run in the fifth inning. He struck out seven, walked two and hit two.
"He was pretty outstanding, other than the two hit batters," said Petracci, McGraw's catcher. "He stayed around the plate, which allowed him to have a lot of groundouts and flyouts, just let our defense make plays."
In the third inning, the Hilltoppers' Joey Trivisonno drew a two-out walk. Metz hit a high pop-up that Fitzgerald lost in the bright sky. As he retrieved the ball, he noticed Trivisonno had not stopped at second base so he fired a strike to shortstop Piersante for the tag-out.
An inning later, centerfielder Dom Pilolli called for a high fly hit by Dylan Hemly, then ducked after losing track of the ball. Left fielder Hernandez calmly moved over and caught the ball for a second out.
"Huge weight lifted off my shoulders, especially in an environment like this," McGraw said. "When you have a team that can play solid behind you, [it creates] amazing confidence.
"We were lucky enough to get outs on those plays," McGraw said. "Honestly, it was luck but I'm glad it happened."
Petracci, a senior, is anxious for one last shot at state.
"It's really exciting," Petracci said. "We came short in football in the regional final. That was very heartbreaking so to make it baseball would make it that much more special."
Koenig started McGraw, noting his success against left-handers.
"They had three lefties in the lineup," said Koenig, adding that the move allows him to start Jack Rafoth, usually the Cards' No. 1 pitcher, today.
More like this from vindy.com