Hubbard, Niles McKinley graduate Class of 2018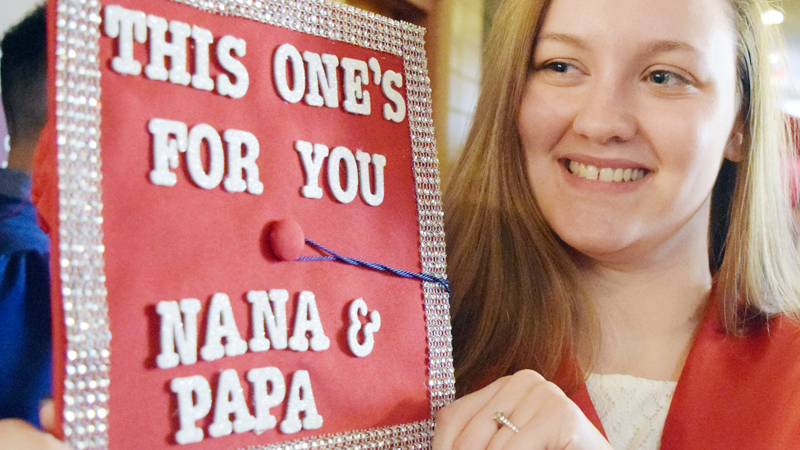 ---
HUBBARD GRADUATES 140 IN CLASS OF 2018
By WILLIAM K. ALCORN
alcorn@vindy.com
YOUNGSTOWN
HUBBARD HS GRADUATION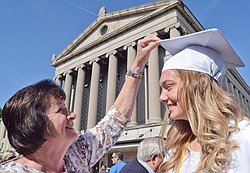 Gallery
Hubbard High School was a great place to learn and make friends and memories for four years, but representatives of the school's new graduates said at their commencement that they are ready "take the next step" in their lives.
Family and friends of the prospective 142 members of the Hubbard High School Class of 2018 filled Stambaugh Auditorium on the city's North Side for the event Wednesday.
"I'm ready to start the next chapter in my life," said Taylor Beil, 18, daughter of proud parents, Sam and Gina Beil, also graduates of Hubbard High School. Taylor, who was a member of the American Sign Language Club and National Honor Society, plans to attend Mount Vernon Nazarene University in Ohio and pursue a double-major in mathematics and education.
A classmates, Adria Powell, 17, daughter of Olivia and Greg Powell, graduated as a junior with a 4.0 grade point average to get an early start as a premed student at Ohio State University to which she received a full-ride volleyball scholarship.
Adria said Hubbard High School is a "great school" where the "classmates are friendly and the teachers awesome. I have a lot of great memories." Having said that, she said she is "real excited to get to OSU and start volleyball."
Class President Zach Resatar described the Class of 2018 as a team.
"The whole class is like a pit crew. If anyone needed help, they got it," said Resatar, who plans to study business and theater at Miami of Ohio University.
Ruth Sandberg and Jordan Record, valedictorian and salutatorian, respectively, were commencement speakers. Their topic was "Taking the Next Step."
"Graduation isn't an end or a beginning. It's just the next step," said Sandberg, who plans to attend Youngstown State University, but has not chosen a major.
Sandberg, daughter of Richard and Virginia Sandberg, spoke fondly of the Class of 2018.
"All of us know each other and hang out together. Thank all of you for taking this ride with me," she said.
"Being a very small class allowed us to become very close. I know I can depend on everyone," said Record, who plans to study psychology at YSU.
In his address, Hubbard schools Superintendent Raymond Soloman said it is the challenges from which they will learn the most, and offered a list of advice for their future lives. Take naps and go to bed early, mind your manners, visit the library and read, limit your screen time, befriend Mother Nature, don't get frustrated, celebrate each fall, and try, try again, Soloman said.
High School Principal Brandie Yobe urged the graduates of be kind and help others.
"Whatever your future, you will always be part of Hubbard High School," she promised.
NILES GRADS MOVE ON TO NEW CHAPTER
By SEAN BARRON
news@vindy.com
WARREN
NILES HS GRADUATION

Gallery
The phrase atop Alissa R. Groover's cap is a poignent reminder that her latest crowning achievement is as much about two important people in her life as it is about her.
"My 'nana' is in the hospital, and my 'papa' died when I was little," Groover said about her grandparents, Pat and Richard Groover, with whom she always had a close relationship and bond.
Groover wore the cap, on which is printed "This one's for you, Nana & Papa," as she accepted her diploma during Niles McKinley High School Class of 2018's commencement Wednesday evening at W.D. Packard Music Hall on Mahoning Avenue Northwest.
Groover's clearest memories of her late grandfather consisted of visiting him at an area nursing home when she was a small child.
Nevertheless, he left an indelible imprint on her, said Groover, who plans to enroll this fall at Youngstown State University to major in middle-childhood education.
Groover's career path likely will take her back into the classroom, because she's wanted to be a teacher since age 7.
For now, though, the grad's short-term goal is to work full time at T.J. Maxx in Niles and save money, she said.
The saying stenciled into Kaylie R. Lewis' cap is a bit more straightforward and goes a long way toward capturing her overall outlook for what she feels lies ahead.
"I'm thinking of my high-school journey and how it may be over and how I'm starting a new chapter in life, and that things will only get better," she explained about the meaning behind the saying "The best is yet to come."
On Lewis' long-term radar are attending YSU beginning this fall to study physical therapy and exercise science, in part because she underwent such treatment after knee surgery, but also because of a desire to help young children, she explained.
"I want to work with little kids and help them out," Lewis said, adding she also was influenced by seeing the differences other physical therapists have made.
For now, however, she plans to continue working at a local Dunkin' Donuts and possibly pursue a second job, she said.
During the program, valedictorians Kevin E. Dubaj, Madison P. McGuire, Gabriella R. Miller, Halli R. Petillo, Alissa R. Reichard and Luke A. Swauger urged fellow grads to pursue their dreams, step outside their comfort zones, inspire others, savor unique moments, follow their own aspirations and passions, prepare for unexpected detours to their plans and accept inevitable failures, challenges and hardships.
Miller, who lost a sister about five years ago, thanked her parents for encouraging her to carry on and not allow the tragedy to derail her educational pursuits.
Expressing similar sentiments were salutatorians Lauren T. Syersak and Bethany R. Rasile, who came to Niles in ninth grade, which Rasile said paved the way for her to meet her best friends, play on the soccer team and attain other means of fulfillment.
"Overall, Niles has surrounded me with people who have helped me be the best version of myself," she added.
During a rather emotional moment, Principal Tracie Parry handed an honorary diploma to two family members of the late Emily E. Brown, 13, who died Sept. 3, 2013, at Akron Children's Hospital from a brief illness. She was an eighth-grader at Niles Middle School and would have graduated with the Class of 2018.
Additional remarks came from Superintendent Ann M. Thigpen.
More like this from vindy.com