Ohio wine month kicks off with festivities in Columbus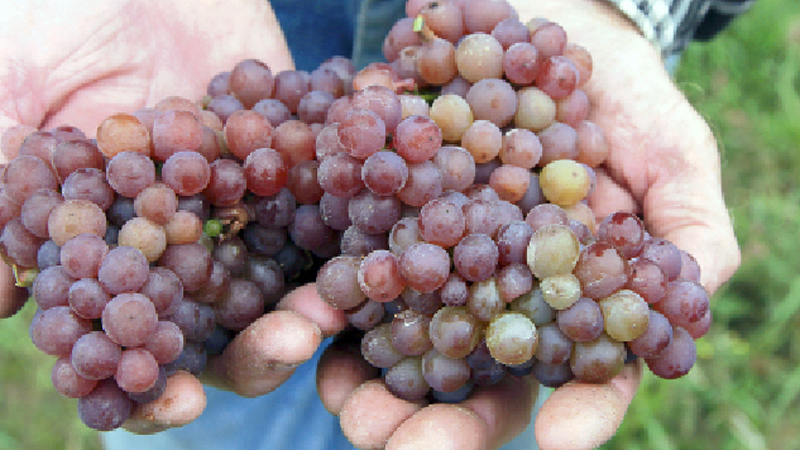 ---
By Brian Fry
The Ohio Grape Industries Committee (OGIC) today kicked off its Ohio Wine Month celebration at an evening event at the Ohio Statehouse.
Honoring the 2018 Director's Choice Award Winners for the Best Dessert, Red and White wines in the state, as well as Ohio Quality Wine Designees and Gold Medal Winners from the Ohio Wine Competition.
Those in attendance also enjoyed the unveiling of the 2018 Ohio Wine Month poster design; and a new consumer program, the "Celebration Case Contest", launching immediately and running through the month of June.
"Ohio Wine Month is an exciting time to showcase just how impactful the grape industry is to Ohio's economy, and to encourage consumers to get out and explore the wonderful winery experiences right in their backyards," said Christy Eckstein, Executive Director, OGIC.
"There are more than 280 wineries in Ohio, and the state is the sixth largest wine producer in the country. We're hoping to shine a spotlight on all that Ohio has to offer as we celebrate in June."
2018 Director's Choice Award-Winners
The wineries and respective wines that rose to the top as the 2018 Director's Choice Award Winners included
2016 Debonn Riesling Reserve (best white wine),
2015 Meranda-Nixon Estate Cabernet Sauvignon and 2014 Henke Vin de Rouge (best red wine), and
2016 Kosicek Vineyards Cabernet Sauvignon Ice Wine (best dessert wine).
The winners were determined by a panel of judges from around Ohio who tasted through hundreds of submissions in each category. The competition for these awards has increased dramatically over the years, as Ohio's wine industry has blossomed.
2018 Ohio Wine Poster
The 2018 Ohio Wine Month poster features a colorful array of Ohio winery logos collectively illustrating a map of the state. The design is flanked by various experiential words – such as Excitement, Charm, and Serenity – that embody the state's "Ohio. Find it Here." brand. Limited quantities of the special edition poster will be printed and available to consumers at Ohio wineries and various wine festivals in June.
Ohio Wine Month Celebration Case Contest
The Ohio Wine Month Celebration Case Contest encourages participants to build his or her virtual "case" of six Ohio wines between now and May 31, with each bottle representing the unique experiences they have found in the state's wineries – categorized by attributes like Romance, Excitement, and Curiosity. Participants will have the chance to share their cases for public voting from June 1 to 15, with the 10 cases garnering the highest number of votes to be judged by a special panel of Ohio wine experts.
The judges will evaluate each of the Top 10 cases and announce the winners on the contest landing page and via social media at the end of June. A total of 10 prizes will be awarded, with the grand prize being an overnight stay and dinner for two at The Lakehouse Inn, a boutique winery and resort in Geneva-on-the-Lake, and dinner or lunch for two at Grand Rivers Cellars Winery & Restaurant in nearby Madison.
Other prizes include $50 gift cards redeemable at Raven's Glen Winery in West Lafayette, and Gervasi Vineyard in Canton; a gift certificate for dinner for two at Meranda-Nixon Winery in Ripley; and Ohio Wines gift bags.
In addition to the Celebration Case Contest, Ohio wine lovers can celebrate Ohio Wine Month in other ways. The second annual Pinot Quest in northeast Ohio offers visitors a chance to sample the state's lesser known (and hard to grow) pinot varieties at any of 14 participating wineries in June. Pinot Quest Travel Cards ($30, or $25 for Ohio Wines VIP members) can be purchased at any participating winery, and visitors who stop at all 14 wineries are eligible for a special gift.
For more information on Ohio Wine Month happenings and to build your own "Celebration Case," visit http://bit.ly/2kczS5r.
More like this from vindy.com