Lisbon's Stokes jumps so high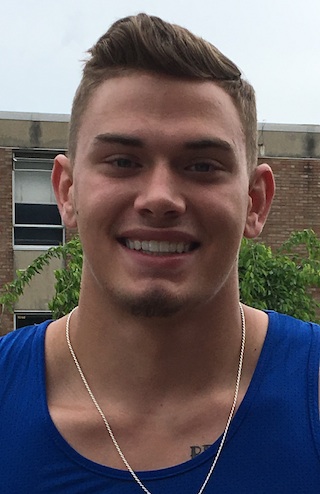 Photo
By BRIAN DZENIS
bdzenis@vindy.com
NEW MIDDLETOWN
Around Lisbon, Seth Stokes is the kid with the hops.
In eighth grade, he wowed his classmates by dunking a volleyball through a basketball hoop. He continued to impress in the high jump in high school.
"I jumped my freshman year and sophomore years and I got so high that people started coming up to me and asking for pictures with me," Stokes said. "It was fun for me. It was never like a job or work.
"I'm doing what I love, but to be the best at it, I've had to teach myself."
The Blue Devils senior has had to go beyond Lisbon — both physically and virtually — to jump to new heights. A staple of his training is watching video of himself and other high jumpers on his phone and computer.
"I watched myself jump for a whole summer. I did it my sophomore year going into my junior year and I haven't stopped," Stokes said. "When it's track season, its all day long. I'll take a peek here and there."
The film study progressed to sending video of himself to coaches for feedback. Lisbon has high jump equipment, but it's not quite up to the standard for someone of Stokes' talent. Austintown Fitch, Salem, East Palestine and Beaver Local have opened their doors to him to train. He'll take a friend or a family member with him to record his jumps.
From a coaching standing standpoint, his former football coach, Jim Tsilimos, travels with Stokes for competition. The pair will sometimes watch video together, but high-jumping isn't his forte. He certainly put Stokes' leaping ability to good use on the football field.
"He's always had that God-given ability," Tsilimos said of his wideout. "He pretty much won our game against Mineral Ridge on his own. We down by three or four points in the fourth quarter and I just told our quarterback to throw it to Seth. Not a lot of DBs could reach where he can."
He's done very well for someone who is basically self-taught. In his sophomore year, he qualified for state, jumping 6 feet, 6 inches for a third-place finish. When colleges began recruiting him, coaches asked for tape and Stokes obliged, but with a request for tips.
He finished as the state runner up last year when he couldn't clear 6-9.
Currently, he's won a state indoor title with a 6-6 leap this year and has also signed with Youngstown State's track team. Current Penguins highjumper Arnaldo Morales is a frequent recipient of Stokes' footage. Even with a stellar career, his jumps aren't a comfortable sit.
"It kind of makes me mad. I'll see when I did something wrong and it'll be stupid because I've done it right so many times," Stokes said of watching himself. "I kind of don't want to watch it because I do stuff wrong."
Stokes' leap of 6-8.25 in last year's Bulldog Invitational — his personal best — is his favorite video.
As for this year's outdoor campaign, a bruised heel has hampered him. Last Wednesday, during the Division III district meet at Springfield, he jumped 5-10 to win the district title and advance to regionals at Massillon Perry.
Stokes said he should be able to fight through the pain in regionals and be back at full speed for Columbus, where he'll have a reputation to live up to.
"When you come from a small town, everyone's there. Everyone knows it's state season and it's time to watch track and field and everyone knows I'm going with one of the best chances to bring home a state championship," Stokes said. "I did that in indoor season and I have a chance to bring home an outdoor championship to a small town and that means a lot to me."
More like this from vindy.com