Canfield sending 3 to state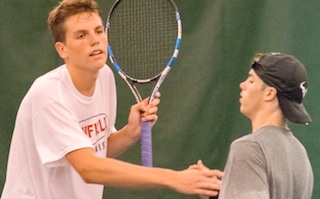 ---
By BOB ETTINGER
sports@vindy.com
BOARDMAN
Consistency is something Canfield senior tennis player Tim Cianciola knows can become his Achilles' heel.
Cianciola has found suitable armor to this point in the postseason earning a berth at the Division I state tournament.
"I always have to try and be consistent," Cianciola said. "That's what I work on the most, actually."
Through the sectional and district tournaments, Cianciola has not lost a match. This will be his third state tournament appearance.
"I've been staying focused and have the support of my friends and family," he said. "I've been sticking to how I play and not been doing anything different."
Cianciola and teammates Sirin Nalluri and Ben Martin will take the courts at the Lindner Family Tennis Center in Mason beginning Friday morning. Nalluri and Martin will compete in the doubles event.
"It's exciting," Cianciola said. "I get very nervous out there. But once we start hitting, I move on, eventually. I don't let things get in my head the way I used to when I was younger."
"It will be my first time [playing there], so I don't know what to expect," Nalluri said. "I saw how sectionals and districts can be and it was a good time. I hope we can have a good time and make it pretty far."
Nalluri and Martin have competed at singles for most of the season, but have worked together enough to know what works well for them.
"We communicate very well on the court," Nalluri said. "Before every point, we talk. We always have a plan for how we're going to do it."
Martin echoed that sentiment.
"We work well together," he said. "We talk to each other before every point."
As the trio prepares for the state tournament, they've kept sharp with competition. The Cardinals have made a run deep into the Ohio Tennis Coaches Association Tournament.
"Playing at [University School] last week, I had a difficult match," Cianciola said. "It helped calm my nerves (at the district tournament) to know I can come back. I'm hoping today [a regional championship match against Massillon Jackson] will do the same for state."
Nalluri and Martin have used those matches to hone their doubles skills, even when they're playing in a singles match.
"[Against Jackson] I had to make sure my first serve was in," Nalluri said. "I do that in doubles. I was trying to go to the net to prepare for doubles. My opponent today was a lefty and lefties are tricky. There are a lot of lefties in doubles."
For Martin, getting tested as a singles player helps him in the doubles world.
"It gives me more confidence every time I'm in a close match," he said.
OTCA REGIONAL FINAL
Martin shut out Arjun Shanmusam in the third set to claim a 6-2, 3-6, 6-0 victory at second singles to give the Cardinals (15-1) a 3-2 victory over Massillon Jackson in an OTCA state team tournament regional final at Avalon Mahoning Sports Complex on Tuesday.
The Cardinals will play in a state semifinal in Columbus against an opponent to be determined and a site yet to be chosen on Sunday morning.
"This is the first time in 17 years we've played in the Final Four," Canfield coach Pat Pavlansky said. "They all know their roles. Today, we went with a singles heavy lineup. Last week, we went doubles heavy. We were still able to win both, 3-2. It's been a lot of fun. There are a number of kids on this team who do nothing but hit tennis balls."
Cianciola dropped Danny Rumas, 6-0, 6-2, at first singles and Nalluri toppled Jason Tucker, 6-3, 6-1, at second singles.
Rajan Taneja and Noah Zoldan fell, 6-0, 6-3, to Alex Drewes and Bobby Tucker at first doubles and Garret Kuchmaner and Reilly Todd were beaten, 6-2, 6-2, by Michael Stefan and Michael Schieppner at second doubles.
More like this from vindy.com