Bistro 1907 takes you back to bygone era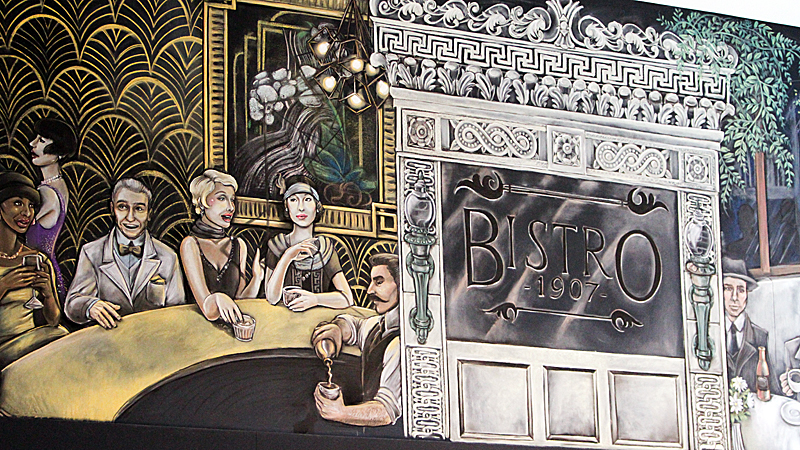 ---
By JORDYN GRZELEWSKI
jgrzelewski@vindy.com
YOUNGSTOWN
Bistro 1907 Opens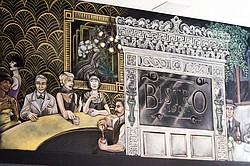 Video
Bistro 1907 opened today in the new DoubleTree by Hilton hotel downtown Youngstown. The new restaurant is named in honor of the year the historic Stambaugh Building, in which it is located, was built.
BISTRO 1907

Gallery
When the opportunity came for restaurateur Mark Canzonetta to open a restaurant in the new DoubleTree by Hilton hotel downtown, he knew right away he had to do it.
"I had to have it," said Canzonetta. "It was like something bigger than me was drawing me in."
Canzonetta, previously an owner of Aqua Pazzo in Boardman and who has been involved with numerous other restaurants, had always wanted to open a restaurant in a city's downtown. That he gets to do it in Youngstown is even more special for the Mahoning Valley native.
Today, Bistro 1907, located on the hotel's first floor, will open to the public. The restaurant is named in honor of the historic Stambaugh Building in which it is located, which was built in 1907.
What guests will see when they walk through the doors is Canzonetta's vision of a modern French bistro.
"I want it to be modern. I want it to be urban. I want it to have a very social feel," he said. "I wanted to have that warm feeling."
The space features black walls, warm lighting, copper silverware, chartreuse booth seats, and a 17-foot wine wall. Wood floors meet a black-and-white motif leading up to the bar.
In addition to tables and booths, a community dining table encourages diners to eat together and socialize.
Above an open-concept kitchen, private dining is available on a mezzanine level. On a wall above the dining area, a chalk mural hand-drawn by local artist Christian Powers depicts the restaurant name and bistro patrons.
One side of the room looks out onto downtown. On the other side of large windows, outdoor patio seating will be available. Gold lettering on the windows display menu items, such as a croque madame (ham and cheese with fried egg) for breakfast, an Angus prime bistro burger for lunch, and a red-eye ribeye steak for dinner.
"We're taking foods that I had as a child, foods my father had a child, we're spinning them and we're recreating them and making them relevant again," Canzonetta said.
He describes the menu as "American bistro food," with a global influence and locally sourced ingredients.
Some of the drink menu is locally sourced as well, such as beer from Warren-based Modern Methods Brewing Company. The cocktail menu features drinks such as a Cucumber Collins and an old-fashioned named for Conrad Hilton.
The bistro will be open for breakfast from 6:30 to 9:30 a.m. weekdays, 7 to 11 a.m. Saturdays, and 7 a.m. to 2 p.m. for Sunday brunch. Lunch will be available from 11 a.m. to 4 p.m. daily. Dinner goes until 10 p.m. on weeknights and 11 p.m. on weekends.
When guests visit the bistro, Canzonetta hopes they come away with more than a great meal.
"You're coming here to have an experience and be transported to a bigger city feel," he said. "We like to hearken back to a bygone era and bring those things back."
He is confident the venture will tie in with the city's future, as well.
"We're going to bring dining from the strips and suburbs to the city," he said. "Everything deserves a second chance, and I think Youngstown is getting it."
More like this from vindy.com