Democratic gubernatorial candidate Cordray said he'll fight for the Mahoning Valley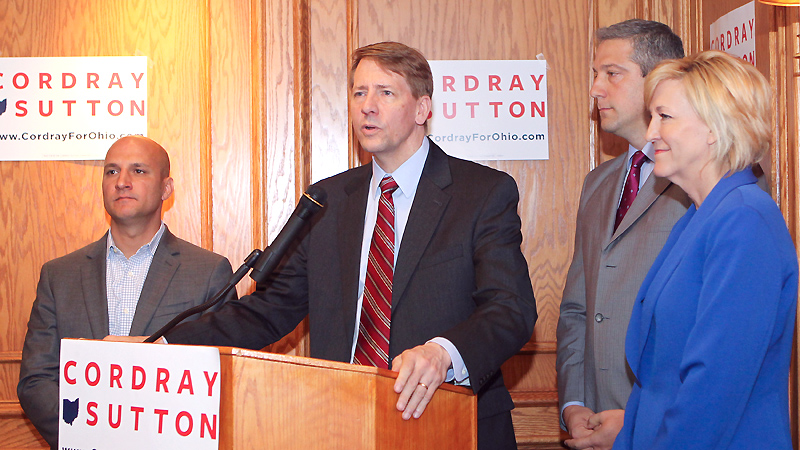 ---
VIENNA
With numerous political and organized-labor officials from Mahoning and Trumbull counties on hand, Richard Cordray, the Democratic gubernatorial nominee, said he would fight for the area if elected.
"We need a state government that is responsive to the kitchen-table issues – access to affordable health care, better education for ourselves and our children, spreading out economic opportunity throughout the state so that no one is left out and no one is left behind," Cordray said Monday during what the campaign called a unity event at the Avalon Golf and Country Club.
He added: "We will be a partner for local government in Columbus. We will restore funding to local governments in Columbus. We respect the work that you do. Instead of dictating to you, we will listen to you and understand how we will solve our problems together."
Cordray, a former state treasurer and attorney general, said, "We need to be united to bring home Mahoning and Trumbull counties this year. We need to work together. We will be up here a lot. You let us know what we need to do."
Cordray also took time to praise state Sen. Joe Schiavoni of Boardman, who lost the gubernatorial primary to him. Cordray won 86 of the state's 88 counties. Just Mahoning and Trumbull went to Schiavoni, D-33rd. Schiavoni endorsed Cordray the night of the May 8 primary.
"I am so honored to have Joe's support and make this a bigger team," Cordray said.
Cordray said he and Schiavoni "campaigned across the state and it was apparent to me everywhere we went, he has tremendous support and people like this man and they like what he stands for. He'll be actively campaigning for the ticket."
Schiavoni said the defeat was difficult, but Cordray is an excellent candidate, and the state senator said he'll do all he can to help Cordray win the general election.
We are "coming together and uniting as one team, moving forward," Schiavoni said.
"After the election, after the results came out, I told Rich congratulations, and if I can be helpful, let me know. He called me two days later and said, 'I need you to be helpful,' and that's what you do. That's how you do this right. Nobody cares about you crying at home and worried about what happened with the election," Schiavoni added.
Cordray and Betty Sutton, his lieutenant governor running mate who also attended Monday's event in Vienna, "will represent the Valley well," Schiavoni said. "The 'blue wave' doesn't magically come. You need the right candidates, and we have the right candidates."
Among the several elected officials at the event were U.S. Rep. Tim Ryan of Howland, D-13th, state Sen. Sean O'Brien, state Reps. Michele Lepore-Hagan, John Boccieri, Glenn Holmes and Michael O'Brien as well as Mahoning County Commissioners Anthony Traficanti, David Ditzler and Carol Rimedio-Righetti and Trumbull County Commissioners Dan Polivka and Frank Fuda.
More like this from vindy.com