Canfield, Champion, West Branch set for playoff action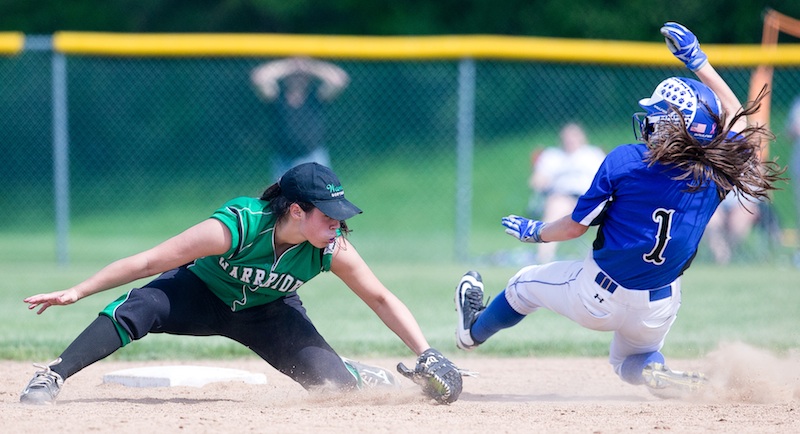 ---
By TOM WILLIAMS
williams@vindy.com
Cheryl Weaver is well aware that her Golden Flashes are wearing a target on their jerseys.
"The bulls-eye is probably even bigger when you are the defending state champs," Weaver said on Monday.
Wednesday in the Division III regional tournament in Massillon, the Golden Flashes (27-0) will take on Akron Manchester (18-7) in the semifinals.
The Mahoning Valley's most successful team in any sport in this decade is on a roll. Champion takes a 35-game winning streak into the regional. The Flashes won their last eight games in 2017.
Weaver's teams have won four state crowns since 2011. They also won in 2012 and 2015. The 2011 team went 27-0 to set the season record for most wins. A win on Wednesday will break that mark.
Weaver's championship teams all featured one ace in tournament play — Lindsay Swipas in 2011 and 2012, Haylee Gardiner in 2015 and Kenzie Zigmont in 2017.
In 2015, Weaver alternated Gardiner and Zigmont in the regular season. Last year, she did the same with Zigmont and then-freshman Allison Smith.
This season, she's alternating Smith (14-0) and classmate Sophie Howell (13-0) and will continue that formula.
"They are so different," Weaver said. "I have faith in both of them. Sophie only got throw a couple of times last season. She's paid her dues.
"And if we need to make a change, their different styles would throw the other team off."
In three tournament games, the Flashes have outscored their opponents 39-0.
Monday, the Flashes tuned up for the regional by playing Bristol, a Div. IV regional team. Smith earned the victory, so Howell will pitch against Manchester.
Also representing the Valley at the regional tournaments will be Canfield in Div. I and West Branch in Div. II.
Weaver tried to schedule a game today, but was unable to find anyone. Willoughby South, the team that will play Canfield on Wednesday, offered to scrimmage, but Champion is out of scrimmages.
Teams are allowed to play up-to-27 regular games and four scrimmages. The Flashes scrimmaged Canfield twice in March.
DIVISION I
Canfield (19-9) survived two close calls to win the Solon District. First, the Cardinals defeated Austintown Fitch, 3-2, their third win of the season over the Falcons.
Last Thursday, the Cards needed 10 innings to oust Nordonia, 5-4.
Canfield coach Ray Melewski wasn't pleased with his team's hitting in Solon.
"It's very unusual for us to bat like that," Melewski said. "I told them we need to hit our pitch, not theirs."
Today, Melewski has college pitchers throwing to sharpen his batters.
What did please Melewski was seeing pitcher KaiLi Gross get stronger as the 10-inning game progressed. Gross is recovering from a strained shoulder.
"She's looking good now," Melweski said.
Melewski admitted he doesn't know much about Willoughby South.
"What I do know is that anyone still playing right now is good," Melewsli said.
DIVISION II
West Branch (23-3) swept two games against Canfield and lost twice to Champion.
"Champion was good for us," West Branch coach Sis Woods said of the May 12 doubleheader. "We scheduled that at the beginning of the year, hoping that we would both be [active]."
Champion won the first game, 7-5. Woods said five errors didn't help.
"We didn't let it get to us," said Woods, noting that the second game was 3-2. "It was a great game between two very good teams."
Woods is proud of her team's schedule.
"Our league is very good," Woods said of the Northeastern Buckeye Conference that includes Marlington and Louisville. "We were supposed to play Hoover and Perry, but got snowed out."
Her philosophy is to play "tougher teams for the pressure situations."
West Branch's other loss was to Louisville.
In the Alliance district, the Warriors rallied to edge Poland, 4-3, then ousted Cardinal Mooney, 5-3.
Shortstop Delaney Rito said the Warriors didn't panic when Poland scored twice in the top of the first inning.
"We've been in that situation plenty of times," Rito said. "Even in practice we work on being down. We always know to believe that we can fight back. We have this great sense of hope, I guess. The whole team feels it."
Kylie Coffelt pitched against Poland, but was relieved by Kelsey Byers in the fourth inning.
Woods said the move was not typical.
"Just instinct, they were timing Kylie up pretty well at the beginning," Woods said. "That's a great hitting team, so I thought the change might help."
Byers pitched the victory against Mooney (20-3).
West Branch will play Perry (25-4) in Wednesday's semifinal.
DIVISION IV
Bristol (18-5) won the Warren district with a 3-2 victory over McDonald. In the semifinals, McDonald ousted state-ranked Mathews, 2-1, while Bristol rolled past Brookfield, 8-1.
The Panthers will meet Hillsdale (23-1, the top-ranked team in the state, on Thursday at Akron's Firestone Stadium. Kent State University is no longer the host for the Div. IV regional.
The semifinal winners will play on Saturday for a trip to state.
More like this from vindy.com