OH WOW! Center celebrates 7th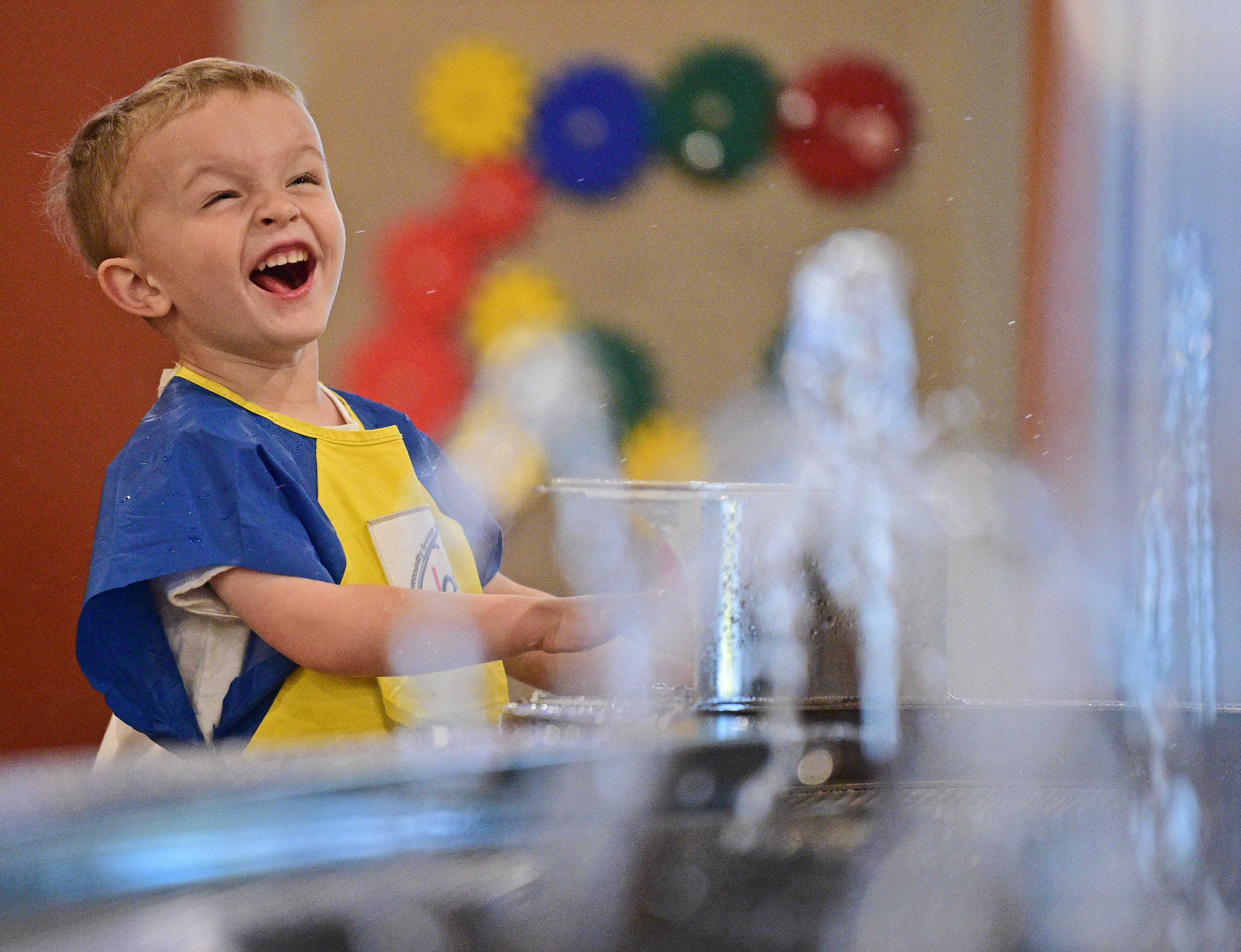 ---
By Sean Barron
YOUNGSTOWN
Twelve-year-old Katelyn Hupp enjoyed constructing a tower by meticulously interlocking one wooden block at a time and was pleased to see it slowly grow.
The Poland Middle School sixth-grader's care, willingness to take her time and occasionally re-examine her work resulted in a 5-foot structure that held together well.
You could also say that Katelyn's approach was symbolic of the growth, progression and success of the building in which she put together the tower, while her parents, Chad and Keri Hupp, and younger brother, Nathan, watched.
"It's our willingness to evolve," Suzanne Barbati said, referring to a key ingredient that has allowed OH WOW! The Roger & Gloria Jones Children's Center for Science & Technology, 11 W. Federal St., to continue to grow and thrive.
Barbati, executive director of the popular 17,820-square-foot downtown facility, was on hand for a seventh birthday bash Sunday afternoon at the center to celebrate its accomplishments and growth since it opened May 12, 2011.
Sponsoring the family-oriented funfest was Suzie's Dogs & Drafts.
During the seven years, an estimated 380,000 people have visited and explored OH WOW's hands-on, interactive exhibits and educational programs rooted in science, technology, engineering and mathematics. That includes about 84,000 visitors last year, and the figure is expected to top 100,000 by year's end, Barbati noted.
Another primary force behind the center's success is the staff, which has grown from five to 13 part- and full-time employees, including Youngstown State University STEM [Science, Technology, Engineering and Mathematics] students, some of whom have built prototypes of the museum's exhibits, she continued.
In addition, OH WOW has expanded outreach efforts, is restructuring its internal operating process to be more efficient and enjoys strong partnerships with YSU, the Public Library of Youngstown and Mahoning County and other major entities, Barbati said.
Also, a two-way street exists between the facility being a vital part of what many see as downtown's renaissance and the impact of the city's growth on the center, she added.
Creating a small but highly scientific type of growth at the birthday bash was Gracie Rice, 8, who enjoyed slowly blowing soap bubbles shortly after Bri Davis, a six-month employee, conducted dry-ice demonstrations in a flask.
"Dry ice is a form of carbon dioxide and it sublimates," meaning it passes from a solid to a gas, skipping the liquid phase, explained Davis, who donned a pair of gloves to protect her hands from exposure to the material, which transitions from one state to the other at minus 110 degrees.
Gracie and others also formed "bubble snakes," after Davis had placed a piece of cloth with a rubber band over the top of a plastic bottle that contained dish soap and sugar.
The youngsters blew through the cloth, which allowed bubbles to come out the other end in a pattern that resembled a snake.
Accompanying Gracie were her father, William Rice; younger sister Emma, 5; the girls' niece, Brenna Pascute, 7, a first-grader at Lakeview Elementary School in Cortland; and Brenna's parents, Dan Pascute and Melinda McDaniel.
"I was here when I was in kindergarten. My favorite thing was the airplane simulator thing," Brenna recalled.
"I think we're going to get a membership. This is a lot of fun," Dan Pascute said, adding the birthday celebration marked his first visit to OH WOW.
Also among those who derive plenty of fun from the facility's offerings is Mr. Ralf, who began nearly five years ago and refers to himself as "a jack of all trades" and "a senior edutainer" (an educator and entertainer).
"We know how everything works; we know how everything should work," said Mr. Ralf, whose duties include performing a variety of scientific demonstrations and experiments, maintaining the exhibits, conducting school visits and doing public-relations and outreach work.
Mr. Ralf, who also has an extensive background in counseling, added that he loves to show parents and their children how scientific principles and concepts can benefit many practical, everyday areas of their lives.
He also left no doubt about his relationship with OH WOW.
"I wouldn't trade it for the world," he said. "It's amazing to me, because no two days are the same."
Barbati's plans for the facility include upgrades to some of the first-floor exhibits, including installing new flooring under a water table this fall.
Also in the works is an exhibit to show how five types of movement can benefit people's emotional, physical and mental well-being while improving their health. About 15 percent of the estimated $225,000 cost has been raised for that effort, she noted.
Going forward, OH WOW also hopes to build on its community partnerships and possibly expand to the building's second floor, Barbati said.
She added that a new associate director has been hired to focus on further development and outreach efforts.
More like this from vindy.com