East High rugby team brings home title
---
East HS Rugby Champions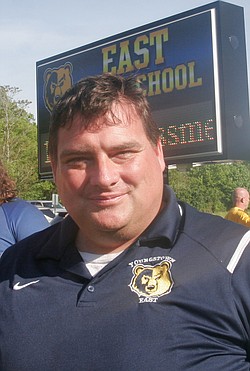 Gallery
East HS Rugby Champions. East HS won a state championship in rugby.
East Rugby Champions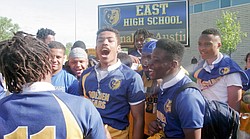 Video
East HS rugby team brought home a state championship.
By Dan Hiner
dhiner@vindy.com
YOUNGSTOWN
Despite never playing for a boys rugby title, East High School's players were confident and prepared. The Golden Bears practiced their passing and made sure their game plan was set.
The hard work paid off on Sunday at Weis Park in Canton as the Golden Bears won two playoff games for a state championship. Their victories included a 20-7 win over Shaker Heights for the Division 3 crown.
"They're happy, very proud of what they accomplished, and they had every right to be," East head coach Bill Burton said. "They worked hard to get where they're at. The hard work paid off."
The Golden Bears finished their first season 7-1-1 and their defense shutout Shaker Heights in the second half.
The Golden Bears lead 10-7 at halftime and Burton said the team became more confident in the semifinal and title game when they lead at the break.
"I felt we were very much in control physically [at halftime]," Burton said. "I figured it would be hard to lose both times."
Rayshawn Perkins was named the state final MVP. Perkins' defense helped spark East's offense early in the championship.
"[Shaker Heights] had a breakaway early in the first half — they are a fast, athletic team, "Burton said. "Rayshawn made a beautiful open-field tackle, we ended up getting the turnover and we drove down and scored."
Tilden Johnson, Marcus Caudill, Timmy Bowser and Perkins scored for East in the state final.
Burton credited Bowser for handling the offense. He said Bowser kept the Golden Bears in a position to score throughout the title game.
The Golden Bears beat Northwest 20-5 in the state semifinals on Sunday morning to advance to the championship game.
During Thursday's practice, the players said a championship would help energize the students at Youngstown City Schools.
"They showed that in the City of Youngstown the public school kids can do whatever they want if they put their minds to it," Burton said.
Krish Mohip, Youngstown City School District CEO, said, "I am so proud of these young men, their coaches, their families and all of the supporters.
"Congratulations to all of you. This is a great day for YCSD."
More like this from vindy.com